Here are 50 facts about dry brushing that will motivate you to take up this healthy habit! Dry brushing is an age-old beauty and health practice that has been practiced for centuries. It has been used by almost all historical civilizations including the Native Americans, Japanese, Chinese, Ancient Indians, Russians, Turks and the Scandinavians, for various healing benefits. Some of the benefits include promoting proper blood circulation, stimulating & cleansing the lymphatic system. Further, it removing dead cells from skin and helps the body eliminate wastes and toxins.
Wow, who knew that simply dry brushing for a couple of minutes a day would have all these benefits? Check out 50 informative facts about dry brushing below!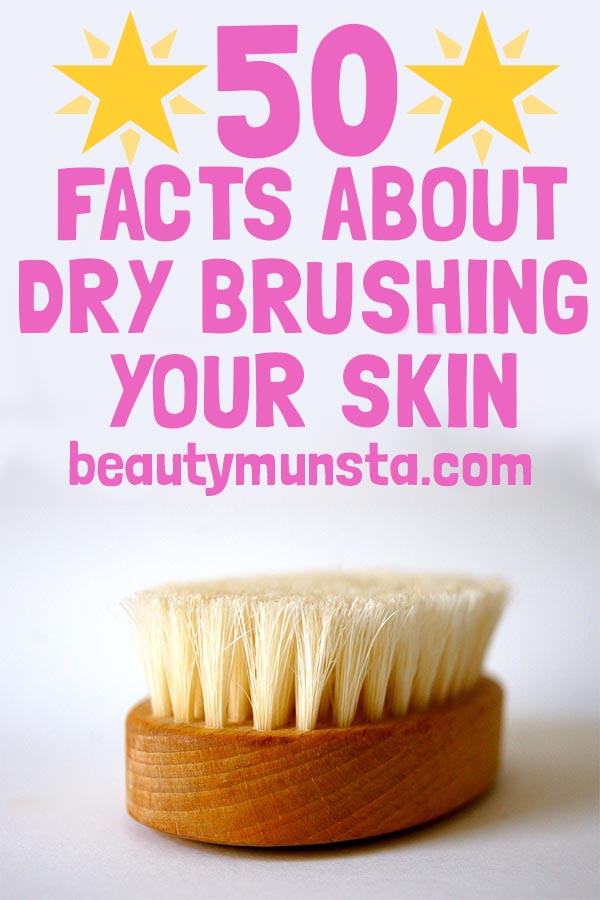 Brush Up your History
1. Chinese silk squash fiber. The traditional Chinese version of dry brushing your skin involves using dried-up fibers of a fruit called the silk squash.
2. Cherokee corn cobs. Native Americans such as the Cherokee Indians and Comanche Indians used clean dried corn cobs to brush off dead cells.
3. Japanese loofah. Japanese used loofas and mildly rough washcloths to dry brush their skin before taking traditional hot water baths.
4. Finnish birch twigs. Even today, modern Finnish saunas practice dry brushing skin care using traditional methods of gently hitting the body with birch twigs to remove excess dead skin.
5. Greek metal scrappers. Long ago, Greeks used metal spatulas on their hands, legs and general body to scrape off dead cells and flakes.
6. Ayurvedic Garshana. In Ancient Indian Ayurveda, dry brushing is known as 'garshana' and was carried out every early morning for 3 to 4 minutes before a bath. To perform a garshana, soft silk gloves and a soft sponge were needed to stimulate blood circulation.
Facts About Dry Brushing – Skin Care
7. The skin is our third kidney. The skin is referred to as our third kidney, meaning it helps eliminate wastes from our body. If your colon doesn't get all the toxins out, then you'll get breakouts! Dry brushing stimulates blood flow, sending toxin carryingblood straight to the kidneys and colon for elimination.
8. Largest body organ – our skin! The skin is the largest organ in our bodies. For an average adult, skin weighs about 9 pounds and spans over 20 feet. Dry skin, a common skin complaint, is actually sign of detoxification and the average human skin sheds more than 10, 000 dead skin cells per minute!
9. Last to receive nutrients. Sadly, our skin is the last to receive nutrients as blood circulates through the body. Unsurprisingly, in case of a deficiency or lack of nutrients, our skin is the first to show the signs.
10. Detoxification through the skin. Our skin contributes to 1/4 of the body's detoxification each day. We perspire everyday during daily activities and our sweat contains excess water, salts and toxins which are eliminated through the skin.
Where to Get a Dry Brush
Remember to get a brush with vegetable bristles and not synthetic bristles. Also, a long handled one with a detachable hand grip is ideal for effectively and quickly dry brushing all areas of your body! You can get this kind of brush here! This one also has rubber nubs that feel oh-so-amazing when your using it to massage your thighs and other cellulite-prone areas!
Beauty Benefits of Dry Brushing
11. Baby soft skin. Dry brushing improves skin texture and promotes skin renewal by sloughing off excess dead skin at the surface of the skin. Related: DIY Rhassoul Clay Face Mask for Soft, Smooth Skin
12. Be gone cellulite! Dry body brushing gradually diminishes the appearance of cellulite until it completely disappears. Related: Natural Remedies for Legs with Cellulite
13. Helps eliminate acne causing toxins. Body brushing stimulates proper circulation of blood and lymph through the skin and body, enabling wastes to be transported effeciently to the body's elimination sites. Related: DIY Activated Charcoal Face Mask for Acne
14. Skin tightening. Dry brushing promotes skin tightening by increasing the circulation of blood flow which promotes supple and youthful skin. Is Egg White Good for Skin Tightening?
15. Nourishes your skin. By increasing blood flow and circulation around the body, dry brushing will bring nutrient filled blood to each and every area under your skin, including collagen-rich tissue, feeding them with vital nutrients for healthy vibrant skin! How to Apply Vitamin E Capsules for Skin
16. Scours off flaky skin. If you've got unattractive flaky skin, dry brushing will help you naturally scrub off the excess dead cells and flakes sticking to your skin. How to Remove Dead Cells from your Face with Baking Soda
17. Toning your body. Dry brushing tones the muscles and tissues under your skin by distributing fatty deposits evenly.
18. Stimulates skin glands. Through dry brushing, you will be stimulating your hormonal and sebaceous glands just under your skin. This will activate these glands and enable them carry out their functions smoothly.
19. Unclogs blocked pores. By unclogging blocked pores, your skin will not only be able to breathe freely but also all the acne and black head causing gunk will be plugged off!
20. Strengthens your immune system. Dry brushing strengthens the immune system to fight germs and eliminate toxins at a quicker rate, staving off acne and other inflammatory skin conditions.
Facial Dry Brushing – Oh, yes! 
21. Separate face brush. For dry brushing your face, you need a separate brush from your body brush. You can get this natural bristle wooden handle facial cleansing brush from Bass! Facial skin is very sensitive and using a normal body brush is very harsh and can damage your soft facial skin. Get a customized brush designed specially for facial skin with softer bristles.
22. Use a gentle circular motion. When dry brushing your face, use less pressure than you would when brushing your body. Brushing harshly for long can scratch up and redden facial skin. Dry brush your face for at least 30 seconds.
23. Smaller brush. Facial brushes are much smaller than body brushes and have softer bristles. If you can't find a facial brush for dry brushing, use a new tooth brush with soft bristles.
24. Slow fine lines and wrinkles. Brushing unclogs blocked pores harboring dirt, grime, dead cells and free radicals that contribute to the aging process of skin. Dry brushing also helps tighten skin pores. Free radicals enter open pores and steal oxygen from healthy skin cells, degenerating them and causing fine lines. Dry brush your face to combat free radical damage to skin cells.
25. Exfoliating facial skin. By helping scrub off excess dead cells, grime and flaky skin, dry brushing your face gently exfoliates your face, keeping it smooth.
26. Smooths out rough patches of skin. Rough skin coupled with dryness and flakes can be gradually softened by dry brushing. Remember to use only a little pressure on dry skin so that you do not irritate that type of skin.
27. Keeps the acne away! Dry skin brushing keeps the acne away by removing excess dead cells and dirt deep within skin pores. This opens pores so that toxins can be excreted without clogging pores. Dry brushing also helps evenly distribute excess sebum on the skin's surface. Do not brush over acneic skin as this will aggravate your acne.
28. Promotes healthy and supple skin. Brushing your face brings nutrient-rich blood to all areas just directly beneath the surface of your skin. Beneath your skin are collagen rich tissue and skin cells that need maximum nourishment to function well. Dry brushing also helps maintain elasticity and flexibility of the top most layer of skin.
29. Facial massage. Brushing your face stimulates blood circulation and awakens your facial muscles. As you brush your face, you're helping tone your facial muscles, which will lift your face and prevent sagging of cheeks.
30. Face brush hygiene. Dip your facial brush in a baking soda and pure water solution and wash it thoroughly with unscented liquid castile soap to remove dirt and dead cells.
Dry Brushing 101 – The Low Down
31. Brush towards your heart. Use the dry brushing rule 'Brush towards your heart'. This ensures blood and lymph flows back to the heart, where it will be re-circulated throughout the body, sending toxins right to the elimination sites to be exterminated from the body.
32. Brush type – Vegetable bristle. Your brush should have a long handle and natural vegetable bristles NOT synthetic bristles. You can also use a loofah or a brush with a strap for your hand.
33. From bottom to top. Start brushing your feet with vigorous circular motion, working from your toes upwards towards your heart, with long sweeping strokes.
34. Before a bath. Dry brush your whole body before taking a bath/shower, preferably early monring. Remove all clothing and make sure your body is completely dry before dry brushing.
35. Thrice a week for starters. If you're a complete newbie, begin dry brushing three times a week and gradually increase to once a day prior to your bath.
36. Be gentle to your skin. Especially during your first dry brushing session, use little pressure and brush gently over your skin. Tackle all areas in gentle long sweeping motions.
37. Avoid sensitive areas. Do NOT brush broken skin, wounds, cuts, bruises, burns and any other sensitive skin areas.
38. Clean your brush. To prevent growth of mildew and collecting dirt and grime in your brush bristles, wash your brush regularly with liquid castille soap and dry thoroughly before use.
39. Storing your brush. Keep your brush in a clean and dry place to protect it from mildew.
40. Where to find a brush. You can find an effective and comfortable brush in most beauty / drug stores.
Fun Facts about Dry Brushing
41. What's in a name? Dry brushing is called so because of the use of a dry stiff brush or loofah to brush the dead cells off your skin.
42. Cheap and natural! Dry brushing is the cheapest natural skin treatment for getting rid of cellulite and helping your skin get rid of toxins. Get a body brush for just $5!
43. Natural bristle brush alternative. It's not a must to use a stiff brush / loofah, a special Japanese wash cloth (Salux Nylon/muji wash cloth) can be used.
44. Secret to longevity. In ancient times, dry brushing was one of the most important beauty secrets to youthful skin and longevity.
45. Detox from the outside. Dry brushing is a form of detox from the outside-in. It stimulates blood circulation, enabling wastes and toxins to move at a faster rate to be eliminated by the body.
46. Releases 'happy' hormones. Dry brushing is soothing, calming and relaxing. This stimulates the release of endorphins, which are hormones that make you feel happy!
47. Celebrity 'Dry Brushers'. The top celebrities who dry brush for its amazing beauty benefits include: Kim Kardashian, Madonna and Jennifer Aniston.
48. What's your (detox) sign? Your first detox sign that you may notice is increased mucus in your stools after several sessions of dry brushing as dry brushing promotes transportation of wastes and toxins out of your body. Isn't that amazing!
49. Scalp brushing. Your scalp must be brushed too! Use gentle circular motions. Scalp brushing will massage and stimulate your hair follicles, promoting hair growth and keeping your scalp free from dandruff, dead cells, bloody scabs, excess oils and a musty scalp smell. Related: 5 Reasons to Detox Your Scalp
50. Trash those dead cells. Clean your brush regularly by dipping it in a solution of baking soda and rinse out by gently washing with liquid castile soap. Many unknowingly transfer old built up dirt and dead cells from their brush bristles and this can lead to break outs.