What are the best essential oils for skin tags and how do you use them? Find out below!
Skin tags are pesky little things that come from nowhere and end up right on the face,  which is the most common area skin tags show up – you can get one on your nose, cheek or even eyelid! Before tying a small string at the base of the tag like many people do to remove skin tags, try using just one drop of a special liquid known as an essential oil and see how wonderfully it works! Yes, it's true – just a drop of essential oil applied nightly is enough to see that little skin tag shrink off in a matter of days! You don't need to deal with painful skin tag removal methods that can easily lead to infection as you poke, scratch and use the string method to try to get rid of it.
What are essential oils? Simply put, essential oils are concentrated plant material in liquid form, extracted through a process called steam distillation. They have medicinal and therapeutic properties that make them one of nature's best remedies. Essential oils are obtained from the roots, leaves, bark, flowers, fruit and any other aromatic parts of plants and have been used to treat a myriad of skin conditions from acne to eczema. In this post, I'll be concentrating on the best essential oils for skin tags in particular:
7 Best Essential Oils for Skin Tags (Including Recipes)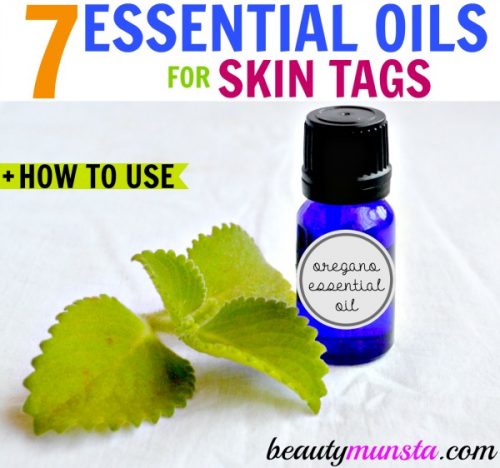 1. Frankincense Essential Oil
With its powerful anti-inflammatory and anti-septic properties, frankincense is one of the best essential oils for skin tags. It is extracted from frankincense resin, which is got from the bark of frankincense trees native to Somalia and the Middle East. Using frankincense essential oil helps dry out the skin tag, making it fall off faster. Since frankincense is among the few essential oils that can be applied 'neat' on to the skin, you can apply it undiluted.
► How to use frankincense essential oil for skin tags: Place a drop of frankincense essential oil on your clean fingertip and apply on the skin tag. Do this twice a day. Remember to first protect the healthy surrounding skin by applying Vaseline or coconut oil to protect it from being burned by the essential oil. Don't miss: How to Use Frankincense Essential Oil in Skin Care
2. Tea Tree Essential Oil
A strong disinfectant and antiseptic, tea tree essential oil fights off bacteria, germs and microbes which may be the cause of your skin tag. It is also a potent astringent, which enables it to dry out the skin tag, causing it to fall off quicker. Read more: Tea Tree Oil for Skin Tags | Quick Natural Remedy
► How to use tea tree essential oil for skin tags: Place a drop or two of tea tree oil on a cotton ball and tape it to the skin tag (make sure to protect the healthy skin surrounding the skin tag with an oil or moisturizer like Vaseline to prevent contact with the essential oil).
3. Lavender Essential Oil
Lavender essential oil has skin soothing and calming properties but it's also one of the most effective essential oils for skin tags. More on lavender essential oil:
► How to use lavender essential oil for skin tags: Make a lavender spritz. In a small essential oil spray bottle, combine 10-15 drops of lavender essential oil and fill the rest of the bottle with water. Shake well and spray on the skin tags to relieve irritation, redness & inflammation as well as help it dry out and fall off.
4. Oregano Essential Oil
Oregano is the best anti-fungal essential oil. You can use oregano to successfully used to get rid of skin tags almost instantly. However, note that oregano essential oil is very potent so ensure you use it with caution. Make this homemade oregano ointment to make your skin tag vanish in a few days!
► How to use oregano essential oil for skin tags: Place 3 tbsp of raw shea butter into a heatproof bowl. Setup a makeshift double boiler by filling a pan with a couple inches water then placing the heatproof bowl with the shea butter over it. Turn on the burner and heat over a medium low flame until the shea has completely melted. Once melted, remove from heat. Allow to cool for 2 minutes then add 10-15 drops of oregano essential oil. Pour the mixture into an amber glass jar. Let it set for an hour. Use a clean fingertip to scoop out a little ointment and apply on the skin tag.
5. Lemon Essential Oil
Using lemon essential oil dries out your skin tag since it is a potent astringent, that helps remove excess oils and water from the skin, thereby enabling the skin tag to fall off. As lemon essential oil is photosensitive, refrain from applying it and exposing the skin to sunlight. Don't miss: Top 10 Beauty Benefits of Lemon Essential Oil
► How to use lemon essential oil for skin tags: Try this Lemon Night Cream. Mix 5-10 drops of lemon essential oil in 1 tsp of coconut oil. Store in a small container and apply onto the skin tag alone every night.
6. Rosemary Essential Oil
You can also use rosemary essential oil to disintegrate ugly skin tags. Extracted by steam distillation from rosemary leaves, this potent essential oil is an astringent and contains antibacterial and antiseptic properties that all help fight off microbes that aggravate skin tags. A cooling treatment for hot irritated skin tags is mixing essential oils with aloe vera gel. Read: 18 Beauty Benefits of Rosemary Essential Oil for Skin & Hair
► Rosemary Skin Tag Remover: In small container, combine just 1 tsp of aloe vera gel and 5-7 drops of rosemary oil. Using a q-tip or clean finger, scoop a little of this mixture and dab it on the skin tag.
7. Sweet Basil Essential Oil
Just like oregano and rosemary, basil essential oil has powerful medicinal properties and a strong herbal scent. It is also known as sweet basil and is extracted from the aromatic leaves of the basil plant. Sweet basil contains antibacterial, anti-fungal, antiseptic and antimicrobial properties. Thus, it is one of the best essential oils for skin tags, acne, warts and moles.
► Make this Basil Blend: In 1 tsp of castor oil (great for skin tags!), mix up 7 drops of basil essential oil, 5 drops of lavender and Apply a drop of this blend onto the skin tag.
Take Care
First check with your doctor to see if essential oils are okay to be used by you. Especially if you suffer from hypertension, skin allergies and other medical conditions.
Always use 100% pure and high quality essential oils.
Never use essential oils 'neat' onto your skin. Always dilute first with a carrier oil (1 drop of essential oil in 1 tsp of carrier oil). For more info read: How to Dilute Essential Oils
If you are pregnant or lactating and would like to use essential oils for skin tags, please first consult your doctor. This is because most essential oils are not safe to use for pregnancy/lactating women.