Learn how to use frankincense essential oil in skin care and the benefits of frankincense for skin. This article contains 8 amazing recipes with frankincense including: anti-aging serum, anti-aging face cream, sunburn soothing mist, stretchmark balm, scar remover and more!
Did you know that more than 1000 years ago, Ancient Egyptians used frankincense in their skin care routine to make rejuvenating face masks?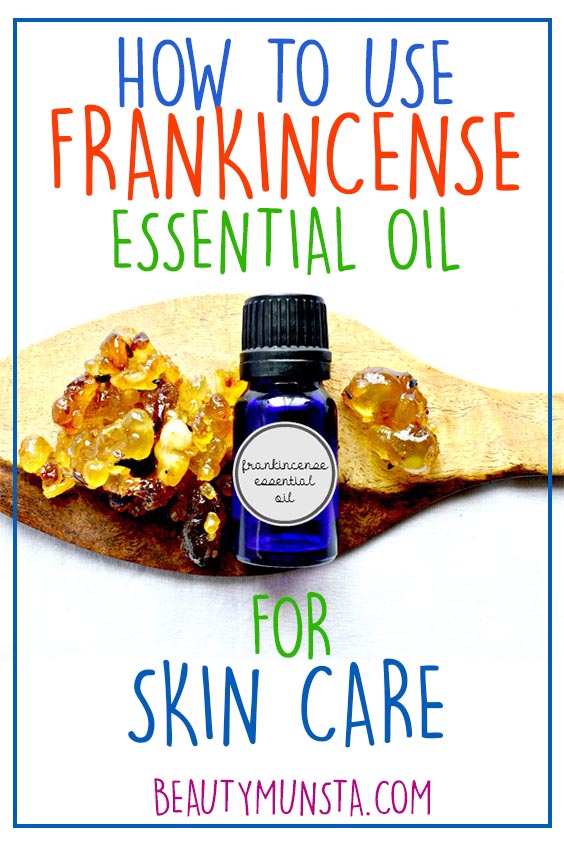 Frankincense essential oil is a miracle cure for a myriad of ailments including many skin woes such as acne, wrinkles, chapped skin, stretch marks, acne scars, oily skin and blemishes.
This ancient and holy essential oil is originally from the Middle East and North Africa, particularly Somalia and is extracted from frankincense resin.
Below are 8 amazing recipes that show you how to use frankincense essential oil in your regular skin care routine for beautiful & youthful skin!
1. Frankincense Essential Oil Anti Aging Serum
Fill a 2 ounce glass dropper bottle with argan oil. Add 4 drops of frankincense essential oil, 3 drops of  lavender essential oil and 3 drops of geranium essential oil. Shake the bottle to mix the ingredients well. Store in an amber glass dropper bottle. Place just 2-3 drops on your palm and using clean fingertips, massage the mixture on your face in gentle circular motions. Your skin will gradually soak up the oils. It's best to apply this frankincense essential oil anti-aging serum at night before bed.
2. Sun burn Soothing Mist
In a 4 oz spray bottle, add 3 drops of frankincense essential oil, 2 drops of peppermint essential oil and 1 tablespoon of aloe vera gel and fill the rest of the bottle with purified or distilled water. Shake vigorously to combine the ingredients. Spray on the affected areas for a soothing relief.
3. Oil Control Toner
This is a simple remedy to reduce oily skin. All you have to do is wet a cotton ball and add a drop or two of frankincense essential oil. Dab it all over your face to soak up excess oiliness and keep your face fresh all day.
4. Stretch Mark Balm
Melt ½ cup of shea butter and ¼ cup of cocoa butter in a double boiler. When it cools down, add 5 drops of frankincense essential oil, 4 drops of geranium essential oil and 4 drops of lavender essential oil. Mix with a spatula. Keep the bowl to the refrigerator and leave it there for one hour to solidify. When the time is up, using a hand mixer or egg beater, whip up the solidified mixture. Transfer the creamy mixture into an 8 oz jar to solidify. Apply nightly onto your stretch marks by scooping out a dime sized amount and rubbing it in the affected skin.
5. Scar Treatment
In a dark colored glass bottle with a dropper, add 2 tbsp of rose hip oil and 2 tbsp of argan oil. To this, add 5 drops of frankincense essential oil, 3 drops of helichrysum essential oil and 4 drops of lavender essential oil. Shake well. Using the dropper, add a drop of oil onto your clean finger tip and apply it on your scar. Vigorously work the oil in opposite directions, away from the direction of the scars, using your fingertips. Leave the oil to penetrate deep for at least 30 minutes, if you're not using this scar treatment at night.
6. Anti-aging Night Cream with Frankincense Essential Oil
Combine 1 ½ tbsp of whipped shea butter and 1 ½ tbsp of jojoba oil. Add 5 drops of  frankincense essential oil and 5 drops of lavender essential oil. Mix well with a spatula and store your frankincense night cream in a small glass container.
7. Hydrating Face Oil
In a 2 ounce glass dropper bottle, mix 1 ½ tbsp grapeseed oil, 1 ½ tbsp jojoba oil, 5 drops of frankincense essential oil, 3 drops of lavender essential oil and 3 drops of rose essential oil. Use the dropper to place about 2 to 3 drops (more than this may grease up your face which is not what we want) of the face oil on your palm. Using clean finger tips, massage the small amount of oil on your face to hydrate and plump up your skin. You can apply this face oil at any time of the day you want although night time is best because it's the time when your skin repairs itself.
8. Rejuvenating Facial Steam
Wake up tired and dull skin using this frankincense essential oil facial steam! All you need to do is fill a pan halfway through with water and place it on the stove. Let the water boil for about 5 minutes. Remove from heat and carefully carry it using kitchen gloves to a table (make sure you place a table mat before sitting the pan on the table). Add only 1 to 2 drops of   frankincense essential oil to the water. Cover your head with a towel while leaning your face over the pan to perform a facial steam. After about 15 minutes, wash your face with a mild cleanser and behold glowing skin!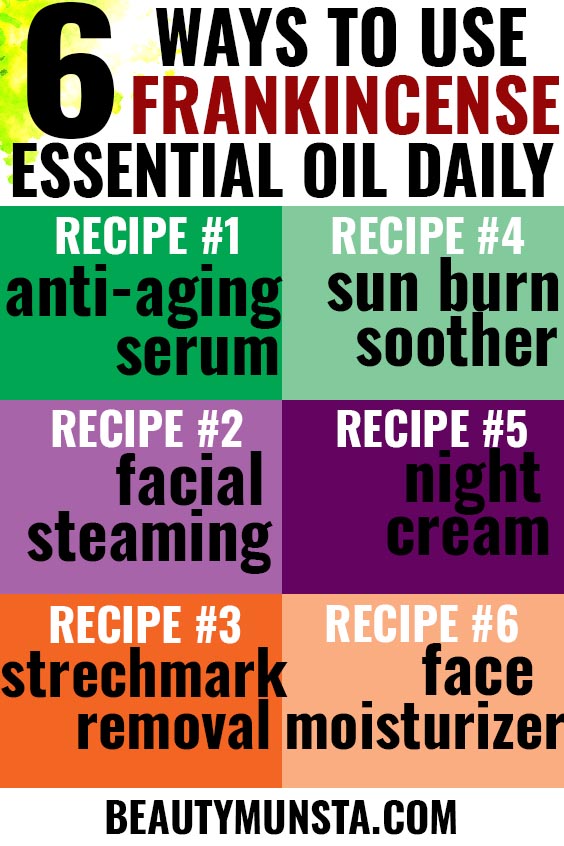 Take Care
Please dilute frankincense essential oil with a carrier oil or base ingredient before use. The rule of thumb is to dilute 2 drops of frankincense essential oil for every tsp of carrier oil or base ingredient. For more info read: How to Dilute Essential Oils
Most essential oils are not recommended to be used by pregnant or breast feeding women. Please consult your doctor before you attempt to use any essential oils. Keep essential oils away from the reach of children.
When purchasing frankincense essential oil, always look for 100% pure & high quality essential oils.
The above information is only for information purposes so please do not take it as medical advice.
Where You Can Buy Frankincense Essential Oil
There are many fake versions of frankincense essential oil out there in the market. Don't make a mistake of buying 'frankincense oil'. Only purchase 'frankincense essential oil' because the 'frankincense oil' is just frankincense essential oil mixed with other oils/ingredients so it's not the pure and potent one I'm talking about in this post. Please make sure to buy 100% pure and high quality frankincense essential oil.

♥ Find Out More about Frankincense for Ethereal Beauty! ♥
1. Beauty Benefits of Frankincense Essential Oil
2. Top 10 Benefits of Frankincense Essential Oil for Beautiful Skin
3. How to Use Frankincense Essential Oil to Treat Acne