There are many beauty benefits of applying vitamin E capsules on your skin, hair, nails and more!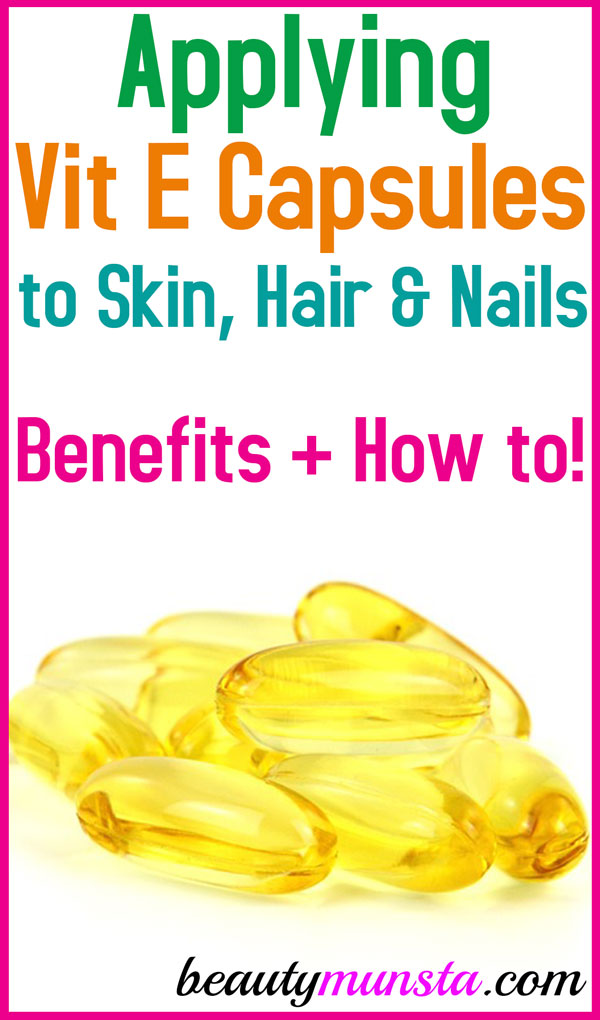 Vitamin E is one of the most popularly known vitamins that are best for the skin. Also known as the skin protector , vitamin E is a fat soluble vitamin, also known as tocopherol .
There are many food sources of vitamin E such as almonds, mustard greens, sunflower seeds and more. But for busy people, vitamin E capsules are the best way to ensure your recommended dietary intake of vitamin E is met every day without fail.
Apart from internal consumption of vitamin E capsules, there are so many fantastic benefits of applying vitamin E capsules for the skin, lips, hair, nails and more!
Let's have a look at some of the uses and benefits of vitamin E capsules for skin, hair and nails.
Where to Get Vitamin E Capsules

The best vitamin E capsules are from Nature Made. They contain 300 capsules and are for both internal and external use. You can get them here:
Applying Vitamin E Capsules on Skin
Want a miracle for your skin? Vitamin E could be your answer.
These are some of the ways you can make use of vitamin E for your skin:
Add Vitamin E to Your Face Wash! If you've got a liquid face wash or cleanser, this one is a no brainer. Simply prick and squeeze enough vitamin E capsules to add to your cleanser. Shake well to mix, and you'll get a healthy dose of vitamin E goodness every time you wash your face.
Spice Up Your Face Cream! Do you use a face cream, oil or lotion? It's as easy as adding vitamin E from your capsules to your face cream. Stir with a clean tooth pick and apply as usual to your face and skin. You can make your own vitamin E cream at home, too!
DIY Vitamin C serum with Vitamin E? You can make that at home! DIY Vitamin C Serum with Vitamin E | Powerful Anti-Aging Secret
Spot Treatment! Vitamin E works wonders when applied to spots, acne and pimples. Prick a vitamin E capsule and apply the oil directly onto zits. Keep applying 2 – 3 times a day for 3 days and watch your spots disappear real quick.
Erase Your Scars! The best remedy for scar removal is vitamin E. Prick a capsule and applies the vitamin E oil to your scars. Massage firmly to break down scar tissue and reduce the appearance of scars.
Healing Wounds with Vitamin E. If you apply vitamin E on wounds, such as burns, cuts and scrapes, you can not only heal the wound faster but also prevent scars from forming after the wound is healed.
A Detailed Guide to Vitamin E for Skin Application: How to Apply Vitamin E Capsules for Skin
Applying Vitamin E Capsules for Hair
Vitamin E has numerous compounds that are essential for healthy hair. This essential vitamin can help prevent split ends, smoothen rough hair, moisturize dry hair, relieve dandruff and add sheen to dull hair.
Here are some of the ways to apply vitamin E for hair:
Add Vitamin E to Your Shampoo! Simply prick a capsule and squeeze out the vitamin E oil onto your palm, along with a squirt of your usual shampoo. Mix with your index finger and apply all over your hair, as usual.
Vitamin E Scalp Treatment! Have you got acne, pimples, scabs or even psoriasis on your scalp? Simply prick some vitamin E capsules and apply them directly onto the problem areas on the scalp and massage gently with your index finger.
Dandruff Relief with Vitamin E! To relieve dandruff, simply make a paste of oatmeal, vitamin E, lemon juice and tea tree essential oil. Apply this paste onto your scalp, let it rest for 10 minutes and then wash off while you shower.
Vitamin E Hair Serum! Prick some vitamin E capsules and add the oil to your usual serum. Apply along the length of your hair, targeting the ends to close off any split ends. To make your own diy serum for shiny smooth hair, simply mix some vitamin E with coconut oil and aloe vera and stir to make an even mixture. Apply once a day.
Sky High Eye Lashes: Don't forget that you can use vitamin E to perk up your lashes! Read: Castor Oil and Vitamin E for Eyelashes
Applying Vitamin E Capsules on Nails
Common nail problems include dry and brittle nails, pale and dull nails, nail infections and wounds, and cuticle inflammation. All these problems are covered by the benefits of applying vitamin E capsules directly onto them.
For Nail Healing: Apply vitamin E capsules by pricking the capsules and squeezing out the oil onto your nails. This is especially useful after nail polish removal to give your nails a chance to heal and regenerate.
For Cuticle and Nail Infections: Mix the vitamin E oil with tea tree essential oil and apply 2 – 3 times a day onto the cuticles and nails.
Add Vitamin E to your Hand Cream: Simply prick and squeeze some vitamin E capsules and add to your hand cream or cuticle cream. Apply this onto your nails for beautiful healthy nails.

Best Buy: High Potency Vitamin E Oil In An Easy-Access Dropper Bottle
So what's stopping you from enjoying the benefits of applying vitamin E capsules for your beauty needs? Try it soon and tell us all about it!