It doesn't get easier than this! Learn how to make vitamin E cream at home instead of buying it!
Here's my take on how to make vitamin E cream right in the comfort of your own kitchen. It really is super simple and loads beneficial for your skin and hair. All you need to use are two ingredients: vitamin E oil and shea butter.
Now shea butter is one of the best base ingredients for making your own lotions, creams or salves at home. It has a thick consistency that stays solid at room temperature but easily melts at body temperature. It also has a slightly smoky scent that isn't unpleasant but if you want to mask it, feel free to use an essential oil that smells good to you like lavender!
Before we see the recipe for homemade vitamin E cream, let's first explore its benefits:
Used as a base cream
For blending essential oils
Nourishes skin cells
Deeply moisturizes skin
Decreases wrinkles and fine lines
Keeps skin supple, smooth and soft
Treats eczema & psoriasis
Softens rough skin of the knees and elbows
Heals cracked heels
Good treatment for dry hair
Repairs damaged hair
And more!
How to Make Vitamin E Cream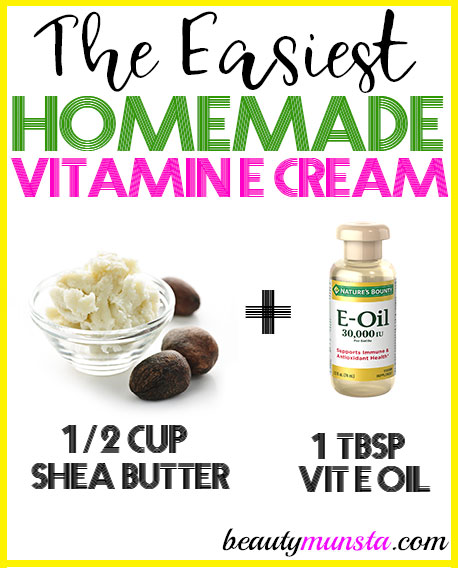 What you need
Directions
Measure ½ cup of unrefined shea butter and melt it using a double boiler. Make your own make-shift double boiler by heating up a pot of water on the stove, then place the shea butter in heat-safe ware and place it on the pot (it shouldn't touch the water). Let the shea butter slowly melt into liquid form with the steam of the water from the pot. When that's done, turn off the heat and transfer your bowl near a window so the shea butter can cool down. You can keep it in the fridge for 7 minutes.
Once cooled for 7 minutes, add 1 tbsp of vitamin E oil.
It's totally optional but you can add 7 drops of lavender essential oil for scent.
Mix using a hand mixer for a minutes until the two ingredients are well combined and you have a soft white cream.
Scoop your Vitamin E cream into a clean air tight jar.
That's it! I told you it was easy!
To clean your blender, all you have to do is pour warm water and a little dish soap into it. Let it sit for a few minutes then blend for a few seconds. Rinse your blender with clean water and voila! Squeaky clean and shiny blender in no time!
My Tips

Feel free to customize the Vitamin E cream however you want! The recipe above is just a basic cream! To make your cream silkier, add 1 tbsp of almond oil. To make it non-greasy, add 1-2 tsp of arrow root powder. To give it a scent, add a few drops of any of your favorite essential oils!
Store your homemade Vitamin E cream in a cool dry place.
Are you ready to try out this easy homemade vitamin E cream recipe? What are you planning to use your Vit E cream for?