You know about drinking bone broth for youth but did you know you could make a bone broth face mask for timeless skin?!
Drinking bone broth is something amazing you can do for health and vitality. It is super rich in nutrients such as high amounts of collagen, which is a key nutrient for youthfulness – whether it's smooth wrinkle-free skin or strong bones and arthritis-free joints.
While you have a hot cup of bone broth on the regular, you can also promote timeless skin by making a bone broth face mask!
Yup, you can actually put the stuff on your face too! You can choose to apply unflavored bone broth directly on your face or, mix it up with other nourishing ingredients for an added anti-aging boost! In this DIY bone broth face mask, I'll be mixing up raw honey as it's a potent wrinkle-smoother!
You can consider this food for your face, literally! It's going to feed your skin cells with antioxidants, vitamins and minerals, making it smooth, supple and soft.
Now onto the recipe!
How to Make a Bone Broth Face Mask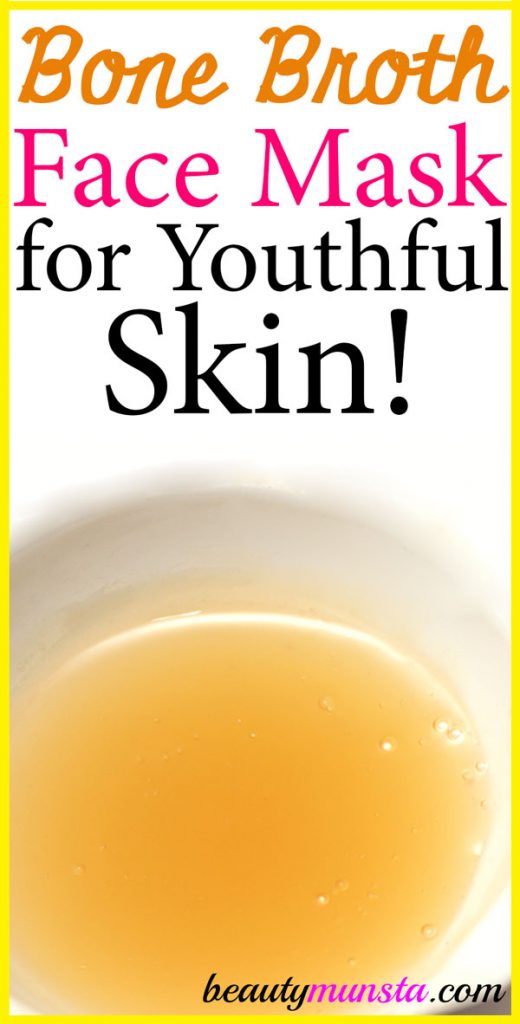 For extra skin love, use manuka honey instead of raw honey. Manuka honey is the most healing and medicinal type of honey on earth, containing 4 times more vitamins, minerals, enzymes and antioxidants than regular honey!
What you need:
1 tsp unflavored bone broth (cooled)
1 tsp raw honey (where to get it)
Small bowl & spoon for mixing
Directions:
Place 1 tsp of cooled unflavored bone broth into a small bowl. To make unflavored bone broth, simply pressure cook 1 pound of roasted bones from beef, goat or chicken for about 1-2 hours. Save a little for your face mask then add flavorings & salt to the unflavored bone broth and consume. For a flavorful bone broth recipe, see my post Easiest Bone Broth Recipe in a Pressure Cooker
Next drizzle in a tsp of raw honey, or manuka honey.
Whisk the two ingredients together with a spoon and voila! Your bone broth face mask is ready!
Massage it onto your clean face, avoiding the eyes. You may apply it on your neck as well, if you're planning to hop into the shower right after.
Leave it to work its magical properties for 10 minutes.
Rinse off with warm water first, then cold water.
Pat your face dry and apply a Rose Water & Glycerin Spray for a natural facial toner.
Follow up with our Powerful Anti-Aging Serum as your moisturizer.

Do you drink bone broth regularly? Are you interested in using this bone broth face mask as a topical collagen booster? Share your thoughts below!