This homemade face moisturizer for aging skin is one of the best things you'll ever make!
Moisturizing skin is crucial to keep it wrinkle-free and supple. But you don't need to dish out extra $$$ to buy a pricey anti-aging cream or serum! Using natural ingredients, you can make a powerful anti-aging face moisturizer that also smells good! All these natural ingredients are good for sealing moisture into skin, boosting collagen, regenerating skin cells and keeping skin supply and youthful!
Without further ado, here's the recipe:
Homemade Face Moisturizer for Aging Skin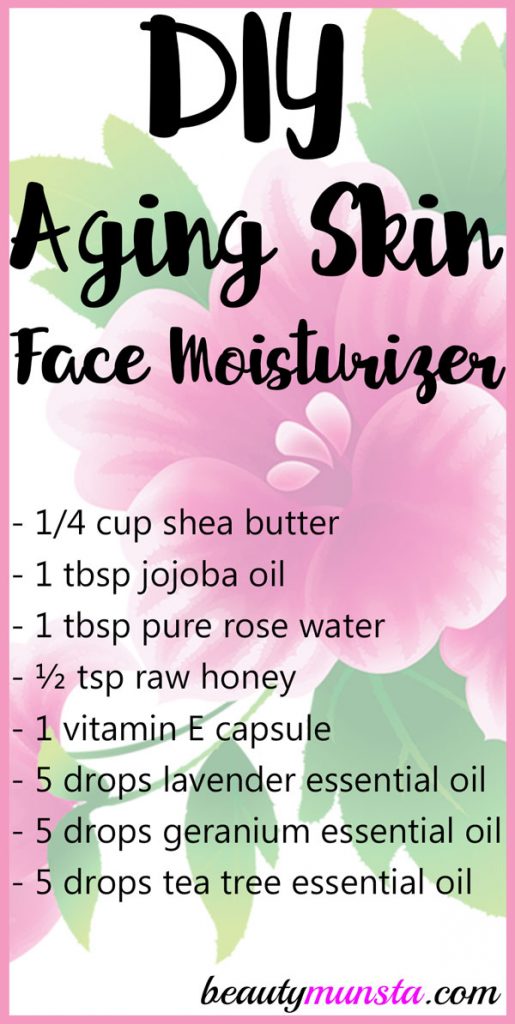 What you need:
* This face moisturizer is a small batch so it wouldn't get spoiled because it's going to be used up fast. However, if you want to use a preservative, go ahead. You'd ideally use 1-2 drops of a preservative like Germaben II.
Directions:
Into a Pyrex measuring cup, add ¼ cup of shea butter then place the cup into a pot containing hot water. This is to gently soften the shea butter for easy whipping. Do not let the water enter the Pyrex cup.
When it has softened, remove from the pot and add 1 tbsp jojoba oil, 1 tbsp rose water and ½ tsp raw honey. Prick the vitamin E capsule with a safety pin and squeeze out the oil into the Pyrex cup.
Now using a hand mixer, whip your ingredients into a fluffy white cream for 7 minutes.
Next, add 5 drops each of lavender, tea tree and geranium essential oil and whisk again till combined.
The final step would be to add your preservative, about 1-2 drops, then whisk one last time.
Transfer your sweet smelling homemade face moisturizer for aging skin into a clean sealable container. Store in a cool dry place.
Massage it onto a clean face after cleansing and toning. You can use my Green Tea Face Toner!
Try this homemade anti-aging face moisturizer and let me know how you much love it!