A homemade deep wrinkle cream can help you fade away fine lines and keep wrinkles away!
It's never too early to start using a deep wrinkle cream on your face.
They say wrinkles start forming when you hit 20 then slowly deepen with time!
Instead of buying an expensive product that promises to make all your fine lines and wrinkles vanish in a day, make your own inexpensive nourishing deep wrinkle cream at home!
Here are the ingredients that you'll need:
Ingredients You'll Need
Shea butter – One of the best emollients out there for supple skin is shea butter! It originates from Africa, where it has been used for centuries to moisturize skin and hair. What makes it special is that it contains lots of nourishing nutrients such as Vitamin A, E, K and F. Vitamin F is also known as essential fatty acids. Shea butter deeply penetrates into skin as soon as you apply it, pumping skin cells with nutrients and moisture. It also has a comedogenic rating of ZERO so it's good for acne prone and oily skin types!
Rose water – Rose water is refreshing, cooling and soothing. It also contains Vitamin C that boosts collagen production. This lovely smelling floral water is good for hydrating skin cells. It also gives this homemade wrinkle cream a smooth, non-oily consistency.
Raw honey – Raw honey is super nourishing for skin. It contains a myriad of antioxidants, enzymes, vitamins and minerals. Honey is also a natural humectant which locks moisture in the epidermal layer of the skin. It also helps preserve this wrinkle cream naturally.
Carrot seed essential oil – Prepare to rejuvenate your skin cells using carrot seed oil! It increases cell turnover, repairs skin cells and deeply treats mature skin.
Geranium essential oil – Geranium essential oil is balancing in nature. It regulates the skin's sebum production and also promotes beautiful supple skin. It also boosts collagen production!
Lemon essential oil – Lemon essential oil is excellent for skin brightening! It also boosts collagen production and helps with age spots and other skin discolorations.
Lavender essential oil – This popular essential oil is known for soothing skin. It helps with blemishes, acne scars, dark spots and skin inflammation. It also has great anti-aging benefits.
Homemade Deep Wrinkle Cream
This homemade deep wrinkle cream is suitable for all skin types including acne prone skin!
It should only be used at night time because it contains photo-sensitive lemon essential oil. Plus night time is when the skin repairs itself.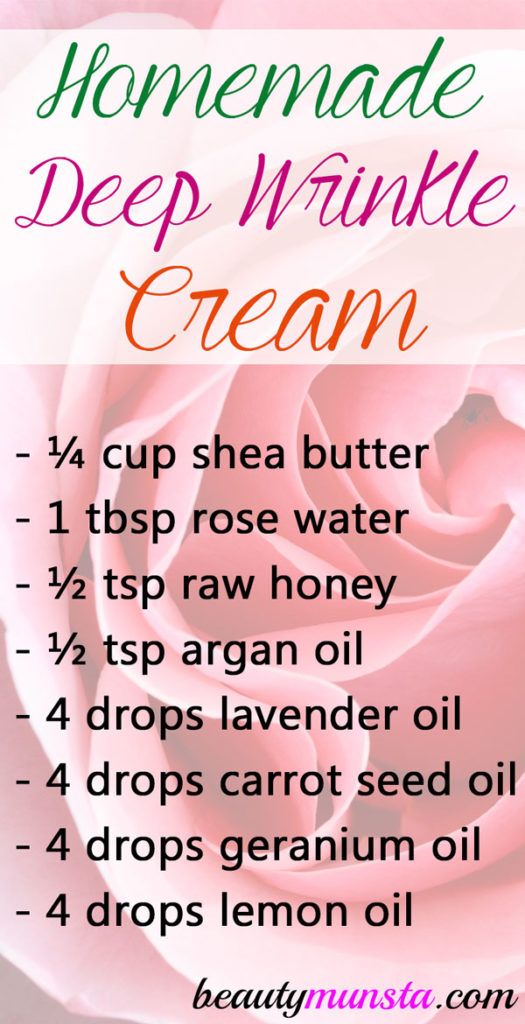 Ingredients:
Directions:
Melt the shea butter using the double-boiler method. Simply place it in a small heat-safe bowl then place the bowl in a wide sauce pan containing hot water. The shea butter will slowly melt.
Once melted, allow it to cool to room temperature (keep it in the fridge to fasten the process – it should be solid but still soft!)
Next, use a hand mixer to whip up the shea butter into a white fluffy cream.
Add 1 tbsp of rose water, 1/2 tsp raw honey and 1/2 tsp of Argan oil and whip again till everything has combined.
Finally, add all the essential oils drop by drop, then give your cream a final whip.
You'll get a nice smooth white cream!
Now scoop the cream into a small glass jar (preferably amber in color to keep away light from spoiling the cream).
Store in a cool dry place.
To use, apply a pea-sized amount all over your clean face in a gentle massage.
Get some beauty sleep!
Are you ready to try this homemade deep wrinkle cream?!