If you don't really love the smell of unrefined shea butter, then you're in the right place. I'm here to tell you that you can scent your shea butter yourself! Let's look at the best fragrance oils for shea butter.
The first way to scent it is by adding essential oils. Essential oils are all natural and 100% pure. But many beautiful scents don't have essential oils for them. What I mean is, essential oils can only be extracted from certain plants. For example, there is no pineapple essential oil or mango essential oil or apple essential oil, etc.
Don't miss: Mixing Shea Butter with Essential Oils
So what's a girl who loves these scents to do?! Use fragrance oils, of course. Now fragrance oils are synthetically derived in the lab so they aren't natural. But hey, making your own shea butter products with fragrance oil beats buying chemical-laden products at the store right?!
Today's post is gonna talk about the best fragrance oils for shea butter and how you can mix 'em up to create a delicious smelling product! Have fun!
The Best Fragrance Oils for Shea Butter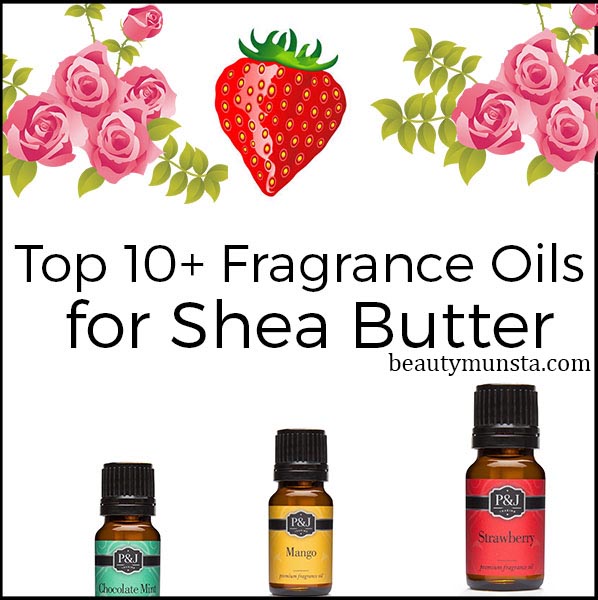 Okay, so vanilla does have an essential oil but it can get expensive. So you can use vanilla fragrance oil instead! I gatta tell you – vanilla + shea = delicious scent from Paradise. It's simply so amazing. You can't have enough of it!
Peach actually does go well with shea butter. It leaves a slight lingering peach smell that's great for a light body butter after a shower!
You're in for a yummy treat with this one! It smells very very strawberry so if you don't want to get intoxicated then add just a few drops to your shea butter for a 'distant' scent. I love the smell and think it would be great for skin or hair – you choose!
If you love the smell of cupcakes, then this is for you! But be warned, someone might be tempted by that delicious scent on you!
Mango is the king of fruits and one of my favorite fruits like EVER! It smells fantastically divine. Add a few drops of mango fragrance oil to your whipped shea butter and enjoy the fruity scent!
6. Passion Fruit Fragrance Oil (where to buy it)
Wow, just wow! Passion fruit smells just as exotic as it sounds! It will make you smell like an orchard of tropical fruits on a beachy island near sky blue waters! For your shea butter mix, you can complement it with a bit of vanilla fragrance oil and orange essential oil for more oomph.
Okay, so we've all whipped shea butter and coconut oil before. But if the coconut scent doesn't really come ou and you're a crazy coconut lover, then coconut fragrance oil is for you! Just a few drops and your coconut craze will be satisfied baby!
Once again, rose essential oil does exist but it's pricey. So you might want to settle for rose fragrance oil. It's breathtakingly floral and romantic. Just perfect for a Valentine's Day Body Butter, if you ask me!
9. Chocolate Mint Fragrance Oil (where to buy it)
Almost everyone I know simply cannot refuse the combination of chocolate and mint together. Not just for its taste but also the yummy scent! If you love the scent of chocolate and mint together, then you need chocolate mint fragrance oil in your shea butter mixes!
Omg, I've always loved the scent of the fresh lilies my mom used to grow in her garden. Now I can actually have some in liquid form?! Yay! Add a few drops of lily fragrance oil into your shea butter and what do you know?! Your solid perfume is ready!
Gardenia flowers smell lovely and you'll be too once you use gardenia fragrance oil in your shea butter! Add a few drops and smell like a lovely lady!
Other Fragrance Oils for Shea Butter
I haven't tried these before, but I think they would go well with shea butter. What do you think?
12. Pineapple Fragrance Oil
13. Honeysuckle Fragrance Oil
14. Sugar Cookies Fragrance Oil
15. Orchid Fragrance Oil
16. Pumpkin Pie Fragrance Oil
17. Apple Fragrance Oil

Tips
As always, add a few drops – do not add a lot as the scent will be overwhelming and become nauseating. The rule is to add a few drops first then if you feel more is needed, add more with caution.
Add the fragrance oil after whipping your shea butter into a fluffy cream. That way, the scent will last longer.
Bonus Recipe – Fluffy & Silky Body Butter that Smells Divine
What you need
Directions
The first thing is to get the shea butter to liquid form. And that's by using a double boiler.
Once it's melted, pop it into the refrigerator for 15 minutes so it cools off and partially solidifies. This helps in easy whipping.
Now get it out and start whipping it using a hand mixer on medium speed. While whipping, gently add the sunflower oil.
Whip until it gets a light fluffy texture like whipped marshmallows.
Add the vitamin E oil (by poking it with a pin and squeezing out the oil) & fragrance oils and beat with the hand mixer until well combined.
That's it! Scoop your fluffy body butter into a sterilized jar.
Let it set in a cool dry place for at least 2 hours before use. You can even leave it in the refrigerator overnight.
Soooo that's my guide on fragrance oils for shea butter! Hope you gained something from it! If you have any other amazing fragrance oils that go well with shea butter, then please tell me in the comments below! 
Make Your Own Shea Butter Products At Home