Have you ever tried many your own lip gloss but it failed miserably? I know I have! But after testing a few ingredients out, I found that you can make your own lip gloss that works!
Lip gloss is a silky product that makes your lips shine and look glossy. It adds a touch of color too. When making your own lip gloss, you're going to need a few ingredients including lubricating oils and mica powder. By mixing these together, you can make a good lip gloss!
Just don't use ingredients like beetroot powder or hibiscus powder. These are natural colorants but when it comes to mixing with oils, they don't mix well. They also don't give color at all. They make your lip gloss look pink/red but your lips don't get any of that color. So that's why, invest in a good mica powder for a nice color. In this recipe, I listed Rose Red mica powder. But you could use the following as well: Magic Red & Peachblow mica powders.
DIY Shea Butter Lip Gloss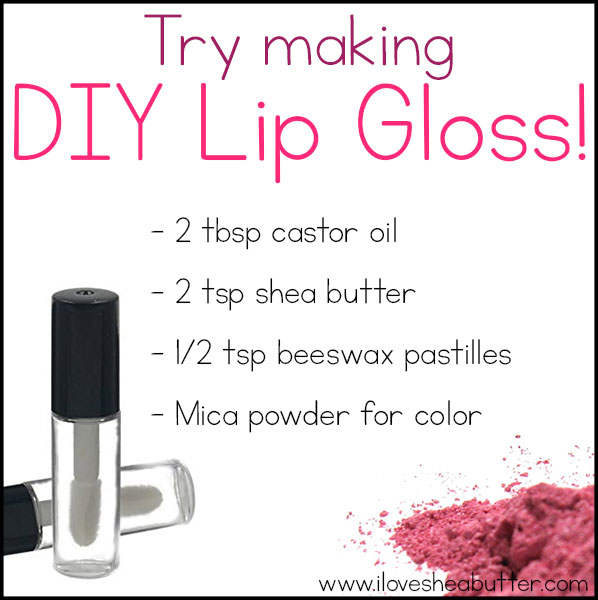 What You Need
Directions
The first thing you're going to do is to melt the shea butter, castor oil and beeswax pastilles together in a double boiler. Gently melt everything down on low heat.
Once melted, let it cool down then start adding your mica powder. I didn't add the measurements for this because it's going to depend on your tastes and preferences. How much color do you want on your lips? Start with a tiny pinch 0r 1/8 tsp, mix it up, then test it on your lips until you get the color you're satisfied with. Remember, with mica powder, you only need a tiny amount to give perfect color so a little goes a long way!
Now using the small funnel, transfer the lip gloss into an empty lip gloss tube. You can also just use any other suitable container of your choice.
That's it! Store in a cool dry place where it will last for some good months.
My Tips
Most of you'd want your lip gloss to have a good flavor/scent. I bet you could use liquid vanilla extract or honey for flavor. But I wouldn't know how long it'll last if you add these. You could also add peppermint oil. This oil gives a tingly feeling on your lips which is said to act as a natural lip plumper! I linked an oil that's safe for ingestion but still, keep in mind that essential oils shouldn't be ingested at all.
So beauties, enjoy this DIY shea butter lip gloss recipe and come share your results!