There are a ton of beauty benefits of beetroot that you need to learn ASAP! Beetroot is your new skin (& hair!) savior!
10 Beauty Benefits of Beetroot for Skin & Hair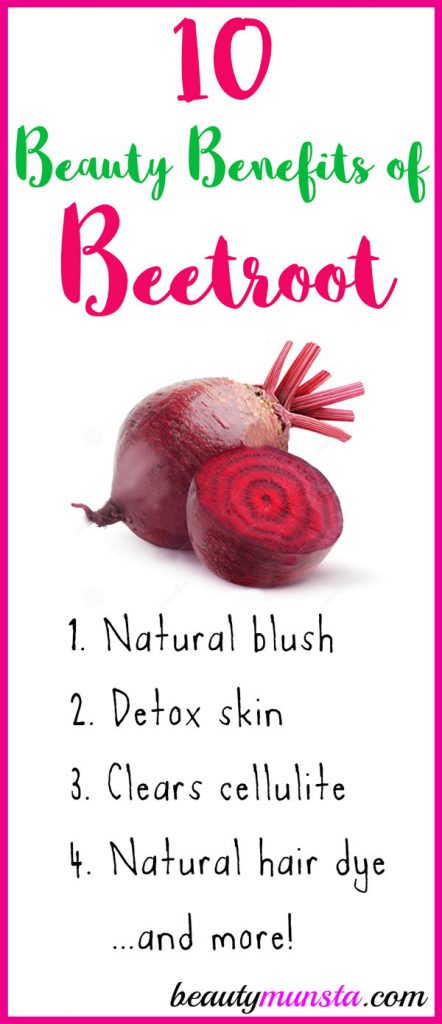 Below are 10 spectacular beauty benefits of beetroot for your skin and hair!
1. Radiant Skin
Consuming beetroots can leave you with radiant skin! They purify the blood, removing toxins and wastes that can make skin look dull and ashy. You can also apply beetroot juice on your skin to give it a radiant glow!
2. DIY Natural Blush
Long ago, people rubbed beets to give their cheeks a healthy pink glow – yes, as a natural blush! And you can make your own blush right now if you have beets at home! Here's how:
Natural Blush: Peel then slice 10 beets thinly and lay them on an oven tray. Bake at low heat until they turn crisp. Powder in a clean & dry blender for a few minutes till you get fine pink powder. Store in a small container and apply with a powder brush for a natural blush! Alternatively, you can buy organic beetroot powder which is already finely powdered!
3. Facial Toner
Oily skin? Don't worry! You can make and use these awesome beetroot lemon ice cubes as natural toners for your skin!
Beet Lemon Toner: Blend one beet with a little water to form a puree. Now strain the pink juice into a bowl and add 1 tsp fresh lemon juice. Pour into an ice cube tray and let it freeze. Rub an ice cube onto your face after cleansing it to tone it, control oiliness and leave a healthy pink glow!
4. Detox Skin
Did you know that beets have powerful detox properties?! Yes, that's true! They help purify the blood, help the liver dump toxins, stimulate liver cells and cleanse the body of wastes. This helps prevent toxins from purging out of your body through acne, whiteheads, cellulite, discolorations and other blemishes! Try this detoxifying beetroot juice once a week! Note: You might feel like puking after you drink it. When you do, just puke it all out because this means the bad stuff are coming out of your body!
Detox Drink with Beets: In a high speed blender, add 1 peeled & chopped beetroot, ½ peeled & chopped cucumber and 1 chopped apple. Blend till you get a smooth puree. Strain to remove the pulp and retain only juice. Drink it up on an empty stomach. If you feel like vomiting after drinking this, go do it! Your body is being cleansed of toxins!
5. Anti-Aging
It's no surprise that beetroot has anti-aging properties. One of it's major components, lycopene, which gives beets its red color, is a powerful antioxidant that fights pro aging free radicals in the body. It also helps maintain the skin's elasticity and tautness which promotes young looking skin! Consume beets in your smoothies, stir fries, etc!
5. Get Rid of Cellulite
As mentioned above, beetroot is a powerful detox food. Consuming it gets rid of toxins and wastes such as old fat cells that accumulate and lead to the dips and dimples known as cellulite! You can blend beet with grapefruit which is another cellulite-busting food and drink it as a juice!
6. Promotes Hair Growth
Beetroot is one of the best food for healthy hair growth. It contains iron, silica, potassium and carotenoids, among others that improve blood flow to the scalp & nourish the hair follicles, making hair grow thicker and longer. That's not all! Beetroot also makes hair super glossy with a beautiful sheen!
7. Dye your Hair
For red heads or those who wish to get auburn hair or red highlights – good news! You can use beets to dye your hair! Simply mix beetroot juice with henna powder instead of water and apply it on your hair as a natural hair dye. Use this every week. For subtle red highlights, apply beetroot juice on your hair, wait for 1-2 hours then wash your hair as usual. You can try this 3 times a week.
8. Reduce Age Spots, Acne Scars & Blemishes
Are you someone who suffers from age spots? Or do you spots, acne scars and blemishes take long to heal? Then you need to consume beetroot! Beetroot supplies all skin cells with necessary nourishment including Vitamin C and nitric acid, which promotes healing and repair. This helps your discolored skin even out and gain a healthy look!
9. Get Rid of Acne
When you have acne, you might want to consume beetroot as a way to naturally detox your skin. The best way to consume beets for acne is by making this anti-acne drink:
Beet Carrot Juice for Acne: In a high speed blender, add 1 peeled & chopped beetroot, 2 peeled & chopped carrots and ½ cup of water. Blend till you get a lump-free puree. Strain using a fine mesh strainer to get thin juice. Drink the juice at least 3 times a week to see improvement in your acne!
10. Redden Lips
Some people rub a small slice of beetroot on their lips to naturally redden them. You can also make a beetroot lip tint that's ridiculously easy to whip up!
Beetroot Lip Tint: Into a shot glass, scoop in 1 tsp of shea butter. Put the shot glass into a bowl or pan of hot water. Do not let the water get into the shot glass. When the shea butter melts, add 1 tsp castor oil and 1 tsp of beetroot powder. Stir vigorously to combine all ingredients without any lumps. Let it set in the refrigerator for 15 minutes. Apply however many layers of this lip tint for the desired lip color you want! This lip tint can last up to 6 months! PS: It doubles as a cream blush!

Will you use beetroot in your beauty routine? How are you planning on using it? Share below!