I love shea butter so much – it's a staple ingredient in many of my homemade beauty products including the ones I've listed below. Here are some of my best shea butter homemade products/recipes that I know you'll love as much as I do! Also don't forget to get my eBook which contains more exciting shea butter recipes for gorgeous skin, hair & body!
My Favorite Tried & Tested Shea Butter Recipes Ebook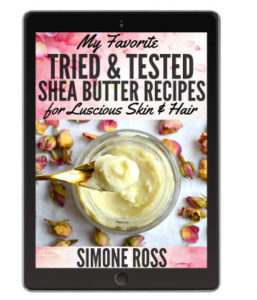 Do you love shea butter and want to make your own beauty products with it?! Check out this ebook "My Favorite Tried & Tested Shea Butter Recipes for Luscious Skin & Hair" for 30 awesome recipes, complete with step-by-step instructions, beautiful pictures and other valuable shea butter info!
7 Homemade Shea Butter Recipes for Skin & Hair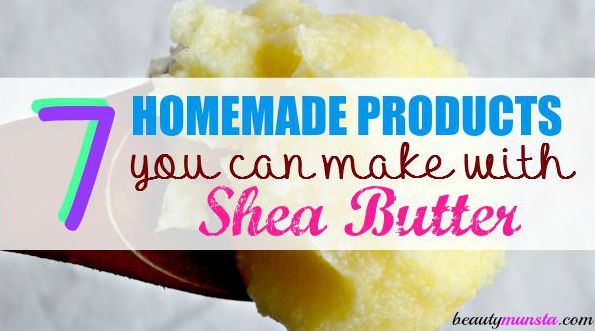 ♥ Click on each image to go to the DIY recipe! ♥
    1. Whipped Shea Butter Face Cream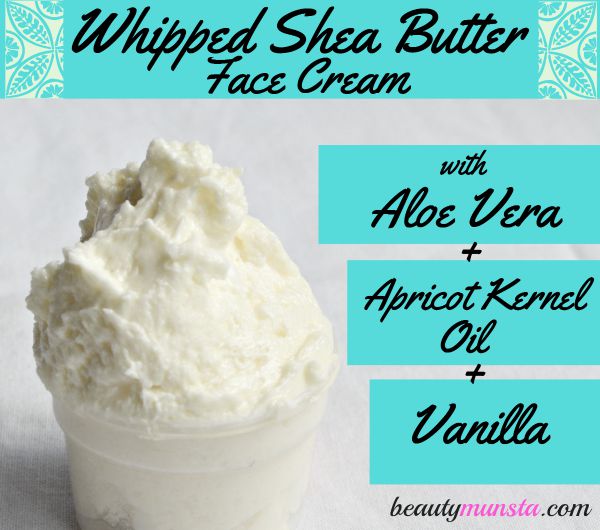 If you have sensitive or acne-prone or dehydrated facial skin, then you can make your own face products using shea butter. One of them is this shea butter face cream which is so soft and nourishing to skin of all types. Since it contains aloe vera in it, it's non-greasy and tightens skin, making it great for acneic and oily skin types. It's also healing for dry skin since it contains olive oil, a high fat oil that is rich in Vitamin E.
► What you need: Shea butter, olive oil, aloe vera gel, apricot kernel oil, vitamin e oil, vanilla essential oil.
► How to Use: Massage it on a clean face using clean finger tips once or twice a day: in the morning & at night.
► Shelf Life: 4 months and more
    2. Shea Butter Hair Milk Recipe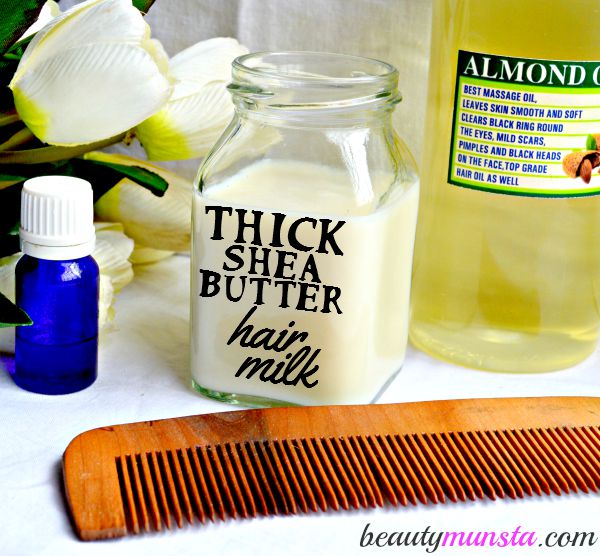 Homemade hair milks are so luxurious for the hair and they're filled with hair loving ingredients! You can decide how thick you want your hair milk to be but I love my homemade hair milk to be just a little thick so I can gently pour it all over my scalp and hair and massage it in using my fingertips. This shea butter hair milk recipe is perfect for those of you who want to strengthen weak hair strands and rejuvenate inactive hair follicles.
► What you need: Shea butter, coconut milk, sweet almond oil, raw honey, aloe vera gel, vitamin E oil, vanilla extract.
► How to Use: First section your hair then using an applicator bottle, apply a little on one section of your scalp, rub it in and repeat for your whole scalp. Next slather it on your hair strands from root to tip. When the whole process is done, tie up your hair with a hair clip and wrap a baggy to trap heat. Leave it on for about 30 minutes or more to work its magic then wash off as usual.
► Shelf Life: Since it contains coconut milk, this hair milk can easily go bad so refrigerate it and use within the week. I recommend using this hair milk treatment every week or every once in 2/3 weeks for those with protein-sensitive hair.
    3. Citrus Shea Butter Brown Sugar Scrub Recipe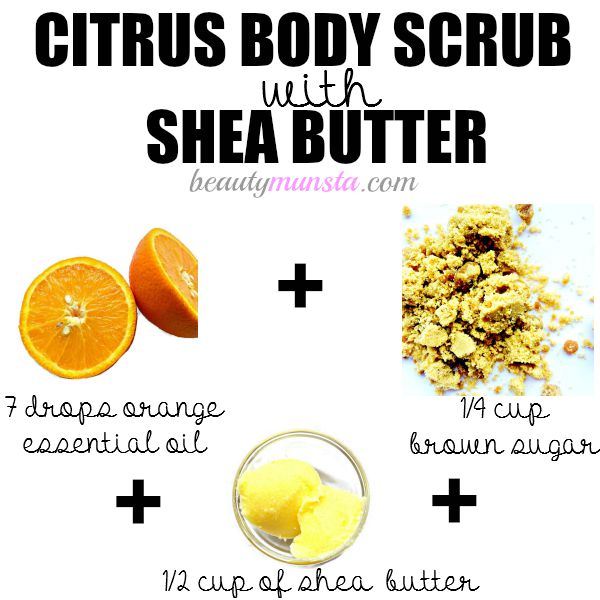 A refreshing citrus shea butter scrub recipe starring orange essential oil! Whip this up in a jiffy for skin as soft and smooth as a baby's! Use brown sugar for its gentle but effective exfoliating properties and orange essential oil to tone & firm the face.
► What you need: shea butter, brown sugar, orange essential oil,
► How to Use: Scrub all over your body during a shower and rinse off with lukewarm water.
► Shelf Life: 1 week or more
    4. DIY Shea Butter Hair Lotion Recipe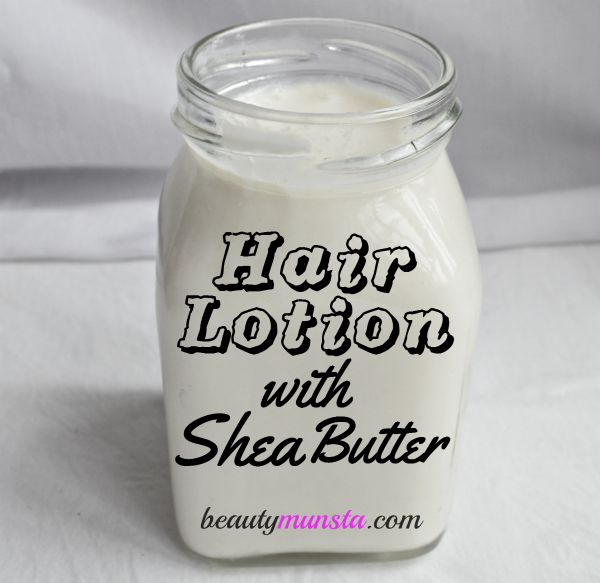 A homemade hair lotion that's so versatile it can be used as a leave-in, pre-styler, de-tangler, frizz fighter, and so much more! Add more shea butter if you want it even thicker to lubricate dry frizzy curls! For oily & thin fine hair, you can use less sheabutter/more hydrosol to make it less greasy.
► What you need: shea butter, avocado oil, witch hazel hydrosol, beeswax, raw honey, vitamin E oil, corn starch.
► How to Use: Get a dime sized amount of hair lotion, rub it between your palms and smooth them over your hair strands to nourish, moisturize, fight frizz, add shine and more.
► Shelf Life: 2 to 3 months or more
    5. Shea Butter Hand Cream Recipe with Raw Honey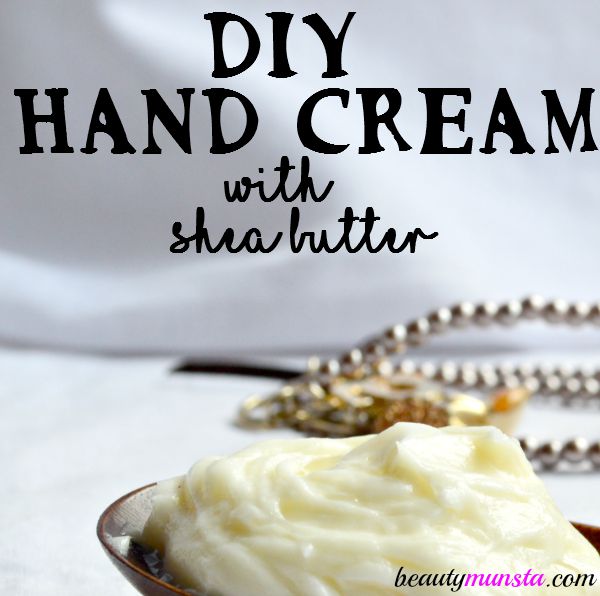 A hand cream recipe for soft and smooth hands! It's great for nourishing dry palms and treating parched and peeling skin on the hands.
► What you need: shea butter, rose hydrosol, raw honey, geranium essential oil, tea tree essential oil, lavender essential oil
► How to Use: Apply on clean hands, throw on some socks and go to bed. Wake up the next morning with softer hands!
► Shelf Life: 6 months or more
    6. Hair Growth Recipe: Shea Butter Coconut Oil Castor Oil Mix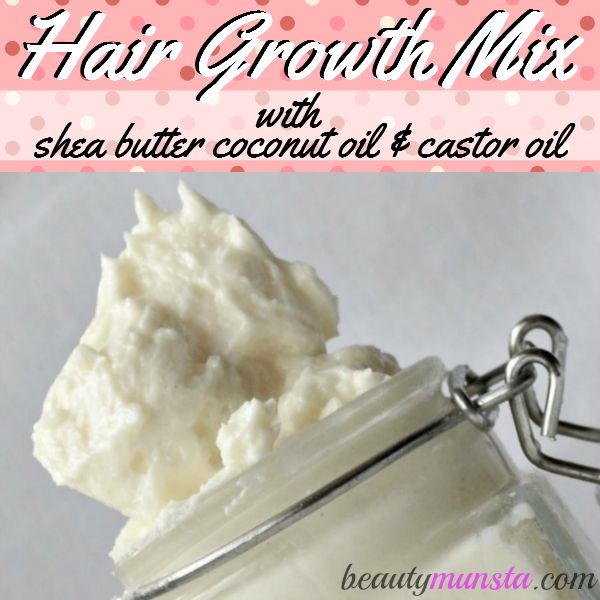 You can grow long and thick hair with shea butter especially when you mix it with other hair boosting ingredients such as coconut oil and castor oil!
► What you need: shea butter, coconut oil, castor oil, lemon grass essential oil, tea tree essential oil
► How to Use: Get a dime sized amount and massage it all over your scalp then style. You could also use it on your locks to lock moisture and promote shine!
► Shelf Life: 3 to 6 months or more, depending on how well you keep it.