I'm excited to share with you this luxurious shea butter hair milk recipe that looks so good enough to slurp up! I've used sweet almond oil as one of the main ingredients in this hair milk recipe and the base ingredient is coconut milk. You may not know this but coconut milk has been an ancient hair secret in the Phillipines and Southern India for beautiful thick and shiny hair! To make this shea butter hair milk smell delicious, I used vanilla extract but you could use any other scents, fragrances or essential oils of your choice.
Hair milks are extremely good for nourishing natural hair and they're so easily to make! There are many variations of making homemade hair milk including with distilled water, with plant milks, with floral waters, etc! In my EBook, you'll find my most loved hair growth-boosting shea butter hair milk recipe starring goat milk, a superstar for beautiful, thick and shiny locks.
Shea Butter Benefits for Hair
Shea butter is your hair's best friend! Seriously! It is MEGA rich in vitamin A, E, K and F which are all amazingly nutritious for beautiful hair. Vitamin F is also known as fatty acids and it creates a protective lipid layer over hair strands which not only protects the hair from impurities, UV rays, germs and other environmental factors, but also locks moisture in dry hair! Read more benefits of shea butter for hair here. For 5 gorgeous shea butter recipes for natural hair, go here.
DIY Luxurious Shea Butter Hair Milk Recipe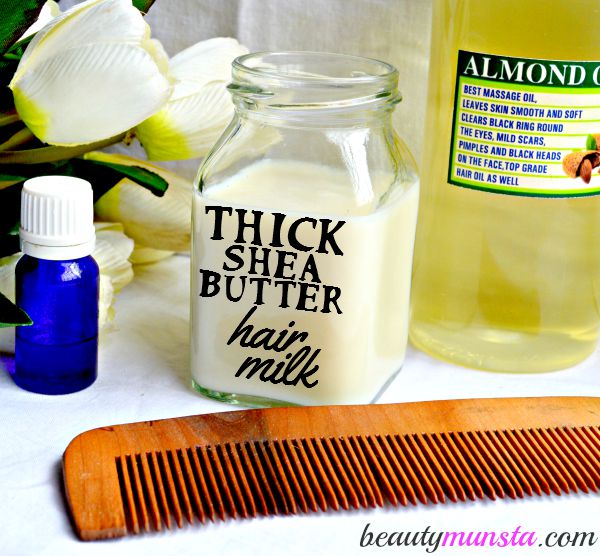 Beautymunsta's Ingredient Profile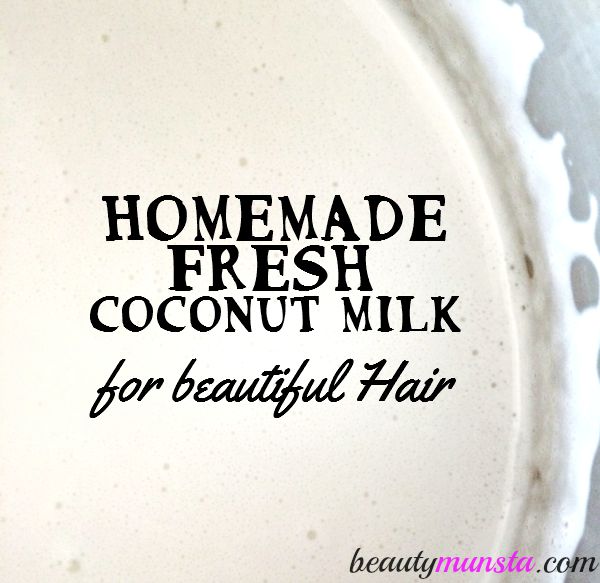 ➝  Coconut Milk – Coconut milk is a protein filled milk extracted from the meat of ripe coconuts. It's also rich in medium chain fatty acids that easily penetrate into the hair and vitamin E that repairs hair damage, soothes scalp inflammation and fights off premature aging.
➝  Sweet Almond Oil – In Ayurveda, sweet almond oil has been revered as a nourishing hair oil that is said to heal damaged hair which is prone to breakage. It's also used to help seal split ends naturally! It contains vitamin A, B and E and rich omega 3,6 & 9 fatty acids promote the hair from the sun's harsh rays and environmental damage.
➝  Raw Honey – The raw honey in this shea butter hair milk recipe will not make your hair sticky. In fact, it will lock moisture in the hair strands since it's a natural humectant. It's also antibacterial, which means it will keep your hair safe from germs that can cause itching and infections on the scalp.
➝  Aloe Vera Gel – Aloe Vera is a soothing and cooling substance for the scalp, it facilitates easy de-tangling, fights oily hair, gets rid of frizz, heals dandruff and scalp acne as well as seals moisture into the hair strands.
Ingredients
2 tbsp of raw shea butter (depending on how thick you want the hair milk to be)
1/2 cup of coconut milk
1 tsp of raw honey
1 tsp sweet almond oil
2 tsp of aloe vera gel
3 to 5 drops of vanilla extract (optional)
½ tsp vitamin E oil (optional)
Directions
I like to add all the ingredients in a food processor and blend till smooth and creamy! However, if you are using a food processor then you might want to add the coconut milk little by little, while the food processor is running so everything gets fully incorporated.
You can also whip this mixture using a hand blender or stick blender and you will still end up with a thick and luxurious shea butter hair milk.
Store it in a mason jar, applicator bottle or pump bottle, in a clean dry place. It will last for at least 1 week or more, provided you keep it away from contamination. Keeping it in the refrigerator prolongs its shelf life.
How to Apply the Shea Butter Hair Milk
This Shea butter hair milk is a thick liquid so it's not going to be drippy when you apply. Just pour a little on your palm using a clean spoon or applicator bottle, rub it together on your palms and smooth it all over your hair.
Use it as a leave-in, deep conditioner, hydrator, pre-styler, detangler, frizz-fighter, overnight treatment or even a hair mask.
My Tips
If you're hair is ultra dry, frizzy or dehydrated, feel free to add more oils. I recommend olive oil, coconut oil, jojoba oil and grapeseed oil, which are all rich in hair boosting nutrients.
Store your hair milk in your bathroom cabinet so you can easily use it every day without fail. But please make sure not to get any water into it, otherwise it'll surely mold.
Almond milk or any other plant/nut milk can be used if you don't have coconut milk in stock.
Whipped Shea butter is one of the most luxurious skin foods out there and the good news is: it's so easy to make at home! All you need is Shea butter, a base or carrier oil like apricot kernel, olive oil or grapeseed oil and optional ingredients such as essential oils & herbs/skin soothing ingredients of your choice. Essential oils are used for their strong anti-bacterial & other potent skin saving properties, their anti-oxidant properties which will make the product last longer and their strong scents which make the whipped Shea butter lotion smell amazing. Cornstarch is used to decrease the oiliness of the lotion and make it silkier!
For this whipped Shea butter lotion recipe, I chose to use coconut oil, cocoa butter and vegetable glycerine because of their rich nutrient profile and you can see their benefits for skin below:
Beautymunsta's Ingredient Profile
➝ Rose Water – Rich in Vitamin C, rose water boosts collagen production and cell regeneration. It also moisturizes, cools and refreshes skin. For oily skin types, rose water helps control excess sebum production and keep skin looking dewy. Rose water also gives this whipped shea butter lotion an easily absorbable and more liquid consistency. Not to mention, it's got a heavenly scent as well!
➝ Coconut Oil – This multipurpose carrier oil treats chapped skin, locks in moisture, delays fine lines and protects the skin from impurities.
➝ Vegetable glycerine – Vegetable glycerine is especially good for controlling oily skin and skin conditions like acne and pimples. It retains moisture in the skin, firms & tones the skin, delays signs of aging, helps lighten skin to some extent and protects the pores from impurities and harsh elements.
➝ Lavender essential oil – Best known for its soothing and calming properties, lavender essential oil is also highly anti-bacterial and anti-inflammatory. It reduces skin redness, heals dry skin and treats acne, eczema and other inflammatory skin conditions.
➝ Geranium essential oil – I find that lavender and geranium give this whipped shea butter lotion recipe a beautiful scent which will make you smell amazing the whole day long! Geranium essential oil also has beauty benefits such as treating acne, toning & firming skin as well as defending the skin cells against oxygen-stealing free radicals.
DIY Whipped Shea Butter Lotion Recipe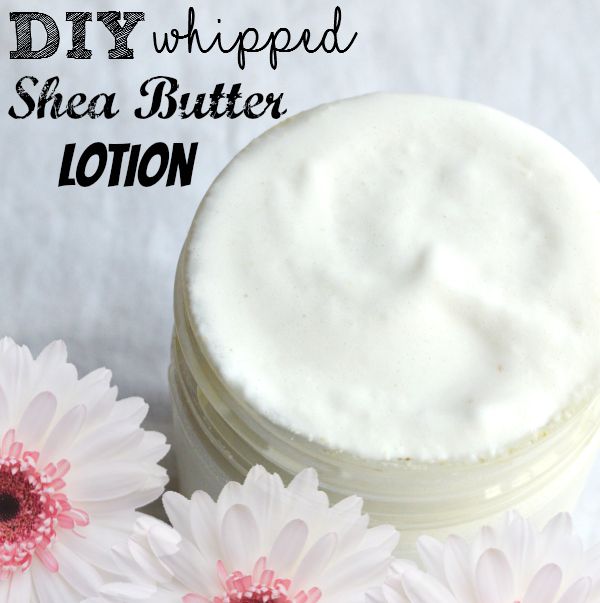 This whipped shea butter lotion recipe contains coconut oil, which can make it a tad greasy. Feel free to reduce the amount of coconut oil to suit your preference. Adding cornstarch is another way of combating greasiness in this lotion recipe.
Ingredients
• 1/4 cup of raw Shea butter (get it here)
• 4 tbsp rose water (get it here)
• ¼ cup of coconut oil (get it here)
• 1/4 cup of vegetable glycerine (get it here)
• 10 drops of lavender essential oil (get it here)
• 10 drops of geranium essential oil (get it here)
• 1 tsp of cornstarch *optional*
Directions
1. Gently melt the raw Shea butter, cocoa butter and coconut oil in a double boiler. Make a provisional double boiler by placing a heat safe container into a pan filled with a couple inches water and heat using a low to medium flame.
2. Once melted, place the container containing the ingredients into the refrigerator and leave it there for 10 minutes or until it sets and is no longer liquid.
3. Add the essential oil and vegetable glycerine and whip with a hand mixer until fully incorporated. This can take about 5 to 10 minutes or less.
4. Finally, add the cornstarch and whip again for 20 seconds.
5. When the ingredients are well mixed and look like whipped cream, stop whipping.
6. Transfer the whipped shea butter lotion to a clean container.
7. Store in a dry, dark and well-ventilated place.
My Tips
Coconut oil can make this whipped shea butter lotion recipe a tad oily so please feel free to reduce the amount of coconut oil you use in this recipe.
If you don't have corn starch, you can use arrow root starch.
My Favorite Tried & Tested Shea Butter Recipes Ebook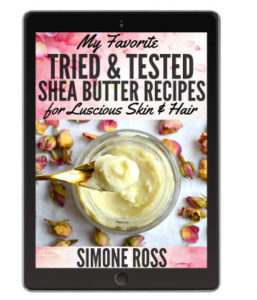 Do you love shea butter and want to make your own beauty products with it?! Check out this ebook "My Favorite Tried & Tested Shea Butter Recipes for Luscious Skin & Hair" for 30 awesome recipes, complete with step-by-step instructions, beautiful pictures and other valuable shea butter info!
All Natural Hair Care Guide with Essential Oils!
Want to know more about essential oils for hair and how to make scalp & hair care recipes with essential oils? Check out our Complete Guide to Using Essential Oils for Scalp & Hair Care that talks about the magical properties, benefits & uses of essential oils for your scalp and hair with over 100 recipes to make your own chemical-free hair products for a healthy scalp and beautiful hair.
DIY Herbal Hair Oil Infusions Guide with Recipes
Want to make your own herbal hair oils? Check out our DIY Herbal Hair Oil Infusions eBook that contains an A-Z list of healing herbs and spices to infuse for hair, what base oil to choose for your hair type, methods of infusing your hair oils plus 20 exciting hair oil recipes for dry hair, heat damaged hair, hair growth, even gray hairs, scented hair and more!