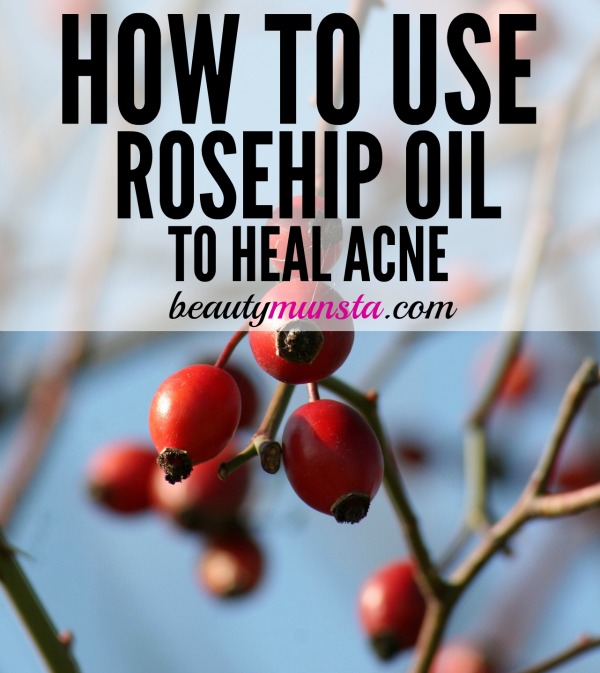 Is Rosehip Oil Good for Acne – Won't it Clog My Pores?
Rosehip oil is popularly known for its powerful anti-aging properties but it's also great for healing and soothing acne prone skin. It doesn't clog pores at all since it's one of those 'dry' oils that do not leave a greasy feel on the skin. Although it's a 2 on the comedogenic scale, rosehip oil is lightweight, absorbs rapidly into the skin and has astringent properties that do not make the face greasy when used alone, as with thick oils like olive and wheat germ.
Check out the properties of rosehip oil for acne below:
Anti-inflammatory properties– Due to its high essential fatty acid content, rosehip oil contains strong anti-inflammatory properties that soothe inflammation and reduce redness.
Anti-microbial properties – Rosehip oil has a high anti-microbial activity which helps acne by killing off acne-causing germs and bacteria.
Anti-scarring properties – Known to be an excellent natural treatment for scars, rosehip oil helps fade existing acne scars and preventing new scars.
Benefits of Rosehip Oil for Acne
Cleanses pores of impurities – When applied on skin, rosehip oil penetrates deep and drives out impurities such as stale sebum, grime, dirt, bacteria that contribute to acne. Use rosehip oil in your oil cleansing skin care routine to cleanse your skin from deep within the pores.
Soothes and reduces acne inflammation – Since it is rich in linoleic acid and linolenic acid, rosehip oil is a great skin soother with powerful anti-inflammatory properties. Combined with healing anti-inflammatory essential oils, you can make a soothing night time face oil to reduce acne and redness. Recipe below!
Fights off acne-causing germs and bacteria – Studies show that rosehip extracts have high antimicrobial activities that defend the body from germs and harmful microbes including the ones that cause and aggravate acne.
Moisturizes dry skin – Skin that is oily and acne prone can in fact be dry and dehydrated beneath the surface. To compensate for the lack of moisture, the skin ends up producing excess sebum, which in turn leads to breakouts. Rosehip oil prevents this kind of acne by moisturizing skin and keeping it hydrated and supple.
Excellent anti-scarring properties – Known for its excellent anti-scarring properties, rosehip oil helps heal existing acne scars and prevent future scars from appearing. Its high essential fatty acid content helps repair skin tissue and regenerate skin cells, thereby speeding up the rate at which acne scars heal.
Where to Get Rosehip Oil

Always look for 100% pure quality rosehip oil without additives. My recommended rosehip oil is this one from Leven Rose. You can buy it here.
How to Use Rosehip Oil for Acne
► Oil-Cleansing Method
Fill an 4 oz bottle ¼ way with grapeseed oil and ¼ way with rosehip oil. Then add 4 drops of tea tree essential oil, 4 drops of lavender essential oil and 3 drops of geranium essential oil. Mix well. To use, place a dime sized amount of oil on your palm and using your fingertips, massage this oil blend onto your face. After massaging, wring a microfiber washcloth in hot water and dab your face with it. Repeat the dabbing twice more so that the oil treatment can penetrate deep. That's it! Oil cleanse your face at least once a day in the night to clear your acne forever.
► Nourishing Night Cream
In a double boiler, soften (not melt) 2 ounces of raw shea butter. Create a makeshift double boiler by placing a small heat-safe container (containing the ingredients) over a pan filled with a couple inches water. Heat over a low flame until the shea butter softens enough to stir with a spoon. Turn off the heat and add 2 tbsp of rosehip oil, 10 drops of lavender essential oil and 10 drops of frankincense essential oil. Stir vigorously with a fork and transfer to a small amber jar . Apply just a pea-sized amount to your face every night to heal acne naturally.
► Anti-Acne Face Oil
In an amber glass dropper bottle, add ¼ cup of rosehip oil. Then add 12 drops of tea tree oil. Mix well. Massage a dime sized amount all over your acneic skin at night time before bed. Leave the treatment on overnight and wash off the next morning. Don't forget to throw an old towel over your pillow to keep it from staining!
More Rosehip Beauty Info