Rosehip oil is just as luxurious as it sounds! It's amazing for anti-aging in particular but it's also excellent in reducing scars, hyperpigmentation, stretch marks and even freckles! In this article, learn 15 beauty benefits of rosehip oil!
Rosehip oil is obtained from the seeds of a specific and wild variety of rose Rosa rubiginosa, also called Rosa moschata, predominantly found in Chile or the Southern Adean Mountains. Today, rosehip oil can also be extracted from the Rosa canina shrub grown in many parts of the world such as Europe and South Africa.
This precious beauty oil is extracted through a cold-press method that squeezes out the oil from the rosehips and seeds. The rosehip plant and rose plant seem alike but are very different. Here is a picture of the rosehip plant and its flower to show you how different it is from the rose we all know: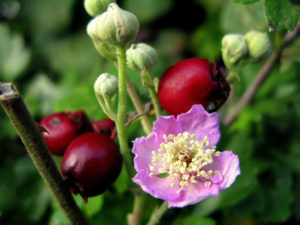 Rosehip Oil Profile
♥ Scientific Name:
Rosa moschata or Rosa rubiginosa, Rosa canina
♥ Other Names:
Rosehips are also known as Hip Berry, Rose Haws, Rose Heps, Wild Boar Fruit, Wild Rose and Dog Rose
♥ Origin:
Rosehips are said to be a well-kept secret of the Indigenous people of Chile for their curative and cosmetic properties.
♥ Color and Smell:
Rosehip oil is light amber in color with an orange hue. It has a heavy characteristic smell that is warm, earthy and herbaceous. The smell quickly dissipates and can be masked with essential oils.
♥ Texture:
Rosehip oil is said to be a 'dry' oil with a smooth and light texture. This means it penetrates into the skin easily, without leaving a greasy residue.
♥ Shelf Life:
6 months (please refrigerate it to prevent rancidity)
♥ Potential for Irritation:
Low
♥ Precaution & Tips
• Keep rosehip oil refrigerated.
• To lengthen it's shelf-life, add to it some vitamin E oil! You can add 1 tsp of vitamin E oil to 1 oz of rosehip oil.
• Avoid excess application on acneic skin or overly oily skin.
Properties of Rosehip Seed Oil
Rosehip oil contains many nourishing vitamins, antioxidants, phytochemicals and essential fatty acids in it. Some of them include:
Vitamin A
Lycopene
Beta carotene
Vitamin C
Vitamin E
Vitamin K
Linoleic acid
Omega 3 fatty acids
Omega 6 fatty acids
Omega 9 fatty acids
15 Beauty Benefits of Rosehip Oil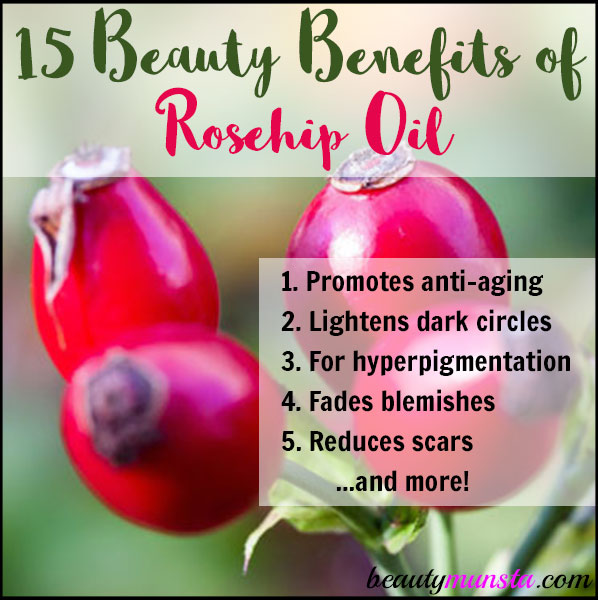 1. Promotes Anti-Aging
Rosehip oil is a very popular beauty oil for anti-aging. That's because it contains nutrients like Vitamin E and Vitamin C. Vitamin E is known throughout the skin care world for its powerful ability to fight off free radicals that cause premature wrinkles. Vitamin C boosts the skin's collage, making skin maintain its elasticity and suppleness.
2. Lightens Dark Circles
Known to help with discolorations on the face due to its vitamin K content, rosehip oil can considerably reduce dark circles. You can combine it with other dark circle erasing ingredients to make an under-eye dark circle cream.
Here's how: in a small mixing bowl, add 3 tbsp of shea butter, ½ tsp almond oil and ½ tsp rosehip oil. Now add 5 drops of clove oil. Vigorously mix everything together with a whisk. Transfer to a clean lip balm container. Dot a tiny amount under each eye and massage it in gently.
3. Fades Blemishes
Got blemishes and dark spots on your face? Try using rosehip oil! It nourishes skin and increases skin turn-over thereby allowing fresh skin to grow, getting rid of those weird blemishes from acne marks, chicken pox and etc.
4. Reduces Stretch Marks
Stretch marks are a form of scarring which again, rosehip oil can help reduce! You can make your own stretch mark body butter as follows:
Melt ¼ cup of cocoa butter in a double boiler. Once melted, allow it to cool down completely in an electric stand mixer bowl. Once it cools down, add 1 tsp rosehip oil and 1 tsp vitamin E oil. Beat the mixture in the mixer until smooth and creamy. Rub on stretch marks to prevent/reduce them.
5. Evens out Hyper Pigmentation
Hyperprigmented skin is uneven, with some parts of the face being lighter/darker than the rest. Usually, the mouth area or forehead might be darker than other parts of the face. Rosehip oil can help even out pigmented skin over time. Massage 2-3 drops on the affected areas every night before bed.
Read more:
6. Soothes Sun Damaged Skin
Rosehip oil is anti-inflammatory so it helps soothe and calm sun damaged skin. To use, simply mix 1 tsp rosehip oil in 1 tbsp of aloe vera gel and spread on your sunburn.
7. Heals Burns
Just as with sun damaged skin, rosehip oil also heals burns. It contains high amounts of vitamins that promote cell regeneration and renewal. This helps heal burns and allows new skin to grow over them.
8. Good for Sensitive Skin
Sensitive skin like that of rosacea, eczema and psoriasis can benefit from rosehip oil. You can add 1 tsp to 8 oz lotion/facial cream and apply after a bath. Or, apply a few drops on the sensitive areas to promote healing.
9. Reduces Scars
An excellent oil for scarring, rosehip oil can be used to speed up cell regeneration which heals the scars. It can be mixed in shea butter and rubbed deeply on scars to help break apart the scar tissue.
10. Lightens Freckles
Freckles are cute but if you're not fond of them, get your hands on some rosehip oil. Since it's rich in Vitamin C, it has a lightening effect on freckles!
Rub a drop of rosehip oil on your freckles or make a gentle but effective freckle-reducing serum: In a 2 oz amber dropper bottle, ½ tsp vitamin C powder, 1 tsp distilled water, 2 tbsp vegetable glycerin, 1 tsp rosehip oil and 6 drops lemon oil. Shake well and apply on your freckles only at night time.
11. Fades Acne Scars
Rosehip oil is good for fading away acne scars. It's best used as a spot treatment on the acne scars. As it has a comedogenic rating of 2, avoid using too much of it on your acneic skin or it may break you out. When used correctly though (a little goes a long way), it reduces acne scarring by miles. Many people with acne-prone skin have reduced levels of linoleic acid, so using rosehip oil in small quantities (such as a drop or two) can be beneficial for treating acne.
12. Non-Greasy Moisturizer
Rosehip seed oil is considered to be a 'dry' oil. This means it easily absorbs into the skin, without leaving any greasy residue. So if you have oily skin, you can a sparing amount of rosehip oil as a moisturizer without fear of ending up oily. Rosehip oil also contains more than 40% linoleic acid, which many dry skinned people lack. This makes it excellent for preventing dry flaky skin.
13. Hardens Brittle Nails
With its nourishing fatty acids, rosehip oil improves the appearance and health of brittle nails. It moisturizes and strengthens them against breakage.
14. Good for Eczema
Rosehip oil is touted as a good moisturizer and healer for eczema affected skin. It is rich in nutrients such as vitamin A and essential fatty acids that help treat eczema.
You can make your own whipped eczema cream by placing ¼ cup shea butter and 2 tbsp of rosehip oil in a large bowl. Add 10 drops of helichrysum oil. Beat well with a hand mixer till creamy. Apply on eczema affected areas when needed.
15. Soothes Rosacea
Rosacea skin is sensitive and inflamed. Rosehip oil is one of the few oils that can be used on this skin type. It is a powerful anti-inflammatory, doesn't irritate sensitive skin and helps reduce redness, discoloration and scars from rosacea bumps. You can mix ½ tsp of rosehip oil in 1 tbsp of aloe vera gel and apply it to your clean face.
Where to Buy Rosehip Oil
Always look for 100% pure quality rosehip oil without additives. My recommended rosehip oil is Leven Rose's 100% Pure and Organic Cold Pressed Unrefined Rosehip Oil. You can buy it here. When you buy it, remember to keep it refrigerated to prevent rancidity.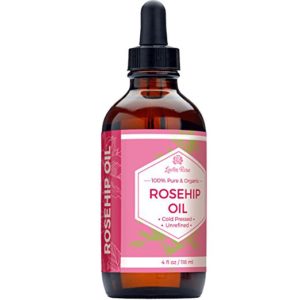 More Rosehip Beauty Info