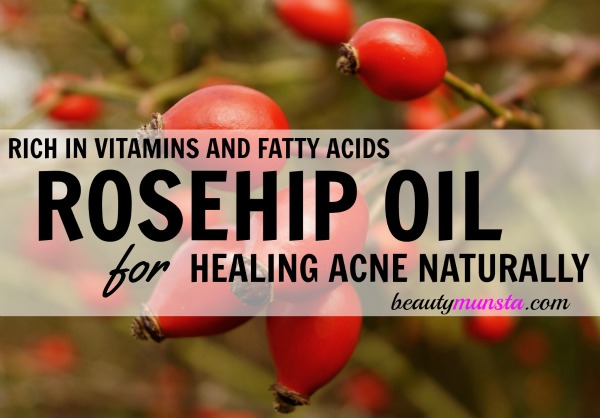 Is Rosehip Oil Good for Acne?
Rosehip oil, extracted from the hips of the wild rose, is one of the best skin and hair care oils due to its natural healing properties. It is used to heal and treat a wide range of skin conditions including acne, facial scars, dry parched skin, eczema, psoriasis, inflammation, clogged pores and so much more. In this article, we shall discover the nutrients in rosehip oil for acne, its properties and how to use it in your acne skin care routine.
Nutrients in Rosehip Oil
► Essential Fatty Acids – Rosehip oil has a high fatty acid content (about 80%), especially linoleic acid (47.4%) and linolenic acid (33%), which keeps the skin moisturized, soothes skin & acne inflammation as well as heals acne & facial scars, burns and stretch marks. Essential fatty acids also help dissolve the impurities and grime that clog pores and contribute to acne. They also nourish the skin and help acne scars fade faster. Here are just a few of the fatty acids in rosehip oil and their benefits:
Linoleic Acid – Linoleic acid is very crucial fatty acid that is important for healthy, supple and youthful skin. Deficiency of linoleic acid can lead to very dry, dehydrated and parched skin with wrinkles and fine lines. Linoleic acid is an omega 6 fatty acid and it helps maintain a healthy cell membrane structure.
Linolenic Acid – An omega 3 fatty acid, linoleic acid helps lubricate the skin, making it dewy and supple. It also protects the skin's natural barrier, thereby preventing water loss that can lead to dry skin and wrinkles.
Oleic Acid – Oleic acid is an omega 9 fatty acid and it helps support healthy and youthful skin.
► Vitamin A – Vitamin A is good for treating both oily and dry skin types. It helps heal skin that has been damaged and dehydrated due to too much sun exposure, smoothes fine lines and wrinkles as well as improves an uneven skin complexion. Vitamin A also speeds cell renewal or turn over process, which helps turn over old skin, revealing new skin underneath. This fastens the rate at which acne and acne scars heal.
► Vitamin E – Known as the 'Skin Protector', vitamin E is a powerful anti-oxidant that protects the skin from free radicals that cause premature aging as well as sun damage. Vitamin E also heals sun damaged skin and hydrates dry skin.
► Vitamin C – Contains bio-available vitamin C that is a powerful anti-aging vitamin for skin. It helps reduce skin off aging such as fine lines around the eyes and mouth and sagging skin. Vitamin C boosts collagen production which keeps the skin soft and supple and helps maintain its elasticity. Vitamin C helps reduce big painful pimples, fade away ugly acne scars as well as brighten the complexion.
Properties of Rosehip Oil for Acne Cure
Anti-Inflammatory – Rosehip oil contains strong anti-inflammatory properties due to its high linoleic and linolenic acid content. It reduces acne inflammation and redness, thereby reducing the size and appearance of huge pimples.
Anti-Microbial – A study conducted at the University of British Columbia in Vancouver Canada found out the powerful antioxidant activity in rosehip extracts. The study also found that the antimicrobial activity in rosehip extracts is much greater than the activity in extracts from Rosa woodsii seeds and the Rosa nutkana pericarp. These antimicrobial properties help fight off bacteria and microbes that aggravate acne and contribute to acne breakouts.
Anti-Scarring – Dehydrated skin prevents acne scars from healing faster. Using rosehip oil keeps the skin moisturized and supple, due to its high fatty acid content, thereby speeding the rate at which the scars heal. The high levels of Vitamin C in rosehip oil also make it great for helping naturally heal and fade out acne scars.
Where to Get Rosehip Oil

Always look for 100% pure quality rosehip oil without additives. My recommended rosehip oil is this one from Leven Rose. You can buy it here.
Other Benefits of Rosehip Oil for Skin
Heals Sun Damaged Skin. The fatty acid content in rosehip oil nourishes and heals sun damaged skin, soothes sunburns and helps fade sun spots.
Smooths Fine Lines and Wrinkles. Rosehip oil has powerful anti-aging properties due to its high antioxidant content that wards off pro-aging free radicals. Its high fatty acid content especially Linoleic and Linolenic acids (a.k.a Omega 6 and Omega 3 fatty acids), keep skin soft, smooth and supple. The high Vitamin C content in rosehip oil boosts collagen production, thereby promoting youthful skin.
You May Be Interested in: