Want magical skin?! Try this honey cinnamon face mask! It is good for removing blemishes and brightening up your complexion!
The combination of honey and cinnamon has been hailed as a cure-all for almost every ailment there is! It's said to treat heart disease, arthritis, gas, influenza, upset stomach, colds, indigestion, bladder infections and more. But are there any skin benefits of honey and cinnamon? Yes, of course! There are many benefits of honey and cinnamon for skin; including fighting acne, reducing inflammation, slowing wrinkles, removing blackheads, etc.
Let's check out the nutritious benefits of honey and cinnamon for skin.
Honey Benefits for Skin:
Honey is a natural humectant and emollient which traps in moisture from the atmosphere. It's got amazing hydrating and moisturizing properties that will promote the triple S: smooth soft and supple skin! The antiseptic and antibacterial properties in honey will also find acne germs and bacteria! Check out nutrients in honey beneficial for skin:
Antioxidants – Fight against free radical scavengers that cause oxidative damage to healthy skin cells.
Enzymes – Soothe inflammation, hydrate skin cells, defend the skin from germs and irritants and promote glowing skin.
Where to Get Raw Honey:
You can get organic raw honey here.
Cinnamon Benefits for Skin:
Cinnamon is an age-old spice that is a common ingredient used in almost every cuisine worldwide. It contains anti-inflammatory properties that can soothe acne inflammation as well as inflamed skin conditions like rosacea and eczema. Believe it or not, cinnamon also has skin lightening properties; it can gradually fade acne scars, blemishes, dark spots and marks. Here are some nutrients in cinnamon good for skin:
Anti-oxidants – Protect skin cells from free radical activity. For glowing skin. Also fights off germs and bacteria, thereby preventing acne.
Calcium – Did you knot that calcium deficiency can actually cause your skin to become dry and withered?! Our skin contains a significant amount of calcium in the top most layer. Calcium is necessary for hydrated supple skin.
Magnesium – Magnesium slows down the aging process of skin, preventing premature wrinkles, fine lines and sagging cheeks.
Potassium – Potassium has hydrating and moisturizing properties. It preserves moisture in dry skin cells.
This honey cinnamon face mask is a great recipe that combines 2 powerful ingredients to nourish and brighten your skin.
Where to Get Powdered Cinnamon:
You can get organic powdered cinnamon here.
How to Make the Honey Cinnamon Face Mask: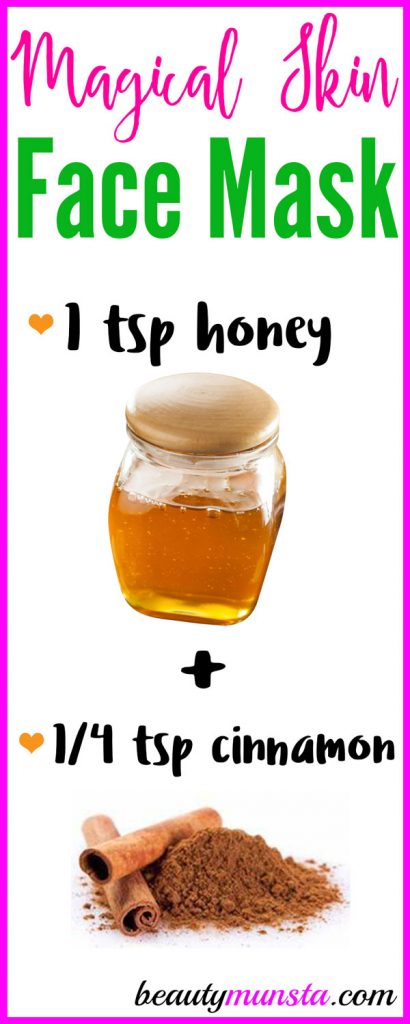 Ingredients
Directions
Gather the ingredients in their right quantities. Your honey should be raw not the regular processed type.
In a small mixing bowl, combine the ingredients very well until you get a thick mixture.
Your face mask is ready! Easy peasy, wasn't it?
How to Apply the Face Mask
1. Make sure your face is clean and dry. You may do facial steaming before hand to open your pores so that the goodness of this face mask can penetrate deep.
2. Using clean fingertips, massage the honey and cinnamon face mask onto your face, using a gentle circular motion. Avoid the area around your eyes and mouth as skin here is sensitive and is prone to fine lines if stretched by the mask.
3. Let your face mask sit for 10 minutes. When the time is up, use warm water to loosen the sticky mask. Rinse off with tepid water and pat your face dry with a clean soft towel.
My Tips
Use raw honey for best results. Processed honey normally contains additives that can irritate skin.
Watch out. Do not over proportionate the amount of cinnamon powder. If you use a little more than enough, it will burn your face! Use only a little when mixing it with honey. If it does give you a burning sensation, then immediately rinse off with cold water and apply honey alone.
Honey is very drippy and sticky. Apply this face mask over your kitchen/bathroom sink to avoid drips.
It's best to wear an apron/old T-shirt to protect your clothes from the drippy face mask.
Take Care
As usual, before you apply this face mask onto your face, use a test patch on your inner elbow to see that you're not allergic to honey your cinnamon. If you notice redness, burning or itchiness within 24 hours, then please do not use this face mask.