One of my biggest pet peeves on Pinterest is seeing a DIY homemade treatment that calls for ridiculous amounts of ingredients, which is not only wasteful, but also can be detrimental to your DIY beauty efforts. For example, I came across the classic honey and olive oil hair mask, which called for ½ a cup of olive oil. If you use ½ a cup of oil on your hair, you are obviously going to end up with heavy, greasy, oil coated hair that looks slimy. And this can require you to to use an entire bottle of shampoo to just wash off! No kidding.
However, if you use this honey and olive oil hair mask, with the right proportions, it can work wonders for your hair, re-hydrating and moisturizing dry hair shafts, conditioning your locks and boosting hair growth and general hair health. I used this mask just last week and loved the feel of my hair afterwards! It was glossy and conditioned and my hair and scalp really felt moisturized and happy!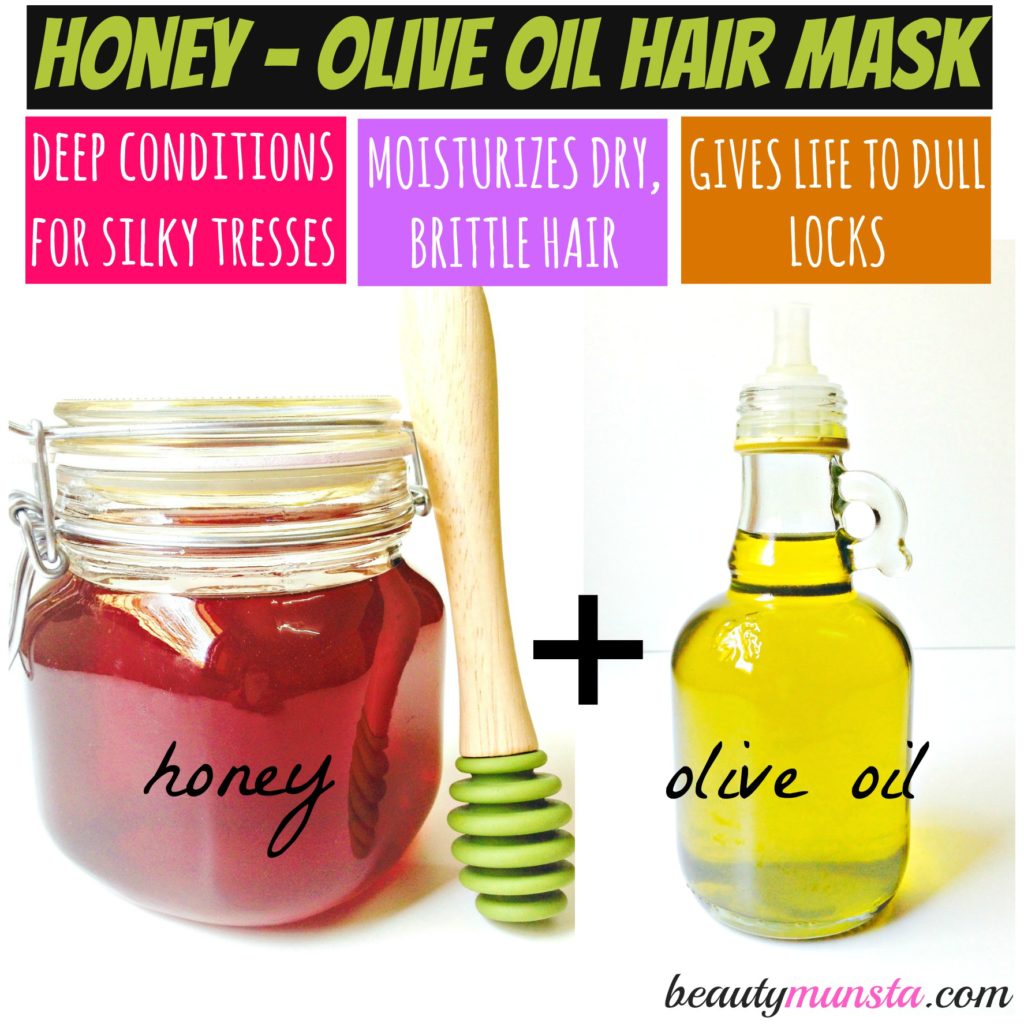 Now, I have really long hair, past my shoulders and these are the proportions I always use for this honey and olive oil hair mask. Even though you have much longer hair, I still recommend that you use the proportions I have given for your first trial. For the next time, you can adjust the quantities using your good judgement, if you need to. But before we get into the recipe, let's take a look at the amazing benefits of honey and olive oil below:
Ingredients
1 tablespoon honey
2 tablespoons olive oil
How to make the honey and olive oil hair mask:
1. Get your ingredients, measure them out and put them both into a small bowl. I recommend you use extra virgin olive oil, and for honey use raw or unrefined honey.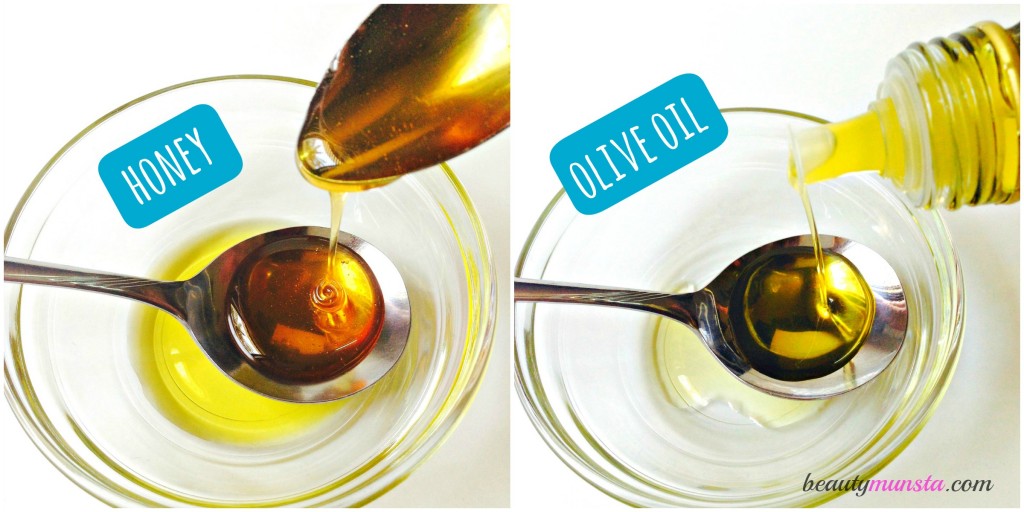 2. It's time to mix it up! Get a fork or spoon and simply give the ingredients a good mix until it's combined together. This will take just 20 seconds.
3. This is how the final mixture should looks like. Now all you have to do is to apply it onto your hair!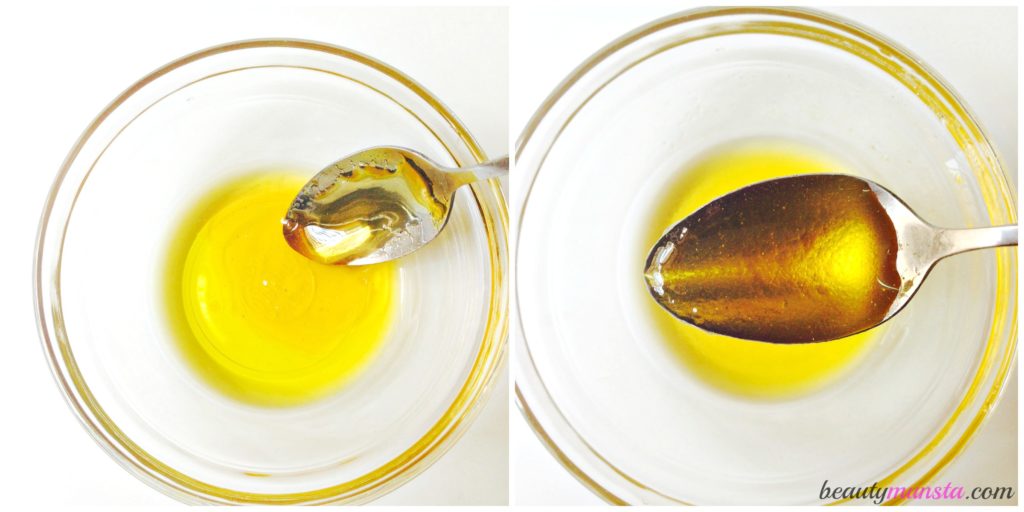 How to apply the honey and olive oil hair mask:
There are 2 ways to apply this hair mask; either apply the mask on dry hair, or apply it onto wet hair.
I recommend you apply the mask on wet hair simply because if you apply it on dry hair, the honey will not adhere properly to your hair strands, and it will get tacky on your hair and it won't reach everywhere.
So all you have to do, is to wet your hair in the shower, apply the mask with your finger tips and allow it to sit for at least 15 – 20 minutes, while you carry out other activities such as shaving or body brushing. Then, when the time is up, simply rinse your hair thoroughly with cold or tepid water, not hot water.
The method I like to use is to fill up a spray bottle or a water spritzer with pure water and use this to spray several pumps of water all over my hair. Then using my fingertips, I massage the hair mask onto my scalp, the length of my hair and the ends of my hair. Then I simply twist my hair into a bun and throw on a shower cap to prevent leaks. By following this method, you can leave on the hair mask for an even longer time (30 – 60 minutes) and finish up some chores, while allowing the mask to work its magic! You will also find that the mask adheres so much better to moist hair.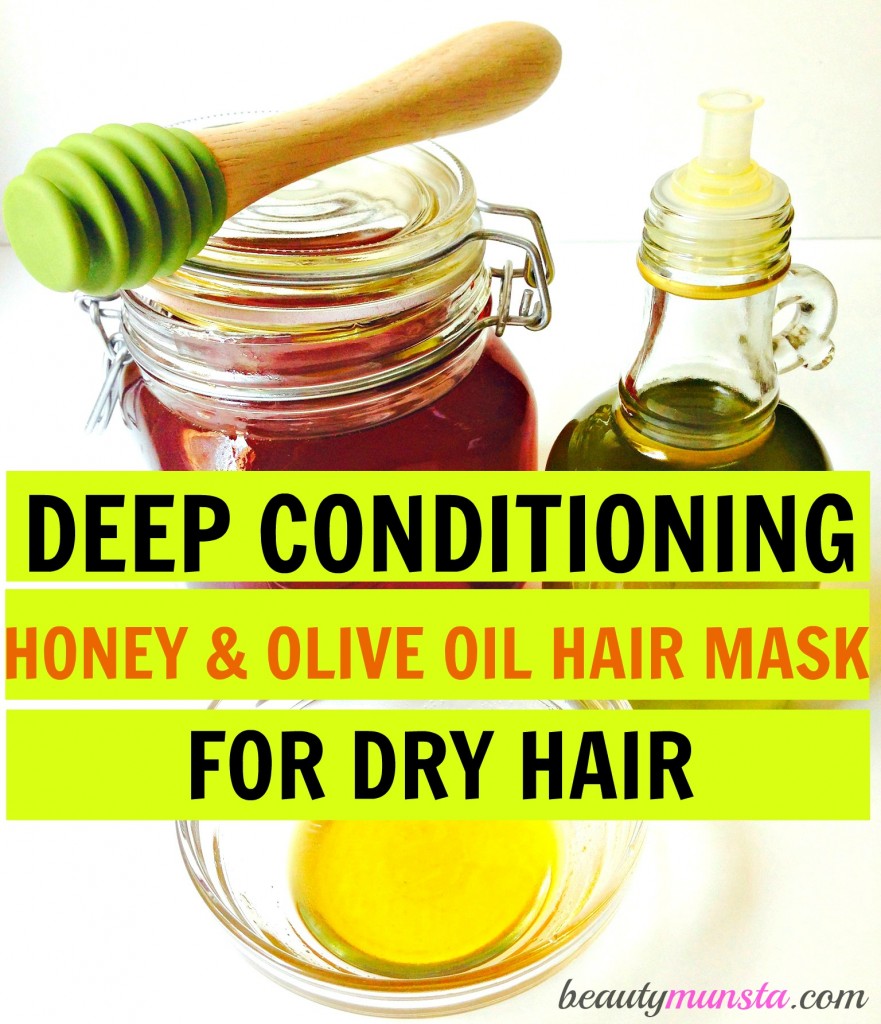 My Tips
After applying the hair mask, throw on a shower cap, or wrap your hair with a plastic bag, to prevent leaks and also to trap warmth, which will open up your pores and allow the ingredients to supply your roots with beneficial nutrients.
Want to leave the mask on overnight? You sure can! Just make sure you wrap up your hair in a shower cap, as mentioned above, and protect your pillow by covering it with an old towel.
Follow the proportions of the ingredients given in this recipe, even though it may look too little to you. Applied on wet hair, this mask will be very much sufficient and any more can leave your hair feeling gunky and greasy, trust me on this one!
All Natural Hair Care Guide with Essential Oils
Want to know more about essential oils for hair and how to make scalp & hair care recipes with essential oils? Check out our Complete Guide to Using Essential Oils for Scalp & Hair Care that talks about the magical properties, benefits & uses of essential oils for your scalp and hair with over 100 recipes to make your own chemical-free hair products for a healthy scalp and beautiful hair.
DIY Herbal Hair Oil Infusions Guide with Recipes
Want to make your own herbal hair oils? Check out our DIY Herbal Hair Oil Infusions eBook that contains an A-Z list of healing herbs and spices to infuse for hair, what base oil to choose for your hair type, methods of infusing your hair oils plus 20 exciting hair oil recipes for dry hair, heat damaged hair, hair growth, even gray hairs, scented hair and more!
Where to Get a Natural Shampoo
If you are going chemical-free on your hair, but want to save the time of making a homemade shampoo, this Maple Holistics Sage Shampoo is a game-changer. It contains powerful herbs such as sage: for dandruff & itchy scalp treatment, rosemary: for hair growth and prevention of hair loss and spikenard for dandruff treatment. It also has argan, jojoba and tea tree oils that all protect the scalp from germs, keep hair clean as well as hydrated and moisturized. This shampoo does not contain sulfates, so it will not lather the way you are used to, but you will quickly get used to it and notice the difference!