Treat yourself to a royal facial treatment using this luxurious spice. Saffron has always been a beauty secret in South East Asia, where it is well-known and used to brighten and lighten skin complexion.
Saffron is the most expensive spice in the world so it's no wonder the most treasured spice as well. It's even more expensive than gold, so if you have saffron, consider yourself lucky and if you don't, buy it from here.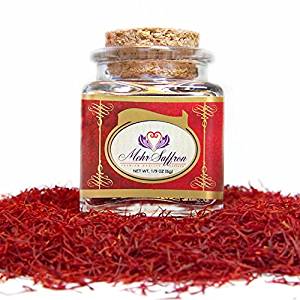 How to Choose Saffron
There are two ways to make sure you buy the right and real saffron:
You can spot high quality saffron by its deep red color, with some types having orange tips. Iranian and Spanish high quality saffrons are the best.
Place 3 to 4 strands in a cup of hot milk or water. See how long they take to turn the milk yellow. Fake saffron will immediately start coloring up the milk with little to no aroma while real saffron takes at least 15 minutes to turn the liquid yellow and give off an exotic aroma.
Note: It's best to avoid saffron powder sold in the market as this version could easily be adulterated and contain artificial colorings. You could try making your own saffron powder at home though you will need a lot. Some people like to powder their saffron along with other ingredients like cardamom/different spices/sugar to use in cooking.
1. For Skin Lightening: Milk & Saffron Face Mask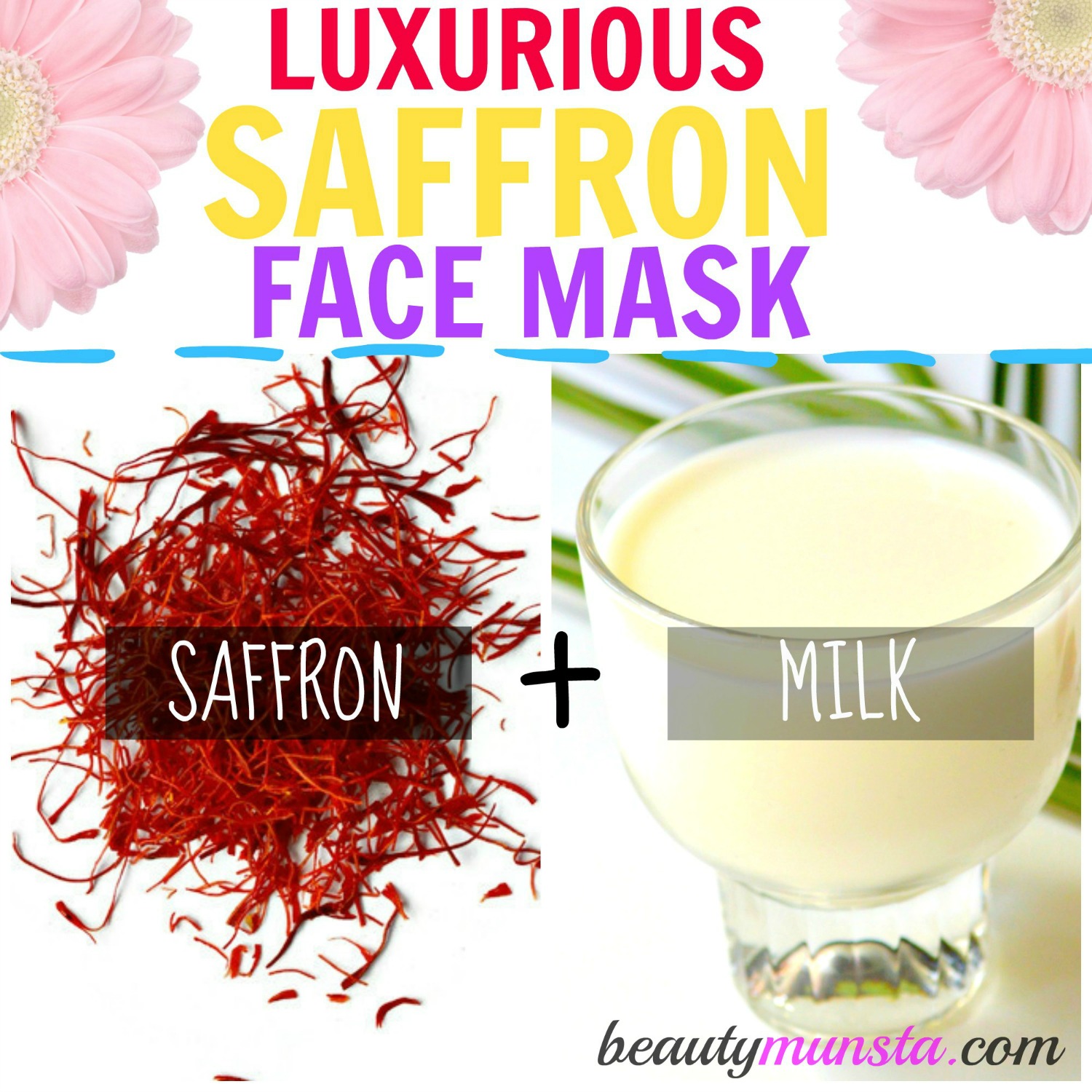 Saffron milk is a popular and delicious drink that will promote glowing skin from within. But did you know that you could use this same combination to make a skin brightening face mask? Milk and saffron is a popular face mask used in South East Asia to achieve glowing skin. Let's explore the benefits of milk for skin below:
Milk – The lactic acid in milk is a great skin exfoliating agent which will help deep cleanse skin of dead cells, grime, dirt and excess sebum. It also has skin lightening properties that will help even out discolorations and fade away acne scars and dark marks.
Ingredients
Directions
Begin by adding 3 to 4 saffron strands into a small bowl. Pour hot milk on top of the saffron and keep it aside for about 15 minutes. By the time you come back, the milk will have a slight yellow color and smell delicious too!
Stir the mixture with a spoon and strain it using a tea strainer into another bowl. Once you do this, you will have collected the soaked saffron strands in your strainer.
Using your spoon start crushing up the soaked strands. Here, you're basically squeezing out more of the saffron which will make the milk yellower and release more of the aroma too.
Once you're done with that, you're saffron face mask is ready for application!
Apply it on your clean face using a face mask brush and leave it to dry up. When it is dry, use a sponge to wipe it off and rinse with cold water. Pat your face dry.
My Tips
You don't have to crush up the saffron strands, especially if you don't have the time. Simply mix the saffron strands in milk and use it without crushing. Crushing it up just releases more of the golden hue and makes the face mask more potent.
If you're vegan, you can substitute cow milk for any other plant based milk like coconut/almond milk.
2. For Even Skin Complexion: Honey & Saffron Face Mask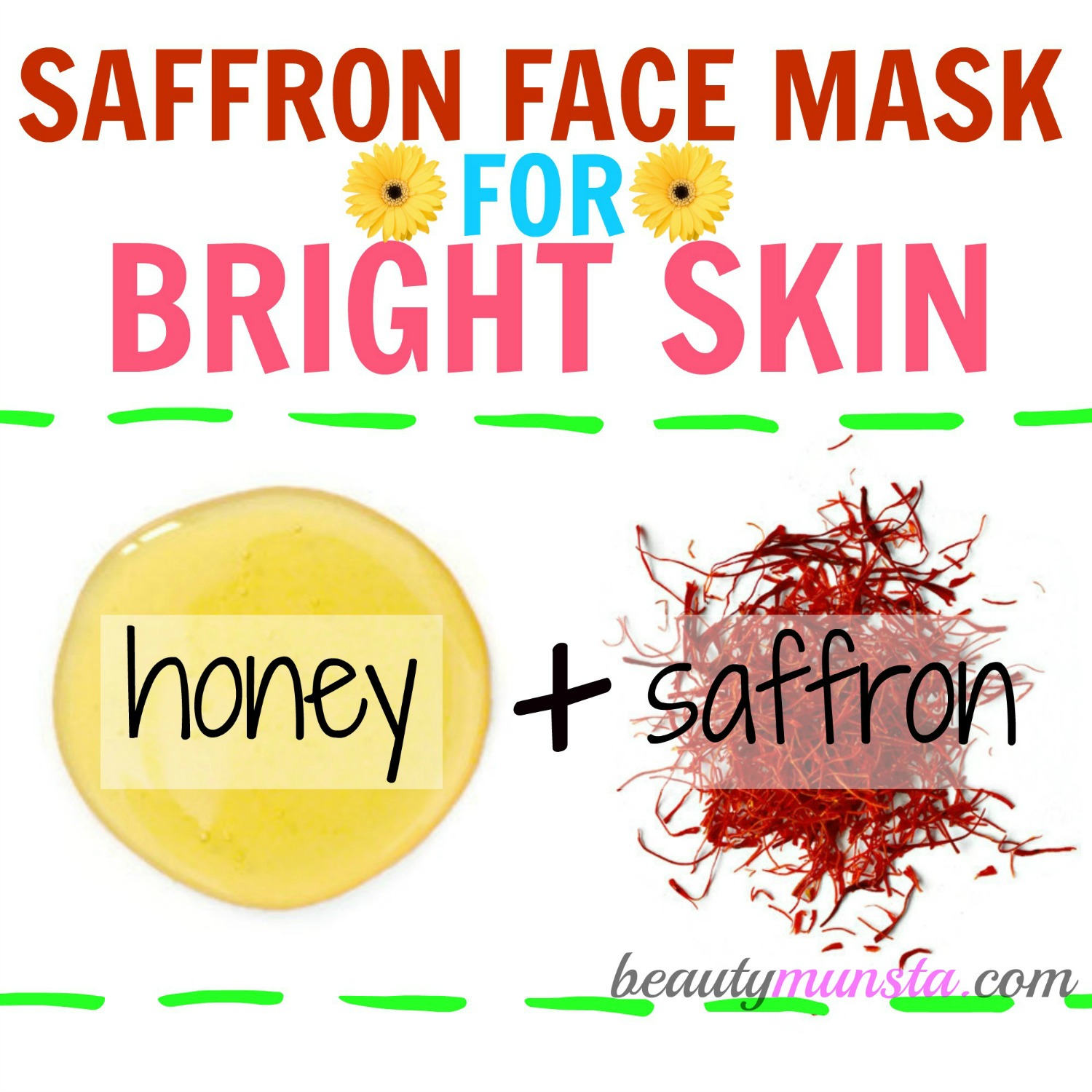 Combine the goodness of honey and saffron to create a saffron face mask for a blemish-free skin complexion. This saffron face mask is mild and effective for all skin types. Check out the benefits of honey below:
Honey– Honey being a natural humectant will moisturize and keep skin soft and supple. Using honey helps deep cleanse and gently exfoliate skin. The skin lightening properties in honey will help fade away dark marks and acne scars.
What you need

Directions
Using a mortar and pestle, crush about 4 strands of saffron.
Add the crushed saffron to 1 tsp honey and mix thoroughly.
Using a brush, gently apply the mixture onto your face and wait for 10 minutes for it to penetrate.
When the time is up, wet a sponge and use it to wipe off the dried mask.
Rinse off with cold water and pat dry with a clean towel.
My Tips
As always, use organic honey and avoid the adulterated types which contain other ingredients that can irritate skin.
3. For Acne: Lemon yogurt & Saffron Face Mask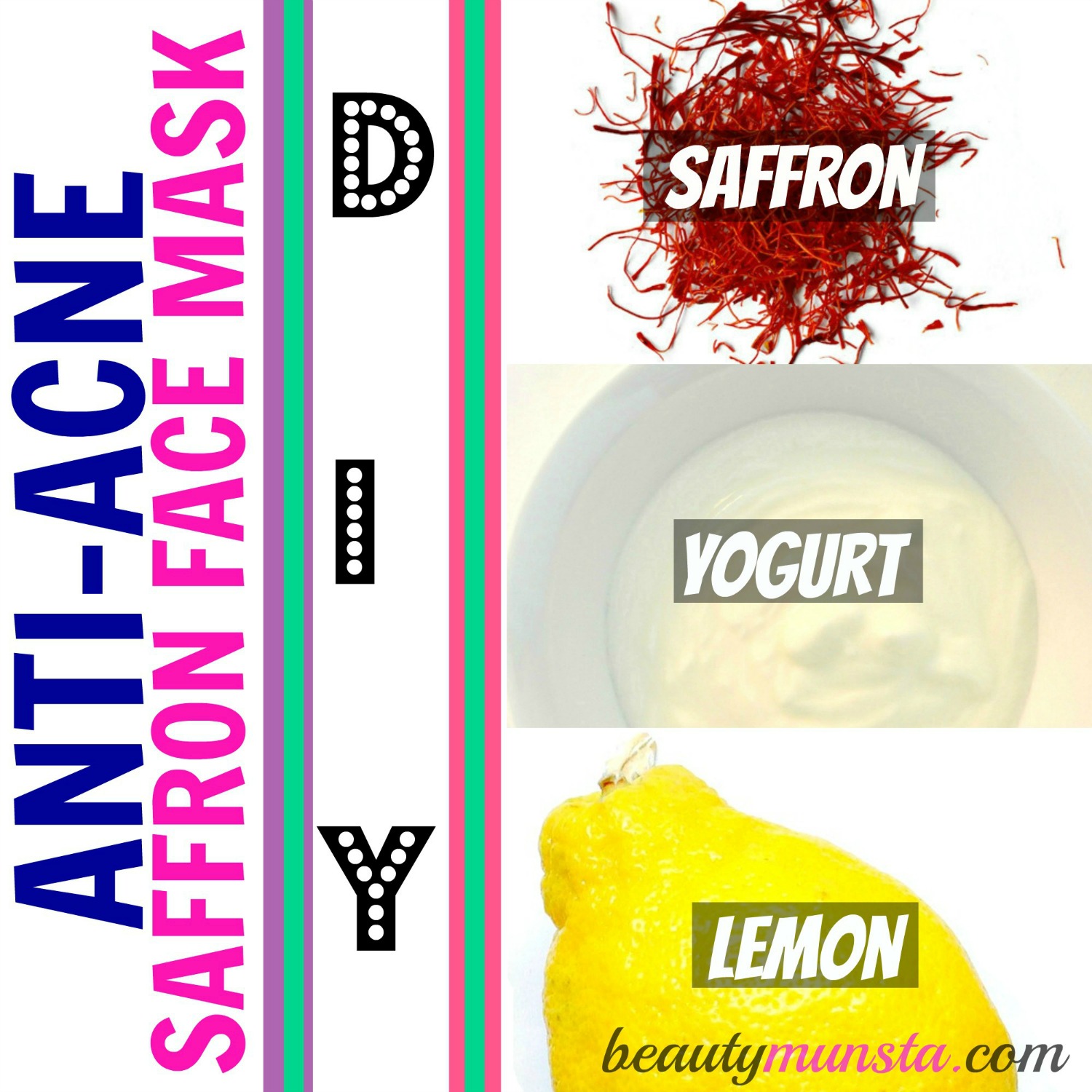 Saffron also has antibacterial properties that make it good for preventing and healing acne. Coupled with lemon and yogurt, this saffron face mask is potent against acne. For more information, have a look at the benefits of yogurt and lemon for skin:
Lemon – Lemon contains antibacterial properties that will keep skin free of germs and acne causing bacteria. It also helps soothe itchy acne.
Yogurt – The lactic acid, zinc and b-vitamins in yogurt are effective against acne. Yogurt also has antibacterial properties which will stave off acne causing germs. Its skin lightening properties will help gradually fade away acne scars and blemishes.
Ingredients
1 teaspoon yogurt
½ teaspoon lemon juice
4 strands of saffron (where to get it)
Directions
In a bowl, mix together yogurt, lemon juice and 4 strands of saffron. You will get a soft creamy paste.
Apply this paste onto your skin using a brush and let it sit for 10 minutes/when it has completely dried up.
Rinse off using cold water and pat dry.
My Tips
Squeeze a lemon to get fresh lemon juice for best results. You never know what additives store bought lemon juice may contain.
Use plain, unflavored and unsweetened yogurt. Greek yogurt works perfectly.
Do not use more lemon juice than enough especially if you have severe acne as lemon juice contains citric acid which may aggravate your acne.
Take Care
Please ensure that you are not allergic to any of the above natural ingredients before applying them onto your skin.