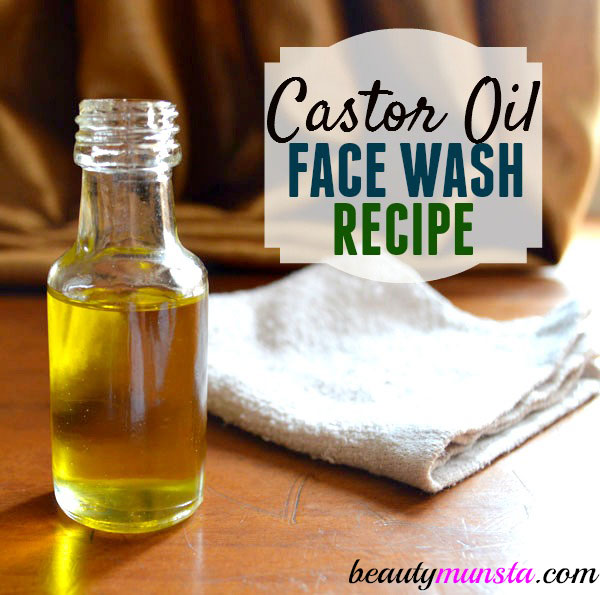 If I had to choose only ONE skin care product to use for the rest of my life, it would be this DIY homemade castor oil face wash! It's my favorite all-in-one skin care system! It acts as my:
All natural makeup remover
Facial cleanser
Massage oil
Moisturizer
Acne fighter
Oil controller
Skin balancer
Castor oil is a gorgeous plant oil that has a colorless to pale yellow color and a distinct taste and odor. It has a very thick consistency and is rich in many healing nutrients such as linoleic acid and oleic acid, which are powerful antioxidants that help fight free radical damage and prevent wrinkles and fine lines.
Castor Oil Face Wash Recipe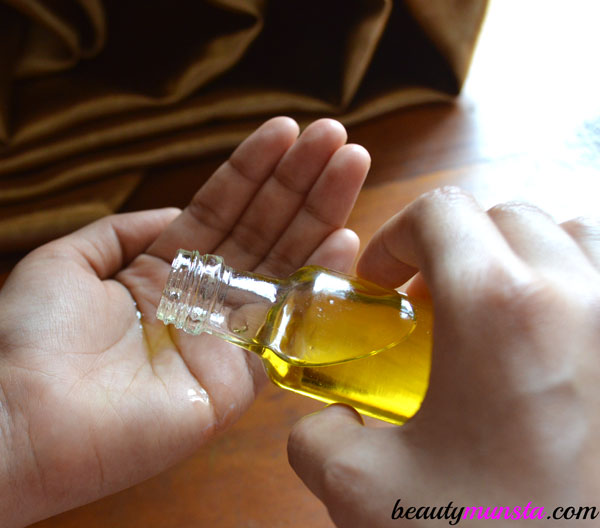 Ingredients
Method
Get a clean dry glass jar, where you will be storing your oil face wash, and pour in the measured amounts of all the ingredients.
Tightly screw on the lid and shake vigorously to get all the contents thoroughly mixed together. There will be many tiny bubbles after shaking, but don't worry, these will all disappear after a few hours of setting.
Your simple yet powerful castor oil face wash recipe is now ready for use!
How Each of the Ingredients Helps Your Skin
► Castor Oil: Castor oil is amazing for all skin types ranging from dry skin to acne-prone skin. It is highly anti-inflammatory and helps support lymphatic drainage, thereby allowing toxins to be drawn off from the skin and properly eliminated. Castor oil's thick serum-like consistency and heavy molecules help bind to dirt, impurities and dried up sebum on the skin and help disinfect and cleanse out the pores.
► Extra Virgin Olive Oil: Olive oil has been mentioned since biblical times and is an incredibly healing oil rich in a variety of nutrients and fatty acids that help nourish and moisturize the skin. It is also a light oil and helps balance out the heaviness of castor oil.
► Frankincense Oil: An ancient oil that has mood-lifting and depression-fighting properties, frankincense oil is a gem when it comes to healing all sorts of skin ailments from psoriasis to eczema to stretchmarks and premature aging. Frankincense oil helps promote repair and growth of new skin cells, bolsters skin regeneration activity and keeps skin looking youthful, supple and smooth.
► Geranium Oil: With a peppery rose scent, geranium oil is extracted from the leaves of the geranium plant and is an all-round female balancing oil that helps balance hormones and fight hormonal acne.
►Lavender Essential Oil: Lavender essential oil is a popular oil that is revered for its calming and relaxing properties. It is highly antiseptic, antibacterial, anti-fungal and antimicrobial so it helps fight acne and pimples. It also has anti-inflammatory properties which help reduce puffiness under the eyes and reduce the appearance of pimples on the face.
How to Use the Castor Oil Face Wash
It's incredibly simple to use castor oil to wash your face, and this method is referred to as THE OIL CLEANSING METHOD. All you need is a soft microfiber cotton cloth, hot running tap water and your castor oil face wash, of course.
The oil cleansing method is as follows:
Pour about ½ a teaspoon of the oil face wash into your palm, rub both your palms with the oil and apply it all over your face. Massage your face with your finger tips for a minute.
Wet your cotton cloth under hot water (as hot as you can handle), squeeze out the excess water and place the cloth over your face, allowing it to rest for 1 minute. The steam from the cloth will open up your pores. This steaming is a CRUCIAL part of the oil cleansing method.
Now using your cotton cloth, gently wipe all areas of your face to remove all the makeup, dirt and dead cells off your skin.
Wash the cotton cloth and repeat the process one or two more times for absolutely squeaky clean, soft, supple, hydrated and moisturized skin!
That's it! Wasn't that easy?! For me, oil cleansing is such a therapeutic way to end my day – it relaxes me so much!