Learn how to make carrot oil without heat at home – yes it's possible!
You guys loved our Carrot Lime Oil for Hair Growth which was prepared by infusing carrot juice and lime juice in coconut oil. But this process involved heat so the end product was got in a very short amount of time.
Now heat doesn't destroy the nutrients of the carrot. In fact, it makes these nutrients even more bio-available to our bodies. Yes, some vegetables, namely carrots become more nutritious when cooked!
So anyway, if for whatever reason you want to learn how to make carrot oil without heat, then I've provided a tutorial for it below!
How to Make Carrot Oil without Heat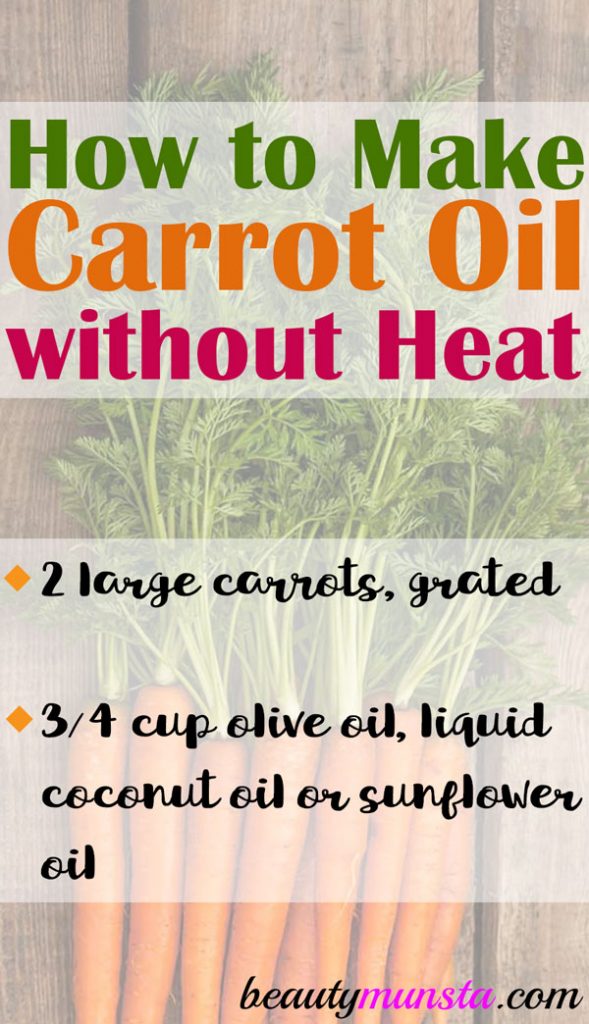 What you need:
2 medium-sized carrots, unwashed
¾ cup of pure sunflower oil, extra virgin olive oil or my favorite: liquid coconut oil
Grater
A clean glass jar
Directions:
Get 2 medium-sized carrots from your fridge then peel them. Do not wash them. If they're wet, dry them thoroughly with paper towels and leave them to completely dry without a drop of moisture before proceeding further.
Next, grate your peeled carrots into a bowl. Transfer them into a clean glass jar.
Fill up the jar with your oil of choice (sunflower, extra virgin olive oil, liquid coconut oil, etc). Make sure the jar is filled to the top of the jar with oil. This prevents any air in the jar that will make the oil rancid.
Now store your jar in a warm area (like a sunny window sill) and leave it there for about 2 weeks. Shake the jar everyday to allow the nutrients of the carrots to infuse into the oil.
After 2 weeks, strain the oil using a fine plastic mesh strainer into another clean jar. Use a funnel to avoid spillage.
And your homemade carrot oil is ready for use! Label it 'homemade carrot oil' and mark the date. Store it in a cool dry place like the refrigerator to lengthen its shelf life.
Uses of Homemade Carrot Oil
For skin lightening
Removes dark spots
Natural sunscreen
Moisturizes skin
Gives skin a healthy glow
Helps in natural tanning
Hair growth
Makes hair shiny, soft and silky
Promotes anti-aging
And more!
I hope you've learned how to make carrot oil without heat! It was super easy isn't it? And the wait is not very long!
You'll Also Love