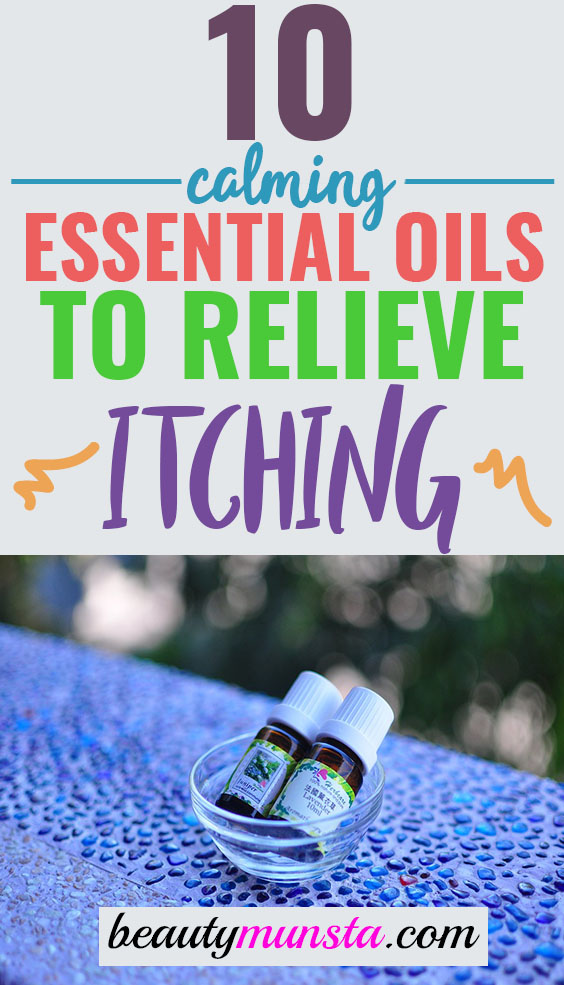 Itching is usually caused by an allergic reaction to something in your environment. It could be related to diet, air quality or irritants that come into contact with skin. You can choose from a variety of natural remedies and essential oils for itching relief.
Medically known as pruritus, itching is defined as the irresistible need to scratch different parts of the skin, including the scalp. These are some of the most common causes of itching:
Bug bites, such as mosquito bites or spider bites
Presence of allergens in the air
Skin conditions, like eczema and psoriasis
Food allergies
Side effects of certain medications
The trouble with itching is that when you scratch that part of the skin, it can cause further irritation, increase the urge to scratch, create wounds and even cause bleeding. Essential oils contain calming, anti-inflammatory and analgesic properties that bring immediate relief to itchy spots. Essential oils are also easy to apply. You simply need to dilute them correctly and apply topically to soothe an itch.
10 Calming Essential Oils for Itching Relief Right Now
Alright, let's look at the best 10 calming essential oils for itching relief right now! We shall also look at the 3 ways in which you can use essential oils for itching.
1. Lavender Essential Oil
Lavender essential oil has potent antimicrobial properties that fight germs and pathogens that cause itching. It has incredibly soothing and calming properties that relieve hot, irritated itchiness on the skin. Lavender oil can be applied directly onto the skin without dilution. It has a relaxing aroma and comes with an added benefit of moisturizing the skin to prevent dryness.
2. Peppermint Essential Oil
Surprisingly, peppermint essential oil is one of the best essential oils for itching relief! It has a minty scent and has incredible cooling properties. Dilute peppermint oil in castor oil and apply onto the areas of itchiness. Peppermint essential oil will provide a cooling sensation that will distract for the pain and urge to itch.
3. Tea Tree Essential Oil
Tea tree essential oil is probably the world's most popular essential oil. Amongst its many versatile uses is that it is one of the best essential oils for itching. It contains antifungal properties that help fight against itchiness caused by fungal infections and ring worm. In addition, its potent antibacterial element helps to prevent infection in itchy, irritated skin areas. Tea tree oil can be applied directly onto the skin after a shower.

Price Disclaimer
4. Frankincense Essential Oil
Frankincense essential oil has been extensively studied to analyze its benefits for various ailments. It is one of the most deeply-studied essential oils in the scientific world. Frankincense oil is extracted by steam distillation of the resin. Moreover, it contains crucial anti-inflammatory and cell regenerative properties that will help heal itchy skin at a faster rate. Dilute frankincense essential oil with a carrier oil and apply onto clean skin for faster itch relief. Learn how to correctly dilute essential oils for best results.
5. Geranium Essential Oil
When it comes to skin care and skin healing, geranium essential oil is one of the field favorites. Geranium essential oil has a special place in my heart because it is the first essential oil I ever purchased, after lavender and tea tree. This essential oil has immense cell healing capacity that helps heal wounds, lesions and scars faster than usual. Geranium is therefore one of the best essential oils for itching skin.
6. Roman Chamomile Essential Oil
Chamomile is a popular herb that has been used for centuries to treat digestive troubles, sleep issues and skin troubles. It is also popularly used to soothe diaper rash in babies and teething troubles. The essential oil of chamomile is helpful in soothing the red, irritated and inflamed skin associated with itching. Simply mix chamomile oil with a carrier oil and apply to the area of itching for quick relief.
7. Helichrysum Essential Oil
Helichrysum essential oil is another cooling essential oil similar to peppermint and wintergreen. It is rich in antioxidants that help speed up healing in the skin. Though helichrysum is one of the rarest essential oils, it is extremely potent and packed with amazing properties. It has pain relieving and anti-inflammatory qualities that help soothe itching.
8. Eucalyptus Essential Oil
Eucalyptus essential oil has a distinct woodsy, herby and refreshing scent. It is a cooling essential oil that is frequently used by diffusion. Eucalyptus has been found to be effective in treating respiratory diseases such as sinus congestion. Furthermore, eucalyptus oil can provide immense relief to itchy skin. It is a go-to remedy for bug bites and is even a natural insect repellent.
9. Rose Essential Oil
Rose essential oil is one of the most luxurious essential oils on the planet. As such, it costs more than other common essential oils. Like geranium, rose essential oil has skin-specific benefits such as antioxidant, anti-aging, anti-bacterial, anti-inflammatory and more. Dilute rose essential oil with a carrier oil such as jojoba, safflower or almond oil. Rose is also an incredibly calming essential oil that can be diffused as an aromatherapy solution to severe itching.
10. Patchouli Essential Oil
Patchouli essential oil is extracted from patchouli flowers and has a sweet, musky scent. It has a great variety of uses ranging from treating headaches, muscle spasms and colic to anxiety, depression and others. Patchouli is also one of the top essential oils for itching. Dilute patchouli essential with any carrier oil such as coconut oil and massage onto itchy, troublesome areas.
3 Ways to Use Essential Oils for Itching Relief
Here are 3 simple ways you can use essential oils for itching:
1. Calming Bath Soak
Soaking in an herbal bath is the best way to soothe full body itching or itching that affects large areas of the skin, such as the back or abdomen. To make an itch-fighting bath, you'll need 1 cup of oats, ½ cup of rhassoul clay, ½ cup of apple cider vinegar and 25 drops of your choice of essential oils for itching. You can try a combination of lavender, tea tree and eucalyptus. Fill up your bath tub with warm water and add all the ingredients into it. Soak for 20 – 30 minutes for full body itch relief.
2. Anti-Itch Spray
You can make your own refreshing DIY Anti-Itch Spray! Simply mix 1/2 cup of distilled water or hydrosol and ¼ cup of witch hazel. Add 5 drops each of tea tree oil, peppermint oil and roman chamomile oil. Pour into a spray bottle and spritz on the itchy area whenever needed. Shake well before use.
3. Soothing Skin Balm
Sometimes the best thing to do is apply a soothing balm to seal the skin and prevent irritation from air or clothing. To make an itch-relieving balm, melt 2 tablespoons of shea butter in a double broiler and add 2 drops of geranium essential oil, frankincense essential oil and helichrysum essential oil. Pour into a container and let it set in the fridge for 2 hours. Now apply gently onto the itchy area 2 – 3 times a day for quick relief.
Take Care
Remember, essential oils are highly potent plant extracts in a very concentrated form. As such they must generally not be applied directly to skin without dilution. Doing so may result in chemical burns. Avoid using essential oils if you have sensitivities or are pregnant. Essential oils must not be used with babies or pets without medical approval.