Mmm…pudding is delicious! But hair pudding? Nah-uh, gals – that ain't going in your mouth but on your curls! When you've decided to put your hair up in elaborate curls, then you're going to need a DIY shea butter hair pudding ready! Hair pudding gives grip and hold. And it allows your curls to stay bouncy and beautiful for long!
So let's take a look at an easy and fantastic shea butter hair pudding, shall we?!
DIY Shea Butter Hair Pudding for Gorgeous Curls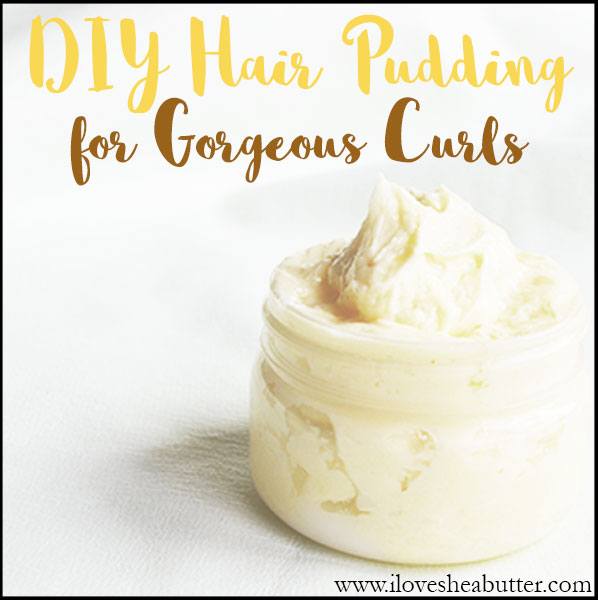 What you need
Directions
Okay, so first dump all the ingredients into a large mixing bowl. Remember, your shea butter has to be soft for this. So if it's hard allow it to soften by placing it in a double boiler or over a bowl of hot water.
Now get your trusty hand mixer out and beat the contents of the bowl to high heaven! You should stop when you see everything is well combined. And looks like pudding. Yum!
Now transfer the hair pudding into a clean and sterilized storage container. For longer shelf life, store it in an amber container which prevents it from light degradation. Keep the container in a cool dry place.
That's it! Your DIY shea butter pudding is ready for your luscious curls!
To use, first mist your hair with water from a fine mist spray bottle then apply the hair pudding. Twist or curl your hair! This hair pudding has got amazing holding power!
Tips
Many people like to use Eco Style Gel as the gel for their hair pudding. But I decided to make this pudding from scratch without unnecessary chemicals. Plus aloe is so rich in nutrients, folks! You simply can't miss out on them. But anywho, if you'd like to use Eco Style Gel (get it here) then go ahead.
I like scenting my hair pudding cuz who doesn't want beautiful smelling hair?! Rose is absolutely mesmerizing but you can also use other essential oils. Ylang ylang or geranium are nice ones you can try out.
So that's it folks! A beautiful scented DIY shea butter hair pudding recipe that I hope you will love!