Manuka honey has plenty of extraordinary benefits for skin & hair! Today, we're going to find out how to make a DIY manuka honey shampoo for beautiful hair!
Filled to the brim with powerful antioxidants and medicinal compounds, manuka honey is something that you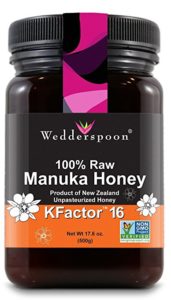 should invest in for beautiful skin and hair. It is a very strong antibacterial substance that keeps the scalp free from all sorts of germs and microbes, including Malasezzia, the yeast responsible for causing dandruff.
Your hair will definitely benefit from this DIY manuka honey shampoo if you have the following issues:
dry frizzy hair
sensitive scalp
scalp inflammation
scalp eczema
scalp psoriasis
dandruff
scalp wounds & scabs
itchy scalp
dull lifeless hair
oily flat hair
thinning hair
bald spots
Even if you have normal hair, give this DIY manuka honey shampoo a go so that you can limit the amount of chemicals you put on your body.
Okay, let's get onto the recipe:
DIY Manuka Honey Shampoo for Beautiful Hair
Note: This shampoo recipe is for one-time use. Meaning, you should whip it up every time you're going to shampoo your hair. The reason why you'll be making and using it fresh every time is because it contains coconut milk, which can get spoiled fast.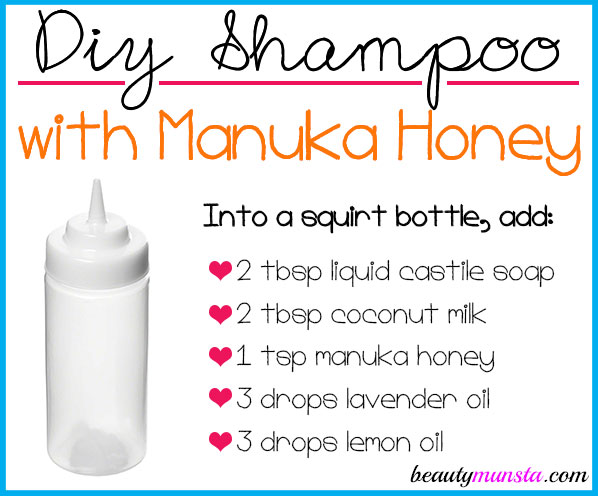 What you Need
Directions
What you're going to do is to pour the coconut milk & liquid castile soap into the squeeze bottle.
Now add the manuka honey and essential oils, if using.
Close the squeeze bottle and shake gently to mix up the ingredients. Don't shake too hard because you don't want to activate the soap and make it too bubbly.
Use immediately on your hair. Work it in your scalp and hair length, let it sit for a minute or two then rinse off well. To condition your hair, rinse it with 1 cup of water mixed with 1 tsp of organic apple cider vinegar.
What do you think? Are you ready to get beautiful hair with this DIY manuka honey shampoo?!