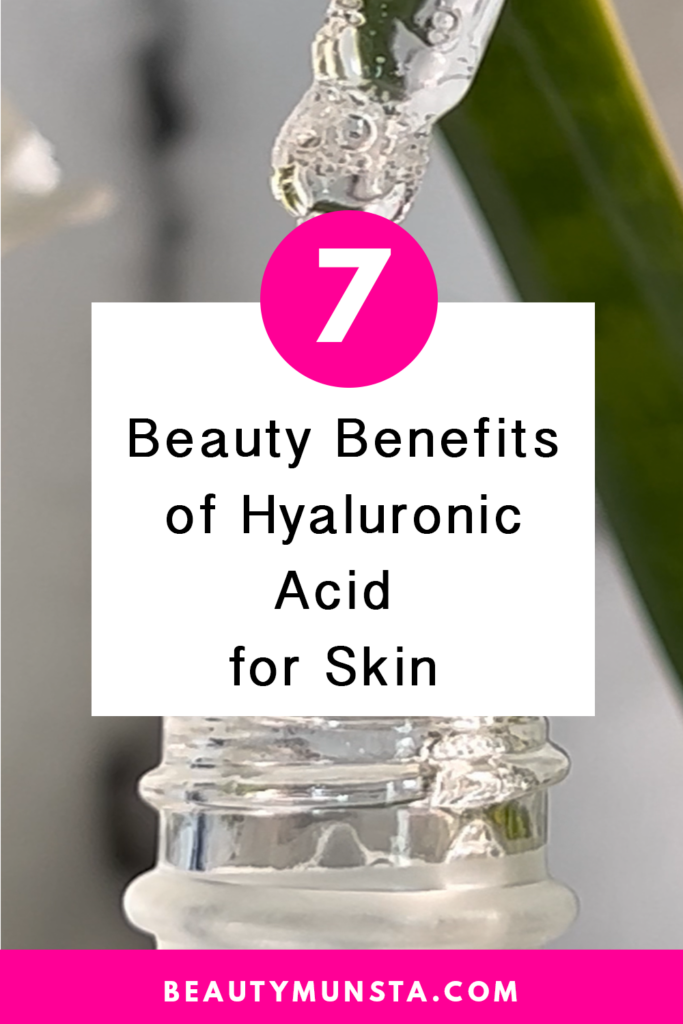 Hyaluronic acid is a naturally occurring clear, gooey liquid that is also found in the body. Today it is bottled and sold widely by skin care companies because the benefits of hyaluronic acid are coveted by all. The special thing about hyaluronic acid is that can hold up to 1,000 times its weight in water. Meaning that when applied on skin, the results are delightfully instantaneous. For skin, its key properties are skin hydration, skin flexibility and smoothening.
7 Beauty Benefits of Hyaluronic Acid for Skin
Here are the benefits of hyaluronic acid for skin:
1. Hyaluronic Acid is An Excellent Hydrator and Moisturizer
This is probably the number one benefit that hyaluronic acid is known for. Once you apply hyaluronic acid on your face, the hydrating and moisturizing results are instantaneous.
2. Hyaluronic Acid Aids in Anti-Aging
The anti-oxidants in hyaluronic acid protect from free radical damage. Hyaluronic acid makes the skin appear fuller and lessens wrinkles. Studies show that hyaluronic acid prompts the production of collagen and elastin, making your skin youthful.
3. Hyaluronic Acid Plumps Skin Making It Supple
Because of its ability to hold water, hyaluronic acid will plump up dry dull skin, and also fill up wrinkle lines, making your skin plumper and smoother.
4. Hyaluronic Acid Reduces Swelling and Inflammation 
If you have inflammatory skin conditions like cystic acne, eczema or psoriasis, hyaluronic acid can help greatly because it is rich in anti-oxidant properties.
5. Hyaluronic Acid Reduces Scarring
If you have scars left behind by pimples or acne, hyaluronic acid is a must to apply along with other treatments like Vitamin E to get rid of the scars.
6. Hyaluronic Acid Repairs and Regenerates Damaged Skin
Hyaluronic acid is a key helper in repairing and regenerating damaged skin. Whether you have a simple cut on your skin, or a wound from popping a pimple, you can count on hyaluronic acid to speed up healing of the wound. It speeds up the tissue regeneration process and helps skin heal with minimal scarring. It also helps speed up the healing of sun burns.
7. Hyaluronic Acid Protects Skin Barrier
Sometimes the lipids in the skin can be damaged by harsh chemical skin treatments, resulting in a damaged skin barrier.