Crow's feet creep up with age but did you know that you can drastically reduce them naturally at home? Make your own serum with shea butter for crow's feet removal, and apply it religiously for best results!
What is Crow's Feet?
Also known as character line or laugh line, crow's feet are the constellations of fine lines and tiny wrinkles that appear around the corners of the eyes. They are more pronounced when a person grimaces, laughs or frowns.
Crow's feet come along with aging, so aging can be said to be the primary cause of it. When an individual gets to his mid-to-late 30s, there is a reduction in the production of 2 proteins that are responsible for the elasticity of the skin, thereby leading to crow's feet formation. Other factors that may cause the appearance of crow's feet are smoking, smiling, frowning, excessive exposure to sun, squinting and more.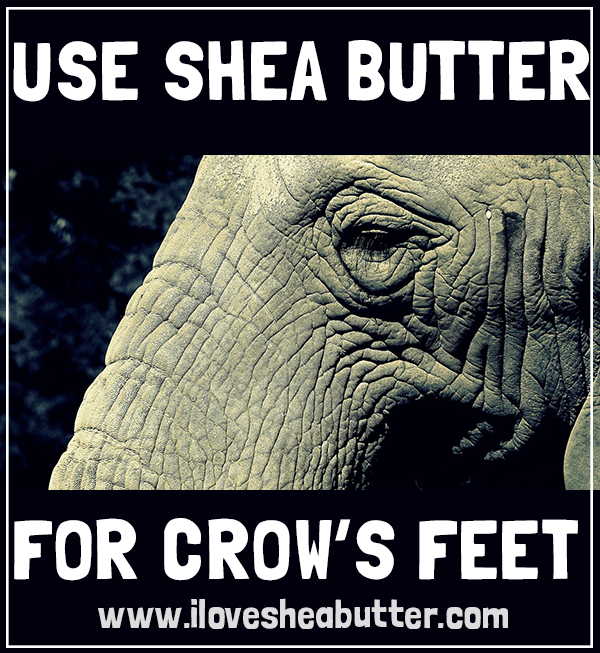 The Benefits of Shea Butter for Crow's Feet
Shea butter is filled with a lot of properties, but the ones that can help reduce the appearance of crow's feet lie in its antioxidant power. Others include it moisturizing power and its richness in vitamin A.
If you have crow's feet around your eyes. You do not have to despair because you have just found a natural method to make them disappear. The use of shea butter for crow's feet has been found effective in many people, so your case shouldn't be different. So, how does shea butter help with crow's feet?
One of the first things that makes shea butter helpful for crow's feet lies in its ability to boost the production of collagen.  What holds out skin together and keeps it tight is the protein known as collagen. What shea butter does when we apply it on the skin is that it will rejuvenate the production of collagen, thus making our skin appear younger and smoother than we really are.
Also, shea butter for crow's feet finds its power in its high level of vitamin A. Vitamin A helps in moisturizing dry skin. Since dry skin is a cause of crow's feet, then moisturizing the skin properly will alleviate the appearance of crow's feet on the face. Since the skin around the eyes does not produce sebum because of its thinness, applying shea butter to that region will moisturize it, thus making it supple.
Shea butter is a good antioxidant too. Antioxidants help with fighting off free radicals that cause untimely aging. What free radicals do is that they steal away oxygen molecules from a healthy skin to stabilize themselves. Antioxidants like vitamin E present in shea butter makes it effective for eradicating crow's feet.
DIY Serum with Shea Butter Crow's Feet
There are many homemade recipes that can be with shea butter for crow's feet. This article will be discussing two methods, though similar in preparation.
Method 1
Ingredients:
Shea butter – 2 ounces
Melted unrefined coconut oil – 1 ounce
Aloe Vera gel – 1 ounce
Frankincense essential oil – 5 drops
Jojoba oil – 1 teaspoon
Vitamin E oil – 1 capsule
Lavender essential oil – 5 drops
Procedure:
Whip the coconut oil, shea butter, jojoba oil and Aloe Vera gel together with a beater until you have a smooth mixture. Add in the essential oils gently and mix as you add.
Whip the mixture again for some 2 minutes. Store your mixture in a properly sealed glass jar.
Apply the cream to your face regularly – probably 2 times a day.
Method 2
Ingredients:
Shea butter – 2 tablespoons
Rose essential oil – 4 to 5 drops
Vitamin E oil – 1 capsule
Storage jar
Procedure:
Mix up all the ingredients in a bowl with a whisker or beater until a smooth mixture is formed. Pour the resultant mixture in a storage jar with a good lid.
Wash your face properly before you apply the mixture to it. Apply the mixture to the face regularly.
Other Remedies for Crow's Feet
Other natural remedies for removing crow's feet involve the use of papaya, egg whites, Aloe Vera, milk, coconut oil, vitamin E and more.