The melt and pour soap making method is the easiest way to make your own soap. You do not need to handle complicated ingredients like lye, which is a chemical that you have to be careful with. With these melt and pour recipes below, anyone can make homemade soap even your kids! Have fun!
What Makes Shea Butter So Amazing for Skin?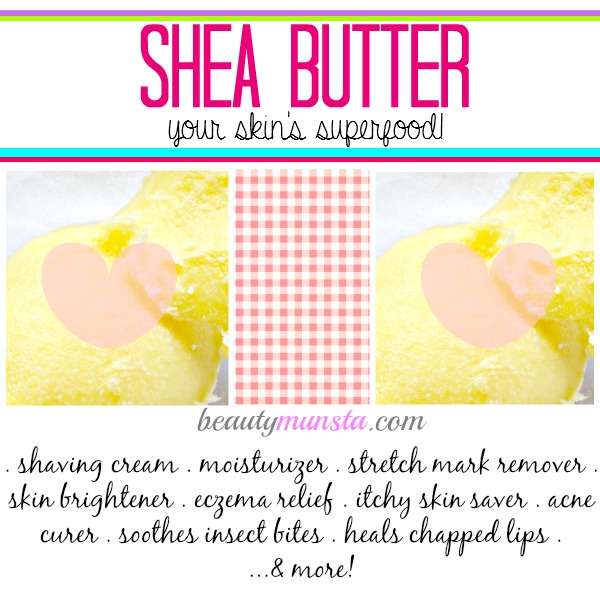 I'm crazily in love with this nourishing and soothing skin savior. It's rich in anti-oxidants and nutrients such as vitamin A,E, K, etc and essential fatty acids. When making melt and pour soap recipes with shea butter, all you need to do is buy a shea butter melt and pour base, then add lovely healing ingredients such as essential oils, hydrosols and herbs like rose petals! Read more about the skin benefits of shea butter in this post.
3 DIY Melt and Pour Soap Recipes with Shea Butter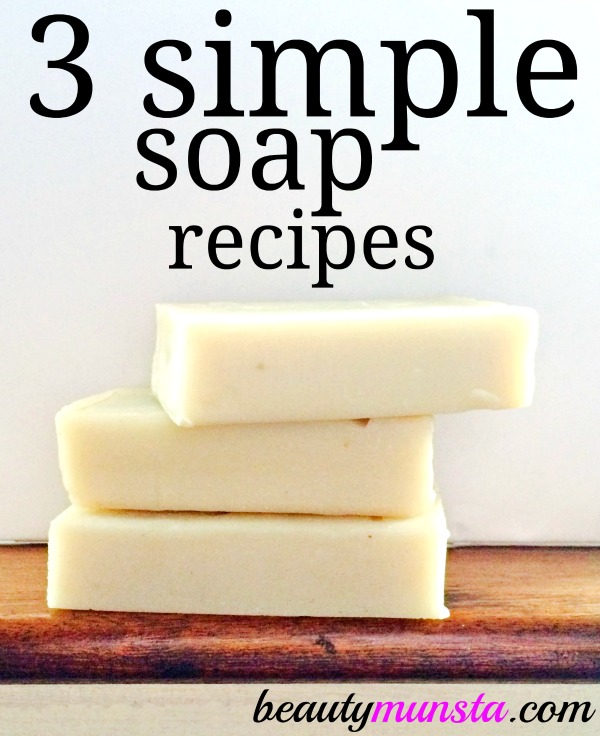 1. DIY Shea Butter and Coconut Milk Soap for Dry Skin
This shea butter soap recipe uses coconut milk powder and peppermint essential oil. Coconut milk is rich in fatty acids and nourishing nutrients that plump up dry skin while keeping it soft and supple. Peppermint essential oil is refreshing, has antiseptic properties and calms dry skin that itches. You can sub peppermint for tea tree for more powerful antiseptic properties if you have itchy skin and body acne.
Ingredients
– ½ cup shea butter soap base
– 2 tsp coconut milk powder
– 1 tsp coconut oil
– 7-10 drops peppermint essential oil
Directions
Cut the shea butter soap base into cubes and melt it in a double boiler. Make your own double boiler by placing the soap base in a medium sized glass bowl over a pan filled with a couple inches water. Heat over a medium flame and gently stir with a large wooden spoon as the soap base melts. Alternatively, place the soap base in a pyrex measuring cup (which makes it easier to pour) and place it on a pan filled with a couple inches water. While the water on the pan boils, the soap base will melt till liquid.
In another bowl, combine your coconut milk powder, coconut oil and peppermint essential oil with a whisk until you get a smooth mixture.
When the soap base has fully melted (it will take about 10-15 minutes), add the coconut milk powder + coconut oil + peppermint mixture and stir vigorously until the soap starts to thicken up.
Now turn off the burner and carefully pour the soap mixture into a silicone mold tray.
Let it harden for about 2 hours. You can place the mold in the refrigerator if you want to get it out quicker.
When cooled, remove the soaps from the individual spaces in the silicone tray and let them dry overnight on a rack. Store in brown paper.
Lather up for moisturized and supple skin!
2. Luxurious DIY Shea Butter and Rose Soap
This luxurious and romantic shea butter soap contains rose, which is known for its romantic and feminine attributes. Rose essential oil is a natural aphrodisiac and skin beautifying ingredient while rose water is cooling and refreshing for skin of all types.
Ingredients
– ½ cup shea butter soap base
– 1 tbsp rose water
– 10 drops rose essential oil
Directions
Cut the shea butter soap base into little pieces and melt in a double boiler until fully melted. Stir regularly with a wooden spoon to speeden the process.
When the soap base is fully melted, add the rose water and rose essential oil drops and stir vigorously as the mixture thickens.
Turn off heat.
Pour the soap mixture into silicone mold tray and let it cool completely. Place in the refrigerator for faster results. Remove from mold and wrap in brown paper. Use after a day for best results.
3. Homemade Shea Butter, Oatmeal & Lavender Soap for Sensitive Skin
This melt and pour soap base recipe contains shea butter, oatmeal and lavender, which are all skin soothing ingredients that calm sensitive skin. If conventional soaps or even mild soaps like castile soap bother your skin, it's time to try out this simple soap recipe! You can also use it on your child's eczema, for psoriasis and itchy skin.
Ingredients
– ½ cup shea butter soap base
– 1 tbsp colloidal oatmeal
– 1 tsp coconut oil
– 1 tbsp lavender hydrosol
– 10 drops lavender essential oil
Directions
Begin by melting the soap base as usual. While it's melting, start mixing the colloidal oatmeal, coconut oil and lavender essential oil until you get a paste that's not too thick and not too watery.
When the shea butter soap base has melted, add the colloidal oatmeal mixture and keep stirring vigorously as it thickens.
When all the ingredients have fully combined, turn off the burner and pour the mixture into a silicone mold tray.
Let the soaps harden completely before popping them out. You can then leave them to dry out on a rack overnight.
Use it on sensitive skin to calm inflammation and irritation.
My Tips
If you don't want to use the double boiler method, then use a microwave to melt the shea butter soap base. Personally, I don't have/use a microwave because of its health risks.
Instead of silicone trays, you could pour your mixture into a cardboard box. When cool, peel off the cardboard and neatly cut the soap into blocks.
Place the silicone mold in the refrigerator to let it harden and dry up faster.
Store the soaps in brown paper in a cool dry place.
My Favorite Tried & Tested Shea Butter Recipes Ebook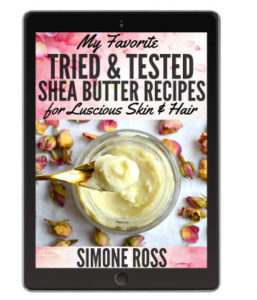 Do you love shea butter and want to make your own beauty products with it?! Check out this ebook "My Favorite Tried & Tested Shea Butter Recipes for Luscious Skin & Hair" for 30 awesome recipes, complete with step-by-step instructions, beautiful pictures and other valuable shea butter info!