What is Shea Butter?
Shea butter comes from the seed of the African Karite tree, which is native to West and Central Africa. The seeds of the tree are often called nuts because of the large size and hard external shell. In order to derive shea butter, the nuts are first dried to stop germination and then boiled to release the fat. This fat is rich in many important nutrients, which make it a wonderful healer for the skin, relieving all sorts of skin conditions, including psoriasis, acne, eczema, sunburns and more.
Shea Butter – A Superior Moisturizer
Shea butter is recognized to be a powerful emollient, a term referred to a substance that has moisturizing properties when applied to the skin.
Compared to many other oils used for the skin, shea butter seems to be a superior moisturizer.
Research on the Moisturizing Effect of Shea Butter
As cosmetic disclosure standards are becoming more and more rigorous these days, companies making skin care products are being required to back up their claims with sound scientific evidence.
A research carried out in Sweden (1) recently tested out the short term moisturizing effect of shea butter, as compared to another popular moisturizing oil, mineral oil.
To conduct the study, the skins of volunteers were cleansed and washed on a daily basis with an ethanol solution (to stimulate daily showering with soap). Showering daily with soap can strip out the moisture from the skin and create trans-epidermal water loss. Samples of shea butter versus mineral oil were then applied on the washed skin and the levels of trans-epidermal water loss were then measured using a corneometer.
It was found that when shea butter was applied, the skin's water levels steadily increased for over four hours.
Mineral oil also showed an increase in the trans-epidermal water loss levels, however, the increase was not as marked as shea butter.
This study proved what was already known for centuries by local African peoples who used shea butter in their everyday lives – that shea butter is a good moisturizer, which protects the skin and maintains its health and has so many healing qualities for all sorts of skin problems.
Where to Get Shea Butter

Always ensure to buy 100% pure all natural shea butter without any additives. I love this one from Perfect Body Harmony which comes in a 17.5 oz amber jar. Try it out yourself and see how it is!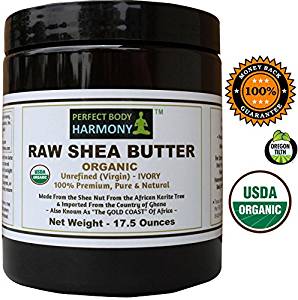 DIY Shea & Cocoa Butter Lotion Recipe

Other Benefits of Shea Butter
Acts as a natural sunscreen protecting the skin from harmful UV rays
Calms bug bites with its anti-inflammatory properties
Heals burns and scalds
Protects against premature aging and sagging skin
Lightens blemishes and evens out skin tone
Reduces acne and other scars
Read more: Ultimate List – 100 Benefits of Shea Butter