The best hacks on how to make your periods shorter – it's possible to have a 3 day menstrual cycle!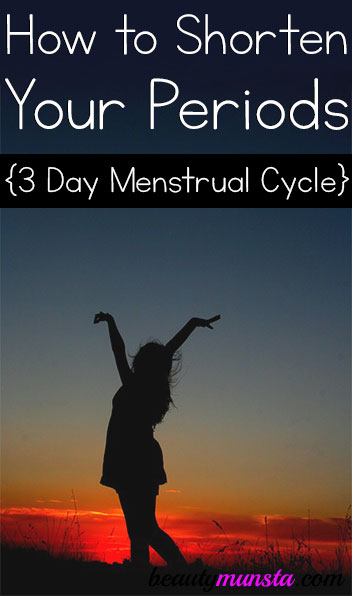 Is It Possible to Have a Short Menstrual Cycle?
Most women have menstrual cycles that last from 5 – 7 days. That seems to be the average for many. Usually the first 3 days have a heavy flow while the remain days come with minimal flow or spotting, until the period clears completely and normal vaginal discharge returns.
Imagine my surprise when a friend casually mentioned her periods last only 3 days! I was intrigued! So many women want shorter periods in order to cut down on the inconvenience and discomfort. I've since found out that many women enjoy short periods of 3 – 5 days. The good news is, there are so many tricks you can follow to shorten your period naturally.
How to Make Your Periods Shorter
Here are some hacks on how to make your menstrual cycle shorter. One, or a combination of two or more of these hacks can help you shorten your period over time.
1. Use Menstrual Cups
Menstrual cups are becoming ever more popular and many women are starting to ditch pads for environmental reasons. But aside from being eco-friendly, plenty of women claim that their periods are shorter and less painful using menstrual cups compared to sanitary pads.
This is not surprising considering that commercial pads have synthetic chemicals added to them which can irritate the sensitive linings of the female reproductive system.
2. Red Raspberry Tea
This is one of the best home remedies to shorten your menstrual cycle and ease all sorts of menstrual ailments including painful cramps and heavy prolonged bleeding.
It's easy to make red raspberry tea by steeping the tea bags in boiling water for 10 minutes. If you can't get red raspberry tea, you can always try supplements in capsule form.
3. Regular Exercise
There is a strong connection between regular exercise and healthy menstrual cycles. Regular exercise throughout your ovulation cycle will ensure that your menstrual cycle is on-time, regular, shorter and even pain-free.
But please be aware: avoid over-exercising as this can altogether stop your periods in a condition known as "amenorrhea," and this can have serious consequences on your fertility.
4. Diet for Shorter Periods
Are there any foods that you can eat to shorten your periods? Studies show that a diet rich in carbohydrates (such as rice, potatoes and wheat) can ease periods, lighten them and make them shorter.
Other studies have also found that a low fat diet can help reduce the length of a period, to a certain extent. Research also shows that being overweight can increase the length and heaviness of your flow. Losing weight and maintaining a healthy BMI (body mass index) can also shorten your period.
5. Proper Rest and Sleep
Proper rest helps you relax and unwind from stress. This is very important because too much stress can trigger the early onset of your monthly period, make it heavier and last longer than usual. I know stress is unavoidable in today's world, but make sure you take enough rest and relaxation every day to neutralize the stress.
Equally important is getting enough sleep, which is directly connected to your hormones that control your monthly cycles. Not getting enough sleep can cause those hormones to go haywire and this can mess up your cycle. Proper sleep of 6 to 8 hours every day will help you lighten and shorten your periods.
Also Read:
Do you have any personal tips on how to make your periods shorter? Share them with us so other women can benefit, too!