Puffy eyes are very common. Many people wake up with them every single day. However, you can reduce them naturally using this homemade eye serum for puffy eyes!
Causes of Puffy Eyes
Long hours spent working on an essay or paper work can leave you with puffy eyes and dark circles. Sleeping late and crying can also give you the dreaded puffy eyes.
But did you know that your sleeping position can cause under eye puffiness as well?! Yes, it's true – those who sleep on their tummies have a higher chance of getting puffy eyes when they wake up in the morning. This has to do with gravity which pulls down the fluid which leave you with bags under the eyes…So you might want to stop sleeping facing downwards to help prevent puffy eyes.
Meanwhile, you can also use this amazingly simple homemade eye serum to get rid of your puffy eyes in an instant, right before work or school!
What Each Ingredient in this Homemade Eye Serum Does
Before moving on to the recipe, let's look at the ingredients at how each of them works for puffy eyes:
Ground coffee – The main component in coffee is caffeine which is a powerful stimulant. It promotes circulation and plumps the skin, which helps reduce the appearance of puffy eyes. Coffee is known to reduce fluid retention and because of this, it's a very popular remedy for cellulite.
Almond oil – A great choice for dark circles and under eye bags, almond oil is rejuvenating. It also moisturizes the thin under eye skin and has a light consistency that penetrates deep into the skin.
Vanilla oil – Vanilla + coffee smells delicious! Though mainly added for the scent, vanilla oil is also good for under eye skin! It's a powerful antioxidant that combats wrinkle-promoting free radicals. It also improves circulation and moisturizes skin.
Homemade Eye Serum for Puffy Eyes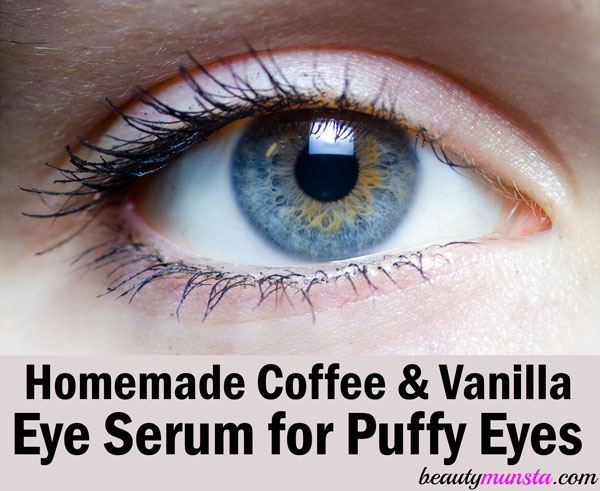 What you need
Directions
Place your ground coffee in a tiny 2 oz jar and top with almond oil. Stir well. Now let the coffee infuse over 3 – 4 days in a cool dry place.
Once infused, use a cheesecloth to strain out the coffee-infused oil.
Now stir in the vanilla extract then use a pipette to transfer the oil into a 10 ml roller bottle. You can store the excess in the jar and keep adding it to the roller bottle as it gets used up.
That's it! Your homemade eye serum for puffy eyes is ready!
To use, roll once under each eye before bed and in the morning when you wake up!
Store anywhere cool and dry. You can keep it in the refrigerator too if you don't forget to apply it every morning! The cold will help reduce puffiness even faster.
Tips
Use the cheesecloth with the leftover coffee grounds to scrub your body! It'll help improve circulation, fight cellulite and make skin soft.
Instead of vanilla, you can use geranium oil which is good for under eye puffiness and circles.