Everyone loves their cup of joe early in the morning to awaken themselves and go through the day with energy. But did you know that coffee has other benefits to it?! And in particular, beauty benefits? Yup, that's right! Keep scrolling for amazing coffee recipes like DIY Coffee Hair Growth Spray, Coffee Under-eye Serum, and Homemade Anti-Cellulite Body Scrub!
From reducing hideous puffy eyes to enhancing your hair color, find out 11 beauty benefits of ground coffee below!
11 Beauty Benefits of Coffee Grounds with DIY Recipes to Try!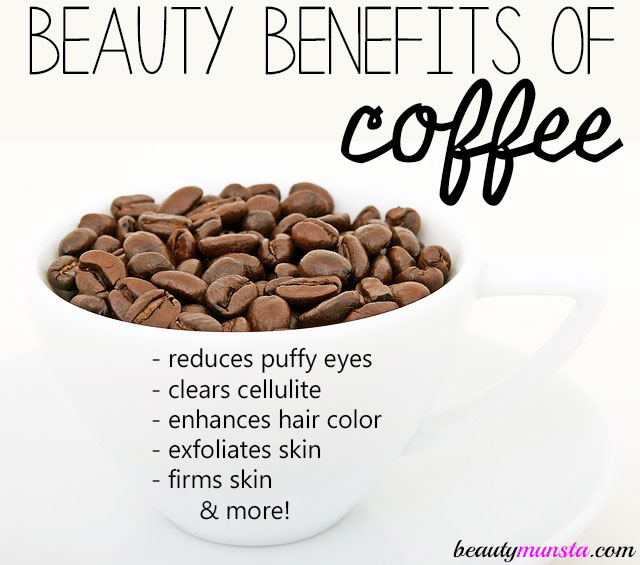 1. Reduces Puffy Eyes
Got puffy eyes? It's time to make a coffee serum! Puffy eyes are as a result of fluid retention in the under-eye region. They can appear after crying, sleeping and when there is fluid retention in the body, among others. Here's how to make your own coffee eye serum for puffy eyes:
Puffy Eye Serum: Infuse 1 tsp of ground coffee in 2 tbsp of almond oil for 4 days. Then strain out the oil into a bowl using a cheesecloth and add 2 drops of vanilla extract. Using a dropper, transfer the ready-made serum into a 10 ml roller bottle. Roll under each eye before bed and when you wake up to reduce puffiness.
2. Coffee Clears Cellulite
The main ingredient in coffee is caffeine. Caffeine is popularly known to reduce cellulite because of its stimulant properties. It stimulates circulation of blood and lymph in the body which helps transport toxins and wastes to sites of elimination. Using a coffee scrub also breaks up old fat cells which accumulate to form cellulite.
Cellulite Scrub: Mix ½ cup of liquid coconut oil, 1 tsp cinnamon powder and 1 cup of organic coffee grounds in a mason jar. Use about 1-2 tbsp to vigorously scrub cellulite prone areas in the shower.
3. Coffee Grounds Exfoliate Dead Cells
Coffee has a slight abrasive texture that has exfoliating action against dead cells and flaky skin. When used as a gentle scrub, it can scrounge off flaky skin on the face. You can also use it to scrub cracked heels, peeling hands and more.
Face Scrub: In a small bowl, mix together 1 tsp coffee grounds with ½ tsp jojoba oil. Now scrub this on your face gently to remove dead skin.
4. Hair Growth & Shine
Coffee also makes hair shiny did you know?! You can either make a hair oil which is coffee-infused oil with vanilla oil. Or, make a hair rinse with freshly brewed coffee that's cooled down.
Simple Hair Rinse: Make a cup of coffee and let it cool down completely the take it to the shower with you. After washing your hair, pour the coffee on it then rinse off with cold water.
Herbal Coffee Hair Growth Spray: To make an amazing potent herbal coffee hair growth spray, steep 1 tablespoon of peppermint leaf, 1 tablespoon rosemary leaf, 1 tablespoon of lavender buds, 1 tablespoon coffee powder and 1 big cinnamon stick in 2 cups of normal room temperature water. Let it infuse overnight. The next day, strain the infusion and pour into a spray bottle. Spray once a day on your scalp for most effective results.
5. Firms & Tones Skin
Caffeine in coffee is known for firming and toning skin by reducing fluid retention and cellulite. You can make a firming body oil to help with this:
Firming Body Oil: Infuse about 1 – 2 tbsp of coffee grounds in ½ cup of almond oil for a week. When the time is up, strain the oil out using a cheesecloth and store it in an amber glass dropper bottle. You can add 7 drops of vanilla extract for lip smackin' scent!
6. Stimulates Blood Circulation
Coffee stimulates blood circulation which is good for beautifying skin and making it look supple and glowing. Make a coffee scrub and use it to promote blood circulation!
7. Exfoliates Scalp
Use coffee to exfoliate your scalp when it feels clogged up and grimy. It can also help scrub off dandruff flakes and make your scalp clean and fresh.
Scalp Scrub: In a bowl, mix up 1 tbsp regular sugar, 1 tbsp ground coffee and enough coconut oil to make a soft but gritty mixture. Scrub this onto your scalp then wash your hair as usual.
8. Beautifies Feet
Dry and flaky feet can be unsightly especially during cold winter. Make a feet beautifying scrub to soften cracked heels, moisturize feet and soften them.
Foot Soak: Mix up 1 tbsp ground coffee and enough coconut oil to make a rough paste. Now prepare a warm tub of hot soapy water and immerse your feet. While your feet are soaking, use the scrub on them in gentle circular motions. You can also use a brush to help with the exfoliation.
9. Softens Lips
Chapped cracked lips can be rough and unsightly. Make a coffee-infused lip balm to make your lips soft and kissable again!
Delicious Lip Balm: Infuse 2 tsp of ground coffee in 1 tbsp of coconut oil for 2 – 4 days. In a double boiler, melt down 2 tbsp of cocoa butter, 1 tbsp of the coffee-infused oil until liquefied. Then add in 5 drops of vanilla extract and voila! Your coffee lip balm is ready! Pour into chapstick tubes and apply whenever needed!
10. Promotes Youthful Skin
Coffee tightens pores and shrinks them which gives skin a flawless and youthful appearance. Use these coffee-infused ice cubes to promote that youthful look!
Coffee Ice Cubes: Brew some coffee and pour it into an ice cube tray. Freeze until it turns to ice. Then wrap an ice cube in a hanky and dab on your face.
11. Enhances Hair Color
Enhance your dark hair using coffee! It said to bring some nice tints to brown or black hair and strengthen the strands. Here's how to use it:
Hair Color Enhancer: Mix 1 tbsp of freshly brewed coffee (make sure it cools down first) and 2 tbsp of conditioner. Apply it on your hair and let it sit for about 5 minutes. Rinse off and enjoy!
Where to Get the Best Ground Coffee
For both drinking and beauty purposes, this strong Death Wish Coffee (fair trade and USDA certified organic) is your best bet!
Have any other beauty benefits of ground coffee? Share them in the comments below!