Everyone loves their cup of joe early in the morning. But want something that will wake you up even more? It's a scrub-a-dub with ground coffee and shea butter! It will leave your skin exfoliated and smooth, invigorate your skin cells and bust cellulite!
What's more – it smells amazing. A delicious scent that will awaken your senses and keep you sharp throughout the day.
What Makes Coffee Good for a Scrub?
Contains caffeine – Caffeine is stimulating and it helps invigorate skin cells. This rejuvenates them, making skin glowing.
Reduces cellulite – If you have those tiny dips and dimples on your butt or hips, then it's time to make this shea butter coffee scrub ASAP. Coffee is known to reduce cellulite by promoting flow of toxins and excess fluids out of cellulitic regions. It also breaks down the old fat cells that accumulate and form cellulite.
Exfoliates skin – The abrasive texture of ground coffee will gently scrub off dead cells on skin. Don't worry – it's not too harsh on skin. It effectively removes dead skin and grime.
DIY Shea Butter Coffee Scrub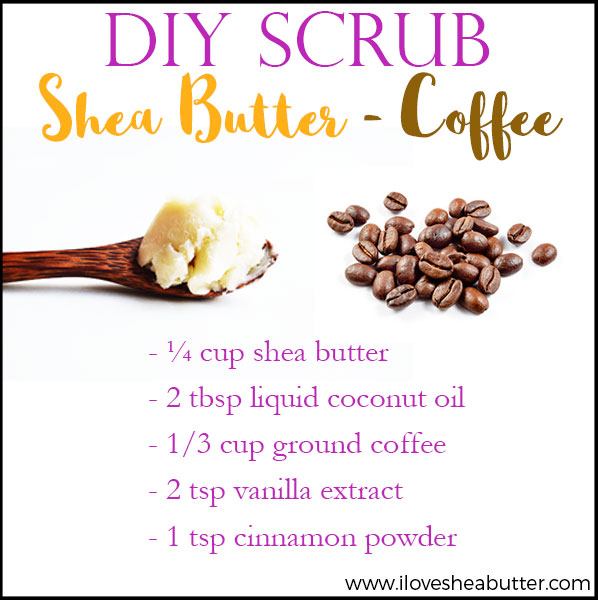 What you need
Directions
What you're going to do is dump all the ingredients into a high speed blender.
Now blend for 5 seconds or until you get a well combined mixture.
Scoop it up into a wide mouth jar.
And it's ready!
To use, put 1 tbsp in a bowl and take it to the shower with you.
Scrub your whole body with it then rinse off well with hot water first, then cold water.
Enjoy the invigorating scent!
How do you like the idea of a homemade shea butter coffee scrub? Are you going try it out?!