Want to know how to put tea bags on the eyes for relaxation, puffy eyes or under eye bags? Read on…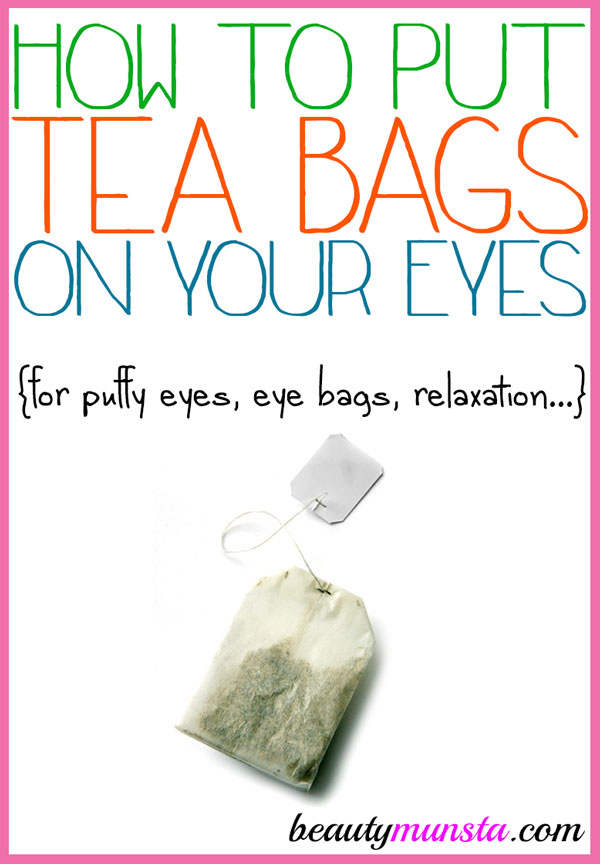 Tea bags are less known stress busters! You can make soothing and calming teas with them when you're feeling exhausted and need inner peace. After sipping up the tea, don't throw away the tea bags, please! Because you can use them for further relaxation!
The first time I discovered you can use tea bags on your eyes is when I was searching things to do for puffy eye relief. Puffy eyes are any girls night mare especially when you wake up with them and have to go to work or school in a few hours! Tea bags work miracles of puffy eyes and they're also good for other stuff! Let's see some of the benefits of using tea bags on the eyes:
Benefits of Using Tea Bags on the Eyes
Why would you put tea bags on the eyes? Here are a few reasons:
Relieve swollen and puffy eyes by shrinking blood vessels
Reduce red eyes (like from crying)
Promote blood circulation
Tighten and tone under eye bags
Soothe tired eyes
Take away eye strain
Help with fluid retention and under eye bags
What Kind of Tea Bags to Put on the Eyes
There are several types of teas out there so you have a lot of options to choose from! However, the most common and best tea bags to use on your face are:
Black tea bags – Black tea is popular around the globe. It's filled with antioxidants more than most types of teas. It promotes blood circulation which helps relieve puffy eyes and under eye bags.
Chamomile tea bags – Chamomile tea is so calming. It'll also calm your eyes! If your eyes are tired from working on the computer, studying for long or whatever other reason, then use chamomile tea bags. They also help relieve puffy red eyes.
Green tea bags – Green tea bags are great for relieving swollen puffy eyes. They're also good for tightening and toning under eye bags!
How to Put Tea Bags on the Eyes for Relaxation, Puffy Eyes, Under Eye Bags and More
Take two tea bags of your choice (black tea, green tea, chamomile tea, etc) and steep them in boiling water for 5-7 minutes.
When the time is up, take the tea bags out and put them on a small plate.
Leave them in the refrigerator for 20 minutes.
Meanwhile sip up your healing tea! It will help relieve fluid retention (the major cause of puffy eyes and under eye bags) from the inside-out.
Take the tea bags out of the fridge. Gently squeeze out any excess liquid until the bags are damp and not dripping wet.
Lay down on the couch or your bed, close your eyes and put the tea bags over them. Leave them on for 15-30 minutes.
Remove the tea bags and discard them. Wash your face to remove tea stains.
Use this tea bag treatment every day, once in two days or the very least, once a week!
Are you going to put tea bags on your eyes? What tea bags will you use? Let me know in the comments below!