Does coconut oil help with hives? Or do nothing? Or make it worse?! Find out in this post!
Hives are a terrible thing to deal with, there's no doubt about that. The worst part is the ITCH! Oh the terrible itch can just ruin your entire existence! For many people, itchy hives is what makes this whole skin problem a nightmare.
Thankfully, there are some stuff you can do to give yourself relief fast. You can check them out here: Natural Remedies for Hives
If you're one of those people who want to avoid using conventional antihistamines for hives, you might have already discovered that they're a lot of effective natural remedies to deal with this problem. Coconut oil is one of 'em. But does it really work? That's what we're going to find out in this post!
Coconut Oil Properties
Coconut oil has amazing uses for skin. Just apply a pea-sized amount on your hands and relish the nice moisturized feel of them. It's very moisturizing and excellent for dry skin. But it also has many other properties! Some of them include:
Rich in MCFA. Coconut oil is unique in that it is rich in Medium Chain Fatty Acids (MCFA). These fatty acids include capric acid, caprylic acid, lauric acid, stearic acid and mystiric acid. They have a small molecular structure that makes them easily penetrate into the skin. MCFAs are also nourishing and provide a protective layer over the skin.
Antibacterial. Yes, coconut oil is antibacterial! It fights off germs and bacteria that irritate skin so while you're moisturizing your skin, you're also actively fighting off any skin irritating bacteria.
Anti-inflammatory. Red inflamed skin can be reduces using the strong anti-inflammatory properties of coconut oil.
Soothing. Coconut oil has soothing qualities to it. When applied on irritated skin, it calms and soothes it instantly.
Anti-itch. Itchy skin can be relieved using coconut oil whether it's from bug bites, rashes or hives.
Does Coconut Oil Help with Hives?
As you can see from the above properties, coconut oil is healing for hives. It soothes the irritated skin, relieves itching and reduces inflammation and redness.
Here are some of the ways you can apply it to your skin: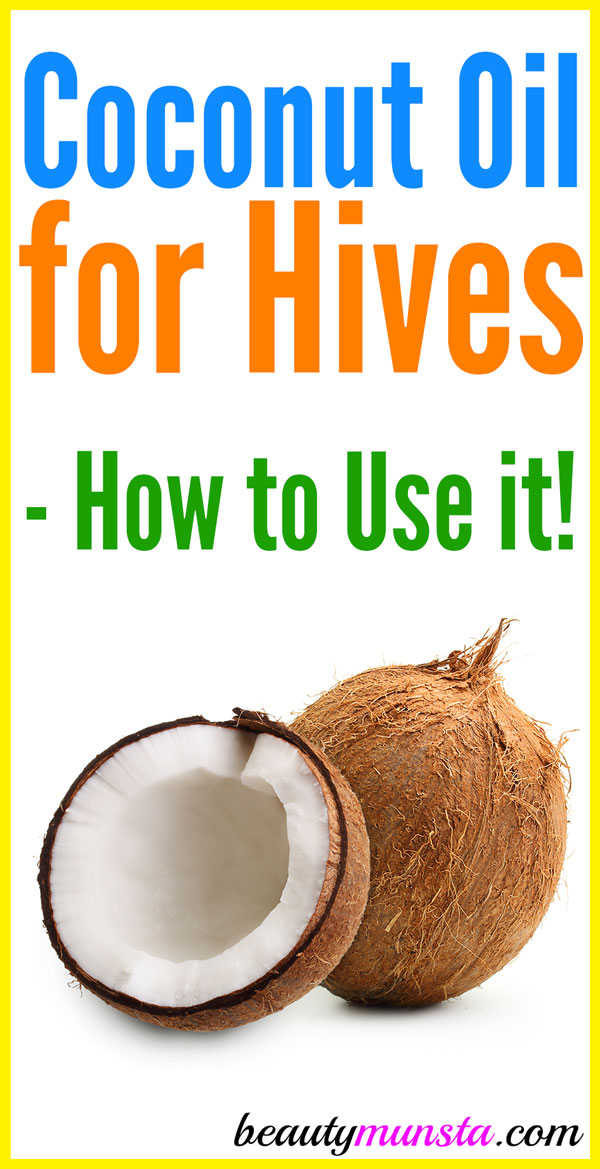 How to Use Coconut Oil for Hives
Direct application. The best thing about applying coconut oil for hives is that it has a nice soft and creamy consistency. When it comes to hives, it's best to avoid putting too much pressure your skin as much as possible because it can make the aggravate the hives and make them spread! So just scoop a little coconut oil and gently slide it on your hives.
Mix it up with hive-healing essential oils. This is the best way to use coconut oil for hives. Essential oils are very helpful when it come to cooling down hot itchy hives. They also speed up healing! To ½ cup of coconut oil, add 5 drops peppermint oil, 3 drops tea tree oil, 3 drops lavender oil and 3 drops frankincense oil. Whip the mixture with a hand mixer to form a soft cream. Gently smooth a suitable amount of this mixture on your skin.
Add it to your bath. Colloidal oatmeal baths are excellent for relieving itchy irritated skin including that littered with hives. Simply add 1 cup of colloidal oatmeal to a lukewarm bath then add 2 tbsp of coconut oil. Soak for as long as you want. You can also place the colloidal oatmeal in a muslin cloth then tie it just under the tap of your bath tub.

Are you planning on using coconut oil to help with hives? Tell us how it goes in the comments below!