Looking to pamper your skin without dishing out a lot of $$$? Then you've landed on the right page! I'm going to show how to make a luscious DIY body scrub with shea butter & just a few other kitchen staples and your skin will look like you've just stepped out of the spa!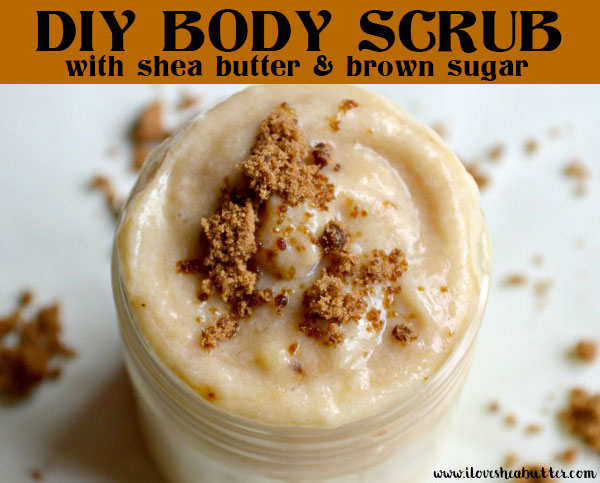 Ingredients
How to Make a DIY Body Scrub with Shea Butter
Method
Place your shea butter in a large bowl and using a hand mixer, whip it for 5-7 minutes till you get a smooth cream.
Then gently add the olive oil, while whipping on low speed.
Once the olive oil is combined well with the shea, it's time to add your raw and brown sugars and essential oil.
Mix the sugars into the silky shea + olive oil mixture with a spoon until incorporated to form a soft mixture with a slight gritty texture.
Hoorah, you've made your very own handmade DIY body scrub with shea butter!
Scoop it up into a clean container. If you're storing this scrub in the bathroom, then make sure to use a plastic container for safety.
Don't Have a Hand Mixer? Follow this Method Instead:
If you don't have a hand mixer or don't want to use one, then utilize the double boiler system to gently melt down your shea butter to make it easier to work with.
Here's how to make your own double boiler: place the shea butter in a heatproof bowl and rest it on top of a saucepan containing about ¼ cup of water. Don't let the bowl touch the water. Heat the saucepan over a low flame so the steam from the boiling water can gently liquefy the shea. Once liquefied, let it cool down until warm then stir in the rest of the ingredients with a spoon.
What Essential Oils You Can Use
→ Sweet Orange Essential Oil (get it here): With its citrusy scent, get prepared to have an uplifting and energizing day! Sweet orange has a fruity aroma that's amazing for citrus lovers. It also has aroma therapeutic properties of boosting mood and dispelling sadness. So if you've been feeling down lately, add a bit of sweet orange essential oil to your scrub!
→ Peppermint Essential Oil (get it here): With its refreshing scent, peppermint helps clear the mind and blocked sinuses as well. It also stimulates blood flow in the skin, keeping it healthy and supple.
→ Ylang Ylang Essential Oil (get it here) – Wanna smell like an exotic flower? Try ylang ylang with its heavenly floral scent! Fun fact: the scent of ylang ylang is actually a powerful aphrodisiac!
→ Rosemary Essential Oil (get it here) – To me, the fresh and sharp herbal scent of rosemary is truly invigorating! It makes my mind alert which is not surprising since the scent of rosemary has been scientifically shown to improve mental clarity and boost memory. Wow!
How to Use this DIY Body Scrub with Shea Butter
Since this sugar scrub is smooth and creamy compared to the solid and coarse consistency of most sugar scrubs, you want to use only a little bit. Using a lot can make your skin greasy. Just get only about 1-2 tbsp to use for your whole body in the shower.