Keep reading for the benefits of red clover flower and how to make DIY red clover oil, hair rinse & more!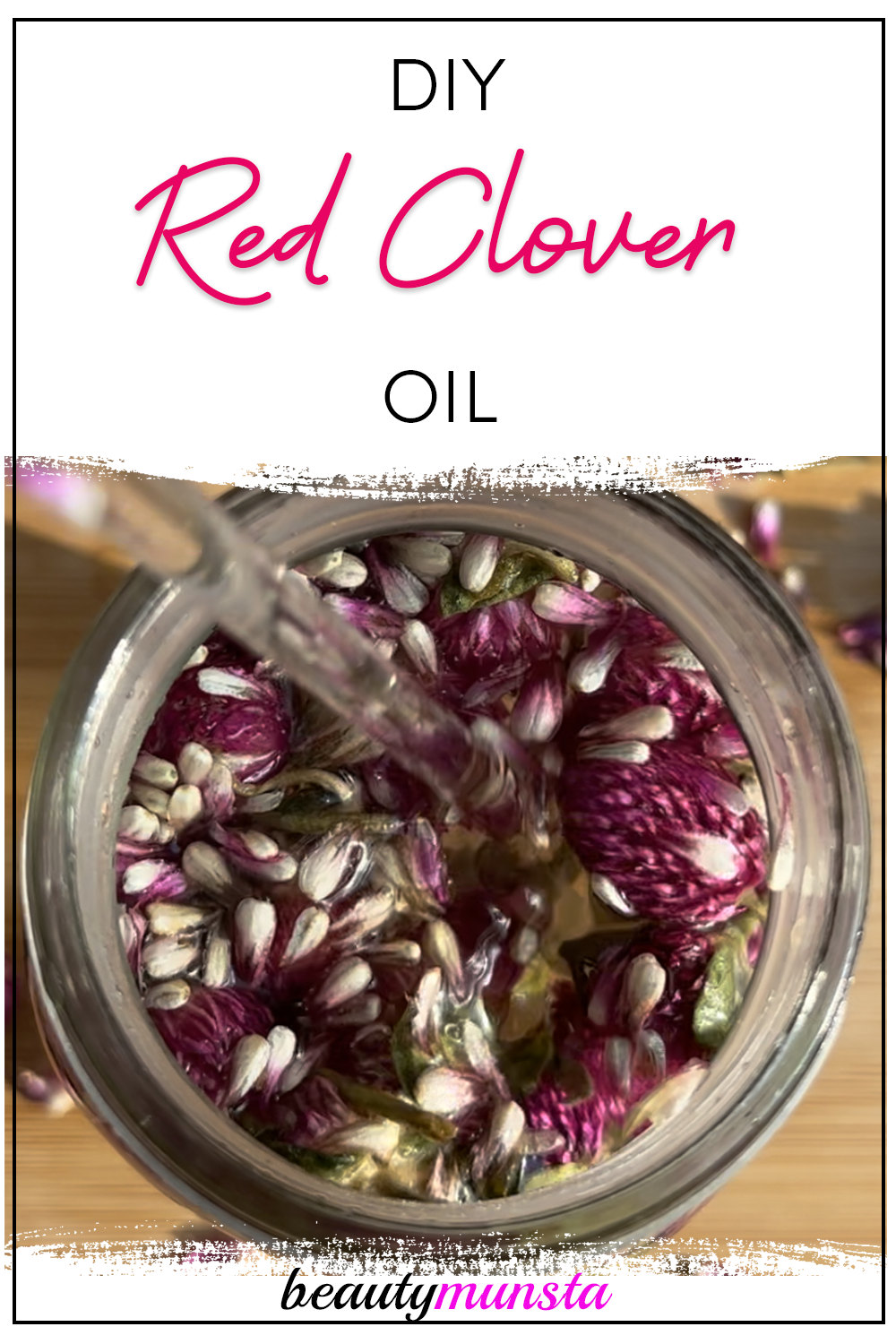 As a kid I always loved plucking red clover flowers and stringing them together to make beautiful purple crowns, necklaces and even earrings! Red clovers retain their vibrant colour even after you dry them. They are long lasting flowers and they symbolize unfading love and respect. We can make red clover tea, tincture and oil.
These beautiful globous pinkish purple flowers aren't just pretty to look at; they actually have so many medicinal values that are overlooked! Clovers are so high in antioxidants that they are thought to reverse grey hair and are well-known for their natural collagen to keep skin elastic and supple! An easy way to enjoy the benefits of red clover is by making your own DIY Red Clover Oil, which I want you to make for yourself! I posted the video on Pinterest and the instructions are below as well.
10 Benefits of red clover:
Red clover contains isoflavones, a type of compound that mimics estrogen and helps to balance hormones
Improves elasticity of skin
Boosts collagen and makes you look younger
Makes skin soft and smooth, for those with rough skin
When used as a hair rinse, it can help reverse greying
Helps prevent premature white hair
Prevents premature wrinkles
It is called the menopause herb and is so combat symptoms of menopause like dry skin, hair loss, wrinkling, hot flashes, poor circulation, breast tenderness, nervousness and others
Boosts immunity
Improves heart health
How to Use Red Clover in Your Life
DIY Red Clover Tea: To make tea just steep 8 numbers of dry red clover flowers in 2 cups of hot water. Drink throughout the day. It has a mild fruity aroma. It will keep you hydrated along with regular drinking water.
DIY Red Clover Hair Rinse: To make red clover hair rinse, steep ¼ cup of red clover in 2 cups of hot water. Allow to cool completely. Now pour the cooled red clover water on your head and down your hair as the last step after your shower. No need to rinse off. This will help reverse greying.
DIY Red Clover Oil: Get ¼ cup of dried red clover and place it in a clean mason jar. Fill the jar with about 1 cup of grapeseed oil or anyother carrier oil of choice. Cover the mason jar and then place it in a pot of hot water on low flame for 1 hour. This will gently heat up the oil. Make sure your jar is heat safe. You can now apply this oil on your face, hair and also joints. You can further steep it for 2 weeks to make it more potent.