Scalp eczema can be very itchy, dry and inflamed. Fortunately, you can make a DIY eczema scalp treatment at home to heal your scalp!
Scalp eczema can also be referred to as seborrheic dermatitis. It can affect anyone from babies to adults. It is characterized by red, flaky, itchy, dry scalp, sometimes with oozing lesions.
It's simple to make a healing DIY eczema scalp treatment with a select few ingredients from Mother Nature. Below are the ingredients used in this recipe and their benefits:
What Each Ingredient Does
► Raw honey – Honey in its raw form is very nourishing, filled with lots of vitamins and antioxidants. Since ancient times, honey has been used for numerous skin conditions its powerful healing substances.
► Lavender essential oil – Lavender oil is soothing and anti-inflammatory. It helps calm down irritated scalp eczema and reduces inflammation.
► Tea tree essential oil – A strong antiseptic agent, tea tree oil kills of fungi and microbes that are aggravating scalp eczema. It also gets rid of itchy scalp.
► Colloidal oatmeal – A very soothing substance, colloidal oatmeal calms the scalp, reduces itchiness, gets rid of irritation and leave your scalp soft.
► Aloe vera gel – Aloe vera is a cooling gel that gives a pleasant cooling sensation on the scalp. It also nourishes the scalp, seals in moisture and has anti-inflammatory properties.
DIY Eczema Scalp Treatment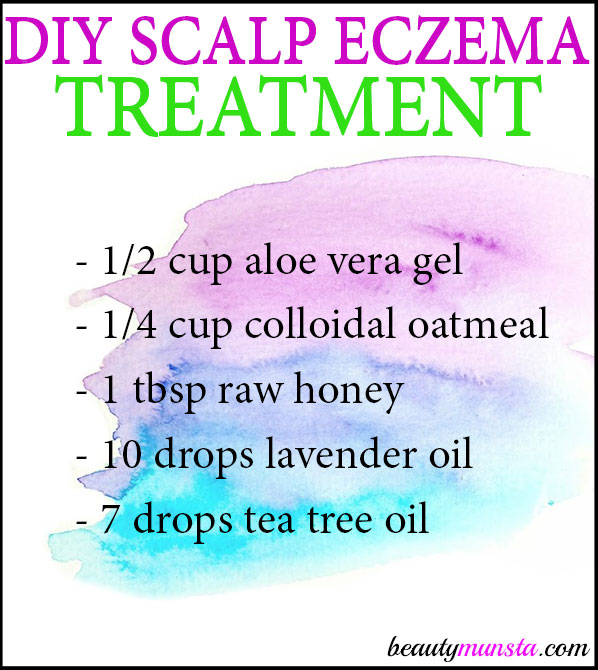 What you Need
Directions
Into your high speed blender, dump in the colloidal oatmeal, aloe vera gel and raw honey.
Blend for a few seconds until well combined.
Pour your mixture into a medium sized bowl.
Stir in the essential oils.
It's ready to use!
How to Apply this DIY Treatment
Work with clean and damp hair.
Stand over the sink, dip your hands into the mixture and start slathering it on your scalp. If you have long hair, then make sure to section it into 2-4 parts to make application easier.
Once your whole scalp has been saturated, cover your hair with a shower cap and let the mixture penetrate for 10 minutes. During this time, you can carry on doing other things.
When the time is up, rinse off thoroughly with warm/tepid water.
Let your hair dry naturally.
Repeat once a month.
In case you have excess mixture left, store it in an airtight container in the refrigerator. It will keep for 5 days so make sure you use it up within this time.