Get to know how you can reverse tooth decay naturally with 3 DIY tooth masks!
How to Reverse Tooth Decay Naturally
"Many people write to me, and have told me personally that they have religiously brushed their own teeth, or their child's teeth, and even used the deadly fluoride poison, and still they have cavities. If this system worked, why do people still keep getting cavities?" (Ramiel Nagel, www. curetoothdecay.com)
I brush my teeth at morning and at night without fail. I do not consume sodas, cakes or any other refined and sugary processed foods and try to keep my mouth and teeth free from bacteria by regularly using a good mouth wash. Why do I still get tooth decays? Here's the answer:
"Tooth decay is in reality a degenerative disease condition. It is the result of the modern foods we eat, and the modern drugs and toxins we are exposed to. It is not caused by bacteria. At best, the body uses the bacteria to convert tooth minerals into body building minerals. Bacteria are the result of physical degeneration, and not the cause." (Ramiel Nagel, www.curetoothdecay.com)
In this post, I'll be talking about tooth masks, which is one of the ways you can reverse tooth decay naturally and whiten your teeth at home without going to the dentist. However, I'm not saying you can reverse tooth decay naturally by only applying these tooth masks alone. You also have to make some lifestyle changes as well. Some of the dietary and lifestyle habits I adopted to heal a little cavity at the back of my front tooth, include the following:
Eating Vitamin D and Vitamin K2 rich foods such as grass fed butter, ghee, free range chicken, cream and full fat milk. Also include fermented cod liver oil, egg shells and butter oil.
Oil pulling every morning when you wake up/ at least thrice a week, for 15 minutes.
Cleaning and flossing your teeth at night before bed.
Avoiding eating refined white sugar. I still ate wheat even though they say grains are not good for the teeth but well, that's one thing I just couldn't cope up with. Not eating wheat actually made me depressed. However, I tried my best to stick to eating only unprocessed wheat.
Tooth masks really help whiten the teeth, remove any yellow/brown stains and rapidly heal early decays.
Note: Please feel free to make a bigger batch of any of these 3 tooth masks and store it in a small container in a clean dry place. If you don't get any water into the mixture, it should keep for a good long while without spoiling!
DIY Tooth Masks to Strengthen, Whiten & Reverse Tooth Decay Naturally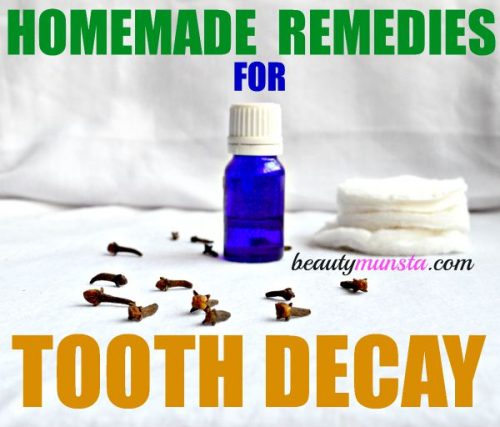 1. Turmeric Clove Coconut Oil Tooth Mask
This is my favourite tooth mask that I like to use at least twice a week. It's very simple to make and uses cheap ingredients that I almost always have at hand like coconut oil, which I'm never without, turmeric powder which I use for curries & golden milk and clove oil which I specifically use to strengthen the teeth & reverse tooth decay naturally.
Caution: Keep in mind your toothbrush will be stained yellow (due to the turmeric) with this tooth mask.
► Ingredient Profile
➝ Turmeric Powder – Though turmeric can instantly stain anything from clothes to rugs bright yellow, it actually helps whiten teeth and strengthen the gums when applied and rinsed off as in this tooth mask! It also contains antiseptic properties that helps cleanse the teeth from plaque building bacteria and germs. The powerful anti-inflammatory properties of turmeric root will protect and strengthen the gums from bleeding and swelling.
➝ Coconut Oil – Coconut oil is commonly touted for its great health benefits got through oil pulling with it. The reason why I'm using coconut oil in this tooth mask to reverse tooth decay naturally is because oil helps remove plaque, a soft layer created by bacteria that accumulate in the mouth. Plaque which is hydro-phobic cannot be removed by water but it can be removed with oil. Use coconut oil in this tooth mask and you're teeth will be fresh and squeaky clean afterward!
➝ Clove Essential Oil – Clove oil has been used for ages to cure tooth pain and strengthen the gums and teeth. Up to today, you can find clove oil in many dental care products like toothpaste and its main use is for dental care. Its active ingredient, Eugenol is known for its potent analgesic and anesthetic action and powerful anti inflammatory and antiseptic properties that will ward off oral infection.
Ingredients
Directions
In a small dish or bowl, add all the ingredients and mix well with your toothbrush.
Scoop the mixture up with your toothbrush and gently apply it over your teeth.
Leave the mask on for about 2 to 5 minutes for the treatment to work.
When the time is up, brush your teeth and rinse thoroughly with water.
2. Whiten Teeth Naturally with Baking Soda & Mint!
Note: Feel free to use only dried mint leaf powder if you don't have peppermint essential oil!
► Ingredient Profile
➝ Baking soda – Baking soda is commonly used to make homemade tooth paste for whitening yellow stained teeth and clearing up plaque. But it can also be used as part of your oral journey to reverse tooth decay naturally!
➝ Peppermint Essential Oil – Peppermint essential oil  refreshes your mouth and help neutralize bad odor and the mouth's pH. It also has antimicrobial and anti inflammatory properties.
➝ Dried Mint Leaf Powder –Mint powder is one ingredient that is popular in Ayurvedic tooth powders because of the refreshing effect it gives to the whole mouth. It helps fight bad mouth odour and also prevent tooth decay and help naturally heal any cavities.
Ingredients
1/2 teaspoon of baking soda (get it here)
2 drops of lemon juice
1 drop of peppermint essential oil (get it here)
¼ teaspoon of dried mint powder(get it here)
A little water
Directions
Mix all the ingredients in a small bowl. Add the right amount of water to make a smooth paste.
Scoop it up with your tooth brush and apply it on your clean teeth.
Once you have applied your tooth mask, cover the front and bottom of your teeth with two pieces of aluminium foil.
Leave it to work for 3 minutes or more. It depends on how long you can keep the mixture in your mouth without swallowing. I can usually keep it for up to 20 minutes! By this time, saliva will collect in your mouth so you can spit it out and brush your teeth.
3. Instant shiny white teeth: Activated Charcoal Licorice & Clay Tooth Mask
This tooth mask is very effective and many people have seen instant results with it. Activated charcoal, licorice root and betonite clay are powerful ingredients that will work wonders in clearing up plaque and whitening yellow stained teeth in no time! If you use it at least once a week, you can wave goodbye to yellow teeth forever!
► Ingredient Profile
➝ Activated Charcoal – For years in different cultures, such as Asian, Indian & African, across the world , activated charcoal has been used to whiten teeth and maintain a healthy mouth. Activated charcoal is said to absorb tartar, plaque and clear off yellow stains caused by coffee & tannins in tea. It is also known as activated carbon and has potent detoxifying abilities because it is a porous substance, thus enabling it to suck out impurities.
➝ Licorice Root Powder – Popularly used in Ayurvedic and Chinese medicine, licorice root has two main active compounds: licoricidin and licorisoflavan A, which are said to have strong anti bacterial properties that inhibit the growth of plaque building and cavity-causing bacteria. It also contains anti inflammatory properties that protects the gums from inflammation and gum disease that causes bleeding.
➝ Bentonite Clay Powder – Just like activated charcoal, bentonite clay (please remember to purchase food grade bentonite clay!) sucks out impurities from the teeth because it has a high negative ionic charge that attracts unclean matter & plaque stuck to the teeth.
➝ Sweet Orange Essential Oil – Basically, sweet orange essential oil along with the licorice root, gives this tooth mask a good taste and masks the unpleasant taste of the activated charcoal and bentonite clay.
Ingredients
Directions
Add all the ingredients to a small bowl.
Mix well and scoop it up with your toothbrush.
Apply it along all your front and bottom teeth.
Cover the front and bottom of your teeth with aluminium foil.
Let it sit for up to 5 minutes.
When the time is up, brush your teeth and rinse your mouth to get rid of the whole mask.
Can these Tooth Masks Work?
Yes, they can. Contrary to what modern dentistry teaches us (about tooth decays needing to be drilled and filled), you can actually naturally reverse tooth decays because they are caused by nutritional deficiencies rather than bacteria!
And did you know that teeth are porous? Read more about it here, here and here.
Take Care
Please make sure not to swallow the ingredients while you have the tooth mask on. If you're having any difficulties, then it's okay to keep the tooth mask on for only a couple of minutes. If you're allergic to any of the ingredients, don't use them.