Try a homemade scalp moisturizer to hydrate your scalp and get rid of that dry tight feeling!
You can quickly whip up this easy DIY homemade scalp moisturizer when you need some moisturize back into your scalp. A dry and itchy scalp can not only bring about dandruff but also lead to slow hair growth!
In this recipe, we'll be using 3 nourishing natural oils and 3 essential oils for a ultra moisturization! Let's check out the ingredients and their benefits below:
Ingredients Used and their Benefits
Castor oil – lubricates the scalp and protects it from fungal scalp infections.
Coconut oil – penetrates easily into the scalp and nourishes it with fatty acids, moisturizes dry skin, fights dandruff
Olive oil – deeply moisturizes the scalp, protects hair from falling out, strengthens the hair shaft
Lavender essential oil – soothes the scalp, reduces scalp inflammation, promotes hair growth, naturally conditions and moisturizes the scalp
Tea tree essential oil – fights itchiness, gets rid of dandruff
Rosemary essential oil – promotes hair growth, increases blood circulation to the scalp, leaves hair shiny and conditioned
Homemade Scalp Moisturizer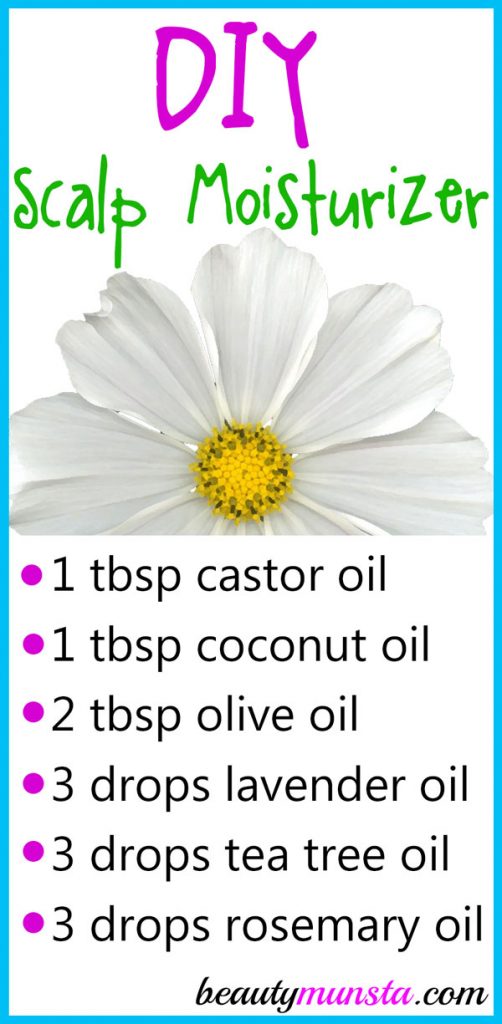 What you need:
1 tbsp castor oil
1 tbsp coconut oil
2 tbsp olive oil
3 drops lavender essential oil
3 drops tea tree essential oil
3 drops rosemary essential oil
Medium sized bowl & spoon
Shower cap
Sulfate-free shampoo
Directions:
In a small bowl, pour 1 tbsp of castor oil, 1 tbsp of coconut oil and 2 tbsp of coconut oil.
Now place the bowl into a larger bowl or pan containing hot water. This will gently heat up the oils and melt the coconut oil to liquid form.
When the oil blend is warm to the touch, remove it from the water and stir in the 3 drops of tea tree, lavender and rosemary essential oils.
Using a spoon, pour the warm oil all over your scalp until it's saturated.
Now massage your scalp well using your fingertips for about 4 minutes.
Cover your head with a shower cap and wait an hour for the goodness to penetrate deeper and moisturize your entire scalp from within.
When the time is up, wash your hair very well with a sulfate-free shampoo. You may have t o shampoo twice to remove the oils. You can forego conditioner because the oils naturally leave your hair conditioned!
Repeat 3 times a week to moisturize your scalp & hair!

Please try this homemade scalp moisturizer and come share your results with it!