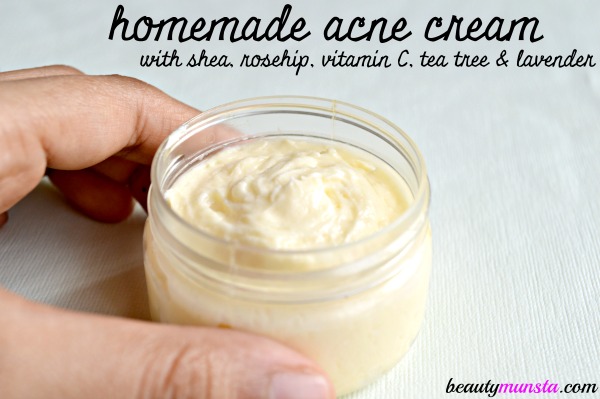 Acne – a Common but Curable Ailment
If you are suffering from acne and pimples, don't worry – you're not alone. Statistics show that more than 50 million Americans suffer from moderate to severe acne, and the skin condition is becoming increasingly common among other demographics of the population, no longer being an ailment that only affects teenagers. Perhaps this is due to modern day air pollution, the invasion of junk foods, the increasing presence of hormones in beloved foods like milk and meats, and the overall accumulation of toxins from our environment.
There's no denying, however, that acne is big business in the United States, a $3 billion business, to be more specific. So many products that claim to cure acne are being thrust in our faces. Not only do these artificial products come with side effects, but they are also laden with toxic ingredients such as parabens, artificial fragrances, preservatives and more.
Why not make your own homemade cream for acne and pimples using all natural ingredients that are miracle healers for acne:
A Brief Look at the Acne-Fighting Natural Ingredients We'll Be Using
Shea butter is a beautiful, nutrient-rich plant butter which has incredible healing properties to help promote healthy skin. It's also highly moisturizing and prevents dry skin. Its intense moisturizing properties also help to balance acne caused by overactive oil glands.
The great news about shea butter, as compared to other oils, is that is non-comedogenic. This means that you don't have to worry about it clogging your pores and exacerbating acne or creating blackheads.
Vitamin C Powder
It's surprising that vitamin C is not at all popular with acne sufferers – yet it has been proven to be even more beneficial than the acne industry's favorite retinol (vitamin A) for acne treatment! A compelling study carried out by the Indian Journal of Dermatology (1) showed that all acne patients are lacking in a critical vitamin – vitamin C.
Supplementing with vitamin C both internally and applied topically is one of the most powerful ways to get rid of acne.
Vitamin C is a powerful antioxidant that fights free radical damage by donating its electrons to free radicals and thereby deactivating them. It also boosts collagen production, which helps acne-prone skin to repair and heal faster. Vitamin C is also known for making skin appear brighter and clearer.
Rosehip Seed Oil
Rosehip oil is another highly beneficial oil for acne, rich in many nutrients such as essential fatty acids, vitamin E, vitamin C, B-carotene and others. It helps fight UV damage, prevent premature aging of skin and of course prevents acne and heals acne scars.
It is rich in Vitamin A, which helps even out the skin tone, smoothen the appearance of the skin and lighten acne scars and blemishes.
Tea Tree Oil
Tea tree oil is by far the most popular essential oil in the planet and is revered for its disinfectant, antibacterial, antimicrobial, anti-fungal and antiseptic properties. It helps kill off harmful bacteria which cause acne vulgaris and cleanses the skin pores, removing dirt, germs and impurities lodged within the pores.
Lavender Oil
A highly calming and soothing essential oil, lavender oil can help not only fight acne and pimples, but also reduce scarring caused by acne. It also helps reduce and lighten old scars on the face. Lavender oil is also highly anti-inflammatory, helping to reduce swelling and redness of cystic acne and deep rooted pimples.
How to Make Your Homemade Cream for Acne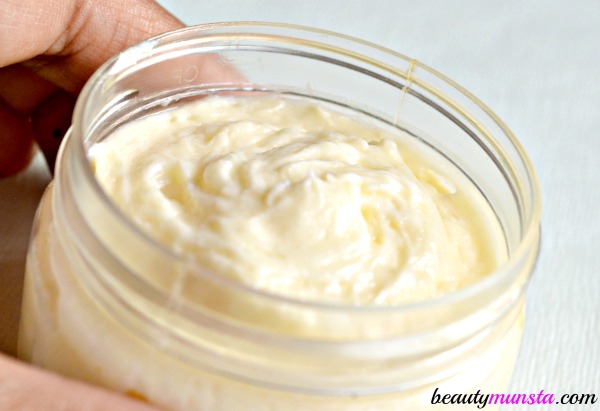 Ingredients
Directions
Using a double boiler reserved just for your cosmetic needs (not for cooking purposes), heat and melt the shea butter until it is completely liquefied.
Now take it off the heat and once slightly cooled down, add all the rest of the oils, followed by the vitamin C powder and mix thoroughly.
Pour the mix into a clean dry 4 oz glass container, and let it set overnight in the refrigerator.
How to Use Your Homemade Cream for Acne
After gently exfoliating and cleansing your face, apply the cream all over your face, including the acne-affected areas.
References
(1) https://www.ncbi.nlm.nih.gov/pubmed/20049267/