Emu oil has been purported to stop hair thinning and even reduce balding. Take a deeper look into using emu oil for hair growth. Does it really work? Is it worth a try?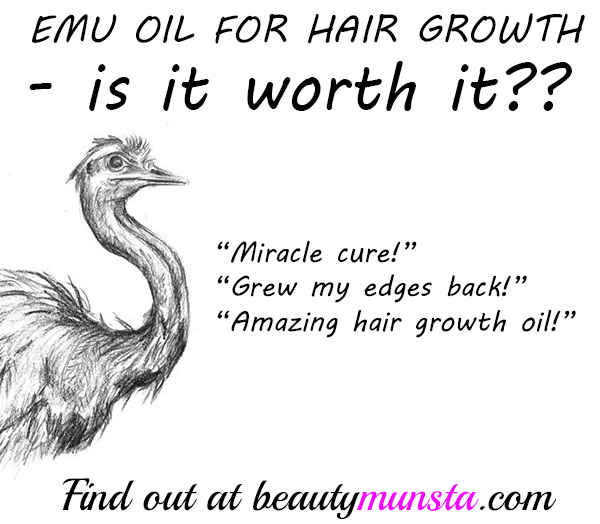 What is Emu Oil?
Emu oil is not as popular as it should be! I think a large part of this has to do with the fact that it is extracted from a bird. This doesn't go down well with the ever-growing vegan community. But those who DO use it, swear by its exceptional healing qualities.
The emu bird, native to Australia, is a large flightless bird similar to the ostrich. It is farmed for its meat, which is a specialty in many up-end restaurants. When the meat is harvested, the thick layer of fat is separated and processed to make emu oil.
When buying emu oil, you can get the minimally processed or "raw" oil, or a processed product containing emu oil. Minimally processed emu oil does have a scent, which may be off-putting at first. The processed oil may be fractionated (to make it fully liquid at room temperature) and deodorized to remove the "farmyard" odor.
Raw or minimally processed emu oil is what is recommended for reversing hair loss and stimulating hair growth. If you want to regrow your hair badly enough, then the scent won't deter you at all! Besides there are plenty of ways to naturally mask the smell, which include use of essential oils.
Emu oil has many therapeutic compounds and constituents including:
Oleic acid (70%): An omega 9 fatty acid, oleic acid is a powerful emollient. It is often used in cosmetic products as an emulsifier. As an antioxidant, it prevents free radical damage in the body. It also slows down aging.
Linoleic acid (20%): An omega 6 fatty acid, linoleic acid is popularly added to beauty and cosmetic products. It has acne-fighting tendencies. It is rich in anti-inflammatory properties. It also acts as a natural preservative for skin care products.
Linolenic acid (1-2%): An omega 3 fatty acid, linolenic acid has been found to be effective against cancer. It is a potent anti-inflammatory agent. It helps prevent and treat atopic diseases including dermatitis on the skin.
Where to Get Pure Emu Oil
Always look for 100% pure and organic emu oil. I like Dr. Adorable's 100% Pure Australian Emu Oil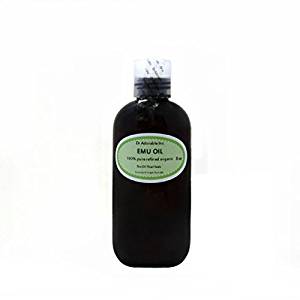 How Does Emu Oil for Hair Growth Work?
Hair growth seems simple but it is actually a sophisticated process governed by timing, aging and delicate hormones!
The hair growth cycle begins with the production of hormones which stimulate the keratinocytes that give hair follicles the message to begin growing hair. This is known as the anagen phase or the growing phase. The growing phase lasts 2 to 7 years and determines the length of your hair.
The hair then relapses into a transition stage known as the catagen phase where the follicles shrink and the hair detaches dermal papilla. It will no longer grow. This phase lasts about 10 days.
Then there is the resting period known as telogen phase . Here the old hair rests for about 3 months while the new hair begins to form.
The old hair is finally shed to make way for the new hair in the final phase called the exogen phase . On average 100 hairs are shed per day and this is considered normal.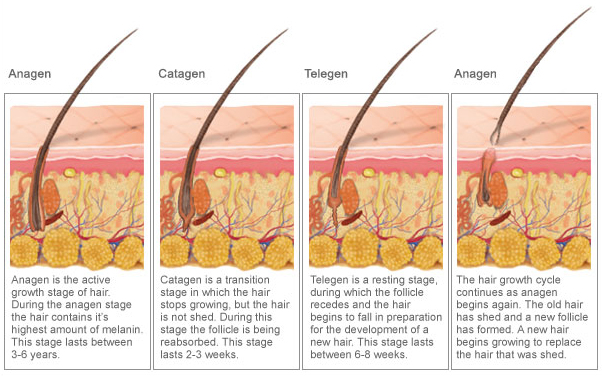 But for those who are shedding out way more than 100 hairs per day, hair thinning, sparse hair distribution and balding can result.
Emu oil can help stimulate up to 80% of hair follicles that are in the resting stage or telogen phase. This can help thicken your hair considerably.
For those experiencing premature balding or who have bald patches on certain areas of the scalp, emu oil has been found to inhibit a body chemical known as 5 alpha reductase. This helps reduce the production of DHT, which is found in the onset of balding in men.
Emu oil helps improve hair growth and overall hair health by:
Healing damaged hair follicles
Thickening the shafts of hair which tend to get thinner with age
Moisturizing hair and preventing breakage
Stimulating hair follicles that are in a dormant stage
Inhibiting the production of testosterone hormone which causes balding
How Does Emu Oil for Hair Growth Work?
Experiment with emu oil by massaging into your scalp once a day, daily for 3 – 6 months. You can also do a weekly hair mask containing emu oil.

For the best recipes using emu oil for hair growth, check out: Emu Oil Hair Growth Recipes
The Verdict
Emu oil definitely seems to be a well-kept secret for bolstering hair growth and reversing hair loss. I would say emu oil is worth a try for those looking for healthy hair growth.
But remember, a health hair growth journey is not just limited to things that you can apply on your scalp and hair. It has to be approached holistically with consideration for dietary changes, supplementation and lifestyle changes.