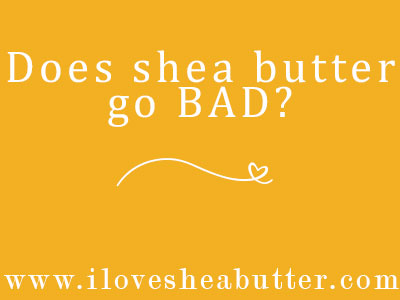 Shea butter, a luxurious plant butter extracted from nuts of the fruit of the Shea (African Karite) tree, is an all natural product used since ancient times in Africa as a superior moisturizer with healing qualities.
Though it's a magical product that never ceases to do wonders for skin and hair, like all organic and natural products, shea butter has a shelf life – it's not as invincible as you thought – it can turn rancid, smelly and discolored after a certain amount of time.
However, you can prevent your shea butter from going bad and make it last longer while keeping all of its therapeutic properties intact as we shall see below!
Shelf Life of Shea Butter
100% Raw shea butter – Since this is pure material, it's an organic substance, meaning no additives or processing has been done to it. When you buy any amount of the raw and unrefined type of shea butter that hasn't been processed in any way, it usually has a shelf life of 12-24 months.
Unrefined shea butter – I currently have a pound of organic unrefined shea butter nilotica and the jar says it will keep for 3 years straight without going bad. I'm half way down the jar and I've been using it for about a year now. Unrefined is different from raw in a way that raw is completely untouched while unrefined has been filtered to remove the impurities like shea nut bits, for example.
Refined shea butter – Refined shea butter has been processed, bleached and deodorized to give it that white color with little to no smell. Since it's been artificially tampered with (not necessarily a bad thing), it's going to last very long without going bad.
How to Tell if your Shea Butter has Gone Bad
→ The Smell. I can't describe the exact smell your shea butter will be having but you'll just know it doesn't smell right. When you get a whiff of any weird smell that's not the strong smoky and nutty aroma of shea butter, then maybe your shea butter has gone bad.
→ The Color. Some people say their shea butter turns from yellow to white and that this means it's losing its potency or getting bad but I haven't experienced this before. I think such people have bought the bright yellow shea butter that's mixed with the extract of the Borututu tree (a natural colorant that gives it that attractive intense yellow color) and after a long while, the extract starts to shrink away, leaving the original off-white color of the shea butter.
→ The Texture. It loses it nice soft feel and becomes a bit more waxy.
What to Do if your Shea Butter Has Gone Bad
Please don't put in on your body. Rancid oils and oxidated fats are not something you would want to smear all over your skin and hair. It's not just the unpleasant scent – it's the healthiness of the product too! Once something turns rancid or spoiled, it doesn't serve its original healing uses anymore. It has a reverse effect on your body because oxidation (which makes oils go rancid) causes a full permanent change in the base oil molecules. So instead of smoothing out wrinkles – you guessed it right – you'll just be inviting more by using rancid shea butter.
So do you trash it? Wait up! You must be feeling kinda bad for such a waste if a lot of shea butter went bad, but you can still use it, just not on your body. Use it to polish any wooden items you have around such as furniture and keep leather shiny – it works like a charm!
What to Do to Prevent Shea Butter from Going Bad
1. Don't buy huge amounts. Many people who love shea butter and use it often, usually buy huge amounts thinking it'll last them a little while but a pound of shea butter can last you 6 months (or more!) even when you're using it every day, take it from me. A little really goes a long way when it comes to using shea butter because it is a thick emollient – use a lot and you'll end up greasy. If you're new to shea butter, I suggest purchasing just one pound jar or block (but jar is better since you can easily scoop the shea up) and see how long it'll take you to reach the bottom.
2. Refrigerate it. So you ended up buying 10 pounds of fresh shea butter off Amazon and you're in an oops-shouldn't-have-done-that kinda situation. Don't face palm yourself. Just spoon a little of the shea butter in a clean container for every day access, then store the rest of the shea in the package it came in at the back of the refrigerator. This way, it won't go bad fast and you'll be able to use it for a very long while.
3. Don't put water in it. You've just stepped out of the shower and can't wait to slather some shea goodness all over your body but wait – not so fast! Dipping wet hands into shea will rapidly spoil it because water is a contaminant that will invite bacteria and other microbes like mold to feast in your favorite moisturizer. Use clean and dry fingers to dip into your shea butter always.
4. Store it away from sunlight. You know how many products say keep in a cool dark place or away from direct sunlight? That's because light degrades a product slowly by slowly before it goes full-out rancid. This is especially true with vegetable oils and essential oils too. So keep your shea butter jar in your closet or drawer or dresser, as long as it's away from the window and sunlight.
5. Use it in a timely manner. Don't keep your shea butter sitting on your dresser idle. Use it up! On your skin, lips, hair, pets, nails, literally anything that needs moisturizing and healing!
Have you ever had to deal with shea butter gone bad? Share your story in the comments below!