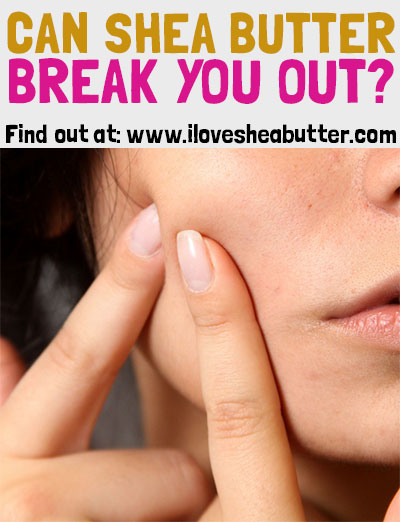 If you have breakout-prone skin, then you need to be careful when selecting skin care products. Many products out there on the market can make you breakout – even if they are natural. And for someone who really fears using products that can break skin out, I tend to shy away from using a lot of products on my body. So I totally understand when a reader asks the question, "Can shea butter make you breakout??"
Shea Butter – A Natural Plant Butter
What is shea butter? No it's not something for eating – though it is used as an ingredient in chocolates and stuff. It is a buttery-like substance that's manually extracted from the shea nut. The shea nut is found in the shea fruits of the African Shea Tree, also known as a Karite Tree.
For centuries, African women have been extracting shea butter out of sundried shea nuts. The purpose? To keep skin and hair moisturized and healthy! Shea butter was also used as a sunscreen, bug bite soother and skin infection treatment.
Nutrients in Shea Butter
Shea butter contains a lot of fatty acids. These play important roles in sealing moisture in skin and protecting it from the elements. However, shea butter also has a variety of other nutrients such as:
Vitamin A – It has plenty of this vitamin, given its slight hint of yellow or beige to it. Vitamin A boosts collagen, keeps skin moisturized and smooth.
Vitamin E – Known as the beauty vitamin, vitamin E promotes beautiful skin and hair. It also has anti-aging qualities that fight off premature wrinkles and fine lines.
Vitamin K – This vitamin is good for fading scars and stretch marks. It's also great against dark circles.
Can Shea Butter Make You Breakout?
NO WAY! Shea butter will not break you out at all! Why? Because it has a comedogenic rating of ZERO. What's comedogenic rating? It is a scale from 0-5 which shows the pore clogging rate of a skin care product. So shea butter, along with argan oil and sunflower oil, have a pore clogging rate of zero. This means they will not clog pores or break your skin out.
So for those with oily/acne prone skin, the best natural moisturizer out there is shea butter. It's smooth, silky and gives nice soft skin when applied.
What Kind of Shea Butter to Use
Always go for unrefined shea butter because this one has little to no processing done on it. So all the nutrients and healing powers are intact. The one I like is this one from Perfect Body Harmony which comes in a UV protectant amber jar. It's super easy to scoop some silky butter straight out of the jar and use it on your clean face.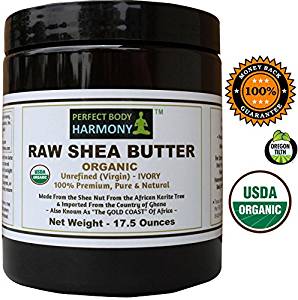 My Moisturizer Recipe for Acne Prone Skin
What you Need
Directions
Dump the shea butter into a mixing bowl, then add the essential oils.
Now using the hand mixer, beat the contents of the bowl for a couple of minutes. This will form a smooth white cream.
Transfer the ready-made face moisturizer into the amber jar.
Use suitable amount on your  clean face.
I hope this answered your question! Now you can use shea butter on your skin without worrying about breakouts!