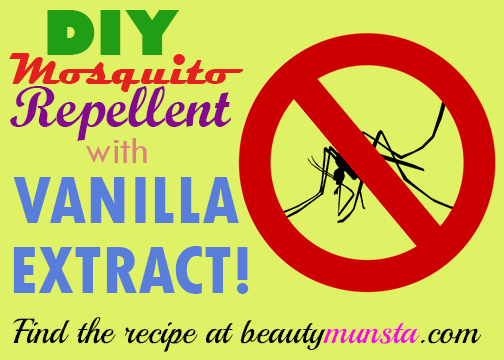 More and more of us are coming to realize that conventional insect repellents are hazardous to our health and the environment, as they almost always contain hazardous chemicals like DEET. Yet mosquitoes are annoying, their bites are painful and cause swelling, and they can just about ruin an entire picnic party – what can we do to repel the bothersome bugs once and for all? Why, make your own all natural vanilla extract mosquito repellent, of course!
The dangers of DEET
DEET (full form: N,N-diethyl-3-methylbenzamide) is a commercial pesticide that has been made so popular around the world for repelling mosquitoes that many of us use it without even thinking twice, yet evidence is emerging on the frightening dangers of using DEET, including damage to the nervous system and birth defects.
There is no shortage of studies carried out on the effects of DEET on different life forms and the evidence is clear: DEET is toxic to not just mosquitos, but also humans.
A study carried out by Duke University Medical Center pharmacologist in 2002 demonstrated that lab animals exposed to DEET in prolonged or frequent doses experience damage to the central nervous system, leading to negative effects such as damage and death of neurons in certain regions of the brain, loss of muscle control, impaired learning, difficulty remembering things and inability to concentrate. (1)
Sadly today, DEET is still found in more than 200 conventional insect repellent products in 100% concentration in America, and more than 30% of people in America are unwittingly using insect products containing DEET on their skin and their surroundings. This is because people simply don't know that they can make their OWN mosquito repellent, or they think it's too difficult to make it on their own. They also think homemade mosquito repellents don't work – but these are just myths as we shall see below.
Myth 1: "Homemade mosquito repellents don't work"
Think DEET or other commercial artificial mosquito repellents work better than homemade repellents? Actually, that's incorrect. Several studies have proved that natural ingredients used in homemade repellents work just as well, if not BETTER, than DEET!
Research carried out by the University of Nebraska, USA in 2009 showed that catnip essential oil was 10 times more effective against insects like mosquitoes than DEET! (2)
A report published in the Malaria Journal in 2011 revealed that coconut oil, geranium oil and vanillin can extend the efficacy of natural mosquito repellents. (3)
Myth 2: "Homemade mosquito repellents are too difficult to make"
Another unfounded myth! It's actually very simple to make your own mosquito repellent at home. Not only is it fun to make your own DIY products, it's also empowering to know that you are not spraying yourself or your family with neuro-toxic chemicals!
Make your own mosquito repellent!
This simple homemade vanilla extract mosquito repellent may smell heavenly to us, but abhorrent to mosquitos, which is just what we want!
Ingredients:
Directions:
1. The first step is to make your own fresh vanilla extract. This is crucial because store-bough vanilla extracts will contain sugar and alcohol, which will not work and may actually end up attracting bugs instead. To make your own vanilla extract, simply crush 2 vanilla pods and place in a small glass container. Pour in 1/4 cup of witch hazel and make sure the pods are fully immersed. Firmly close the lid and allow the vanilla pods to soak overnight in the refrigerator.
2. When the vanilla pods have soaked sufficiently, shake the container to release more of the vanilla extract into the witch hazel. You can also place the soaked vanilla mixture into a motor and pestle and gently crush it further to extract the maximum amount of vanilla into the witch hazel.
3. Filter the vanilla-witch hazel solution to remove the fibrous bits of vanilla pod.
4. Now place this into a 4 oz spray bottle along with the coconut oil, citriodora essential oil and peppermint essential oil. Shake vigorously to thoroughly combine the ingredients.
5. Your homemade vanilla extract mosquito repellent is now ready for some bug-busting action!
To use, simply shake the bottle to combine all the ingredients evenly and spray away! Make sure you spray away from your or your pet's and children's eyes, mouth and mucous membranes.
Why Vanilla Extract?
One of the biggest drawbacks of homemade bug repellents is that they do not last long and have to be continuously refreshed in order to provide continuous protections, unlike DEET-based products that offer long lasting protection.
However, studies show that the addition of soy lecithin (soy bean oil), vanillin (found in vanilla extract) and coconut oil helps natural homemade repellents to last longer by reducing the volatility of essential oils and making the whole mixture more stable. (3)
Other natural ways to repel mosquitoes:
In conjunction with your DIY vanilla extract mosquito repellent spray, make sure to also follow these natural ways to repels mosquitos to ensure maximum protection from annoying bugs:
Wear long sleeved shirts and full pants if possible.
Consider planting and growing some big-repelling plants in your yard like lavender, lemon and eucalyptus.
Get a portable diffuser and diffuse bug-fighting essential oils like cedar wood, citriodora, geranium, lavender and more.
Drain off any stagnant water in your yard or surroundings, because this is wear the critters lay their eggs.
References
(1) https://today.duke.edu/2002/05/deet0502.html
(2) https://www.ncbi.nlm.nih.gov/pubmed/19712151
(3) https://www.ncbi.nlm.nih.gov/pmc/articles/PMC3059459/