Coconut oil is our tropical paradise oil for all beauty woes – from dry skin to cellulite. Learn how to use coconut oil as a face cleanse using three ways in this post!
A plant oil extracted from the dried meat of coconuts, coconut oil has been around for ages. It was used traditionally by South East Asians for cooking and moisturizing their skin and hair. What makes it so special for skin in particular? Read on below:
Benefits of Coconut Oil for Skin
Coconut oil has a myriad of properties that make it good for skin:
Skin nourishing. First off it is rich in nutrients such as vitamins, fatty acids and minerals that rejuvenate skin and moisturize and nourish it.
Superior skin moisturizer. Secondly, it's high fatty acid content filled with lauric, capric, caprylic, mystiric and stearic acids make it a superior moisturizer.
Prevents premature wrinkles and fine lines. The high antioxidant level in coconut oil make it strong enough to ward off free radicals that are known to cause wrinkles and fine lines prematurely.
Soothes skin irritations. Coconut oil is soothing and cooling when applied on irritated skin such as bug bites, rashes, eczema, psoriasis and more.
Reduces inflammation. Whether it's a sunburn, acne inflammation or skin inflammatory condition like eczema, coconut oil can help. It's got anti-inflammatory properties that reduce inflammation and redness.
Removes impurities from skin. Have you ever heard of the phrase that like attracts like? It's true and this is the case with skin sebum and coconut oil. Coconut oil penetrates deep into skin and pushes out grime, dirt, pollution and other impurities. This is how it's good as a face cleanse which is the point of this post.
How to use Coconut Oil as a Face Cleanse – 3 Recipes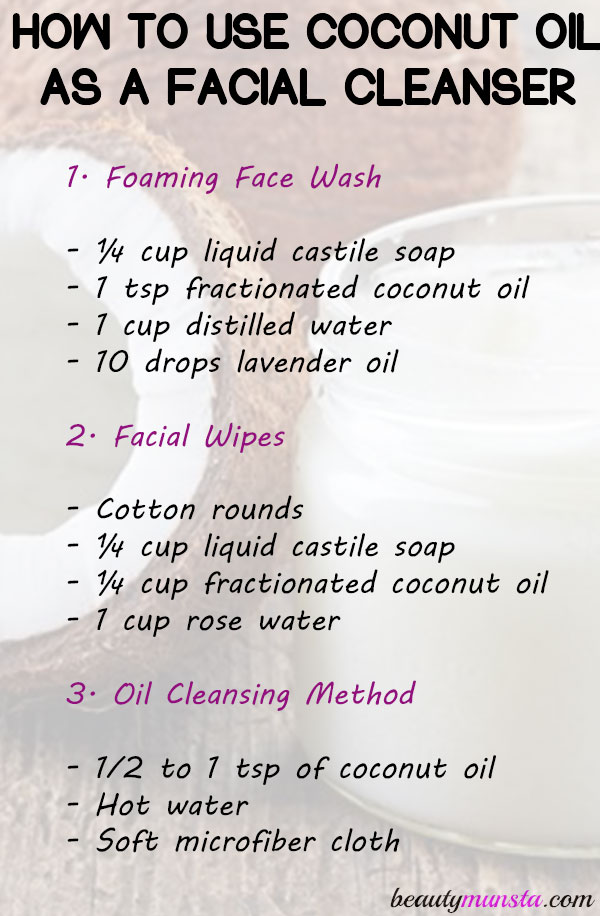 Find three ways on how to use coconut oil as a face cleanse below:
1. Oil Cleansing with Coconut Oil
What you need
Directions
Massage the coconut oil onto your skin. Now run the microfiber cloth under hot water – as hot as you can handle – then press it on your face until it grows cold.
Repeat until you've pressed the cloth on all areas of your face.
Wipe away any remaining excess oils and voila! Your face is clean, moisturized and supple!
2. Moisturizing Face Wash
What you need
Directions
Mix up the ingredients and store in a foaming dispenser bottle. Squeeze out a little and lather it on your whole face.
Rinse off.
Use twice a day.
3. Coconut Oil Facial Cleansing Wipes
What you need
Directions
Place enough cotton pads to fill up a mason jar, leaving a little space at the top.
Now mix up the ingredients in a Pyrex measuring cup and pour it into the mason jar to soak all the cotton pads.
Use a cotton pad to wipe the dirt off your face after a long day at school or work when you just want to crash on your bed.
You can also use reusable cotton cloths instead of disposable cotton rounds. However, if you have acne then stick with the cotton rounds.
Note
Before using any of the above recipes, do a patch test to see if you're safe to use them without any troubles.