Pure oils from Nature are among the best things you can apply on your skin to maintain a youthful appearance. Find out the top 10 carrier oils for aging skin in this article!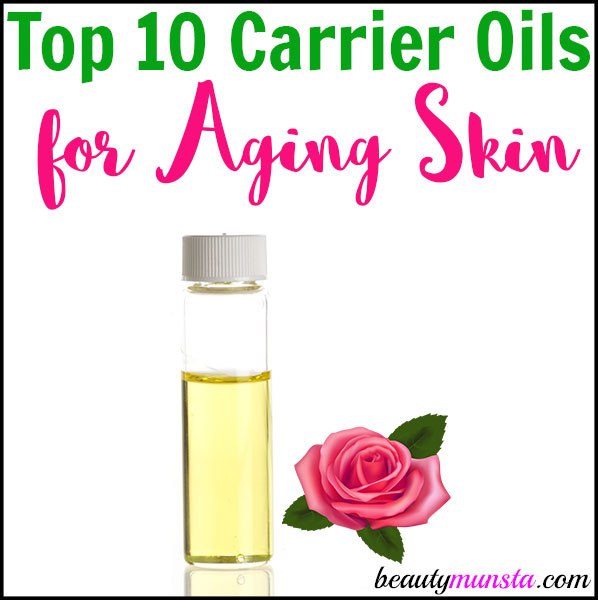 Top 10 Carrier Oils for Aging Skin
Below are the top 10 carrier oils for aging skin: you'll find exotic oils top the list because they are very high in antioxidants and nutrients that fight off free radicals and boost collagen production.
Other more common oils like shea butter, coconut oil and jojoba oil are also on the list because they soften wrinkles, smooth out skin and make it supple! Okay, here's the list:
How to Use Carrier Oils for Aging Skin
The best way to use carrier oils for aging skin is by combining them with essential oils. This makes sense because carrier oils are named so since their job is to 'carry' essential oils onto the skin's surface. Essential oils are also very nourishing and filled with antioxidants which makes them very effecting for preventing and smoothing out wrinkles. Check out the best essential oils for aging skin:
To use these essential oils, always dilute them in a carrier oil(s) of choice. Use the dilution rate of 2% which is the recommended dilution rate safe for adults. 2% dilution means 2 drops of essential oil in 1 tsp of carrier oil.
Remember to dilute essential oils properly. Please Read: How to Dilute Essential Oils Safely
Ways to Use Carrier Oils for Aging Skin
1. Oil Cleansing Method: This is something you must do to keep your skin soft, smooth and youthful.The Oil Cleansing Method is about using oils to wash your face. It uses the theory that like attracts like. So the good oils (a.k.a carrier oils) used push out the bad oils (dirty sebum) out of your skin pores, leaving you with clean skin. It doesn't only use oil but also hot water and a wash cloth. Read more: How to do Oil Cleansing with Essential Oils
2. Facial Serum: Facial serums are skin care products used to deliver powerful nutrients into the skin. They're usually used after cleansing skin and at night time. Check out the DIY Powerful Anti-Aging Serum Recipe below.
3. Moisturizer: Use any of the above carrier oils for aging skin to moisturize your skin. You can also use a blend of two or more carrier oils.
DIY Powerful Anti-Aging Serum
What you need:
Directions:
Using a small funnel, transfer your carrier oil into an amber glass dropper bottle.
Then carefully add all the essential oils, drop by drop.
Close the bottle and shake gently to combine everything.
Your DIY powerful anti-aging serum is ready!
Apply about 3-4 drops on your clean face, especially at night time, massaging it in deeply.
This homemade product can keep for more than 2 years if stored and maintained properly.

What are your go-to carrier oils for aging skin? Share in the comments below!