Make the perfect, creamy, long lasting yet healing lip balm ever using this simple cocoa butter lip balm recipe.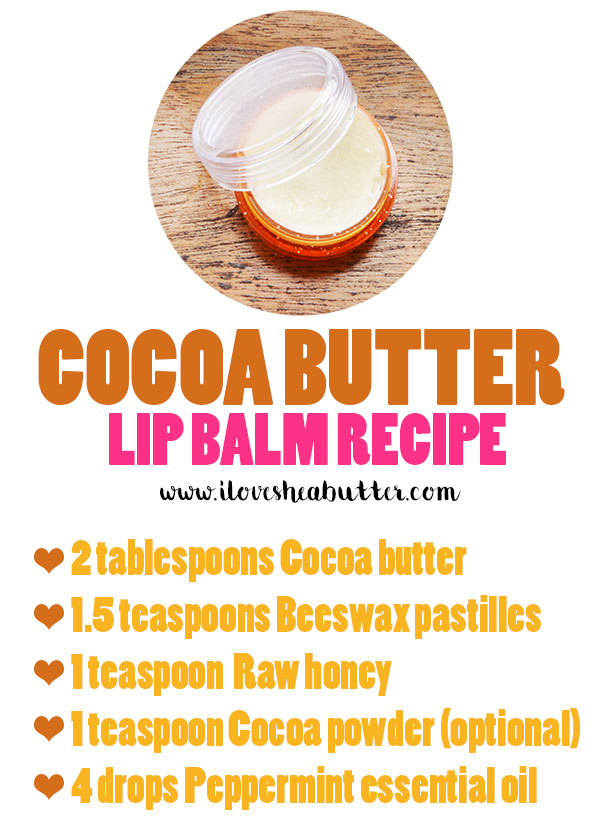 Why Make Your Own Lip Balm at Home?
It's easy to grab a chap stick or lip balm on the way out of the cash counter at a local grocery store. But there's plenty of reasons to make your own lip balm at home:
Avoid the Toxins – Conventional lip balms are filled with unnecessary toxic ingredients such as artificial fragrances, synthetic dyes, preservatives and more. Many of these ingredients are harmful, hormone-disruptive and cancer-causing substances. You can totally by-pass all these risks by making your own lip balm.
You Can Custom Tailor Your Lip Balm – When you're making your own lip balm, you can custom tailor it to suit your preferences. You can control the consistency and sheen of your lip balm. You can also choose the flavor and taste of your lip balms to suit your desires.
It's Cheaper – When you make your own lip balm, you're not paying for extra items like the packaging, brand and fancy containers. You'll just be paying for the ingredients, most of which you will already have in your pantry. You can recycle containers you already have to store the lip balm, and that's totally free!
The Healing Properties of Cocoa Butter
Cocoa butter, also known as Oil of Theobroma, is the natural fatty butter found in the cocoa bean. Native to the Amazonian region, cocoa butter is now a worldwide food and cosmetics ingredient that is used in making chocolates and other confectionaries, lotions, body butters, creams and more!
Raw cocoa butter is often used by DIY enthusiasts, as well, to make their own homemade products, such as the lip balm we're going to be making today!
Cocoa butter has many healing properties that are great for the skin, including the skin on your lips. Here are just some of the benefits of cocoa butter.
→ Moisturizes the Skin
Cocoa butter is a wonderful skin moisturizer that penetrates deep into the skin and intensely moisturizes the skin cells, for extended hours.
→ Heals Dry, Chapped Lips
Cocoa butter is an emollient, which after hydrating and moisturizing the skin, forms a layer of protective barrier on top of the lips. This helps to lock in moisture and help heal chapped lips faster.
→ Rich in Antioxidants
Rich in unique antioxidant compounds, cocoa butter helps to fight free radical damage, UV damage and stress from pollution on the skin. It helps to repair and regenerate damaged skin cells, reduce blemishes and hyper-pigmentation on the lips and make your lips supple and nourished.
How to Make Ultra Moisturizing Cocoa Butter Lip Balm
In this ultra-moisturizing cocoa butter lip balm, we're going to be using all-natural, non-toxic ingredients like:
→ Beeswax – Beeswax is a natural safe-to-use waxy substance that will help keep your lip balm solid and prevent the rest of the ingredients from separating or sinking to the bottom. If you are vegan, or do not want to use beeswax, a suitable alternative is petroleum jelly. Petroleum jelly, however, make your lip balm look more sheen or shiny, rather than matte.
→ Cacao powder – This is the stuff that chocolate is made from and gives your lip balm an irresistible chocolatey flavor and a beautiful tint. Cacao powder is rich in unique flavonoids that make it great for the health. Its antioxidant properties are said to boost immune function, support the cardiovascular system and fight cancer. Wouldn't you love to slather this nutritional superfood all over your lips?
→ Peppermint essential oil – Extracted via steam distillation of peppermint leaves and stems, peppermint essential oil is a potent concentrate that is antibacterial, healing and stimulant properties. It is also categorized as GRAS (generally recognized as safe) and is fine to apply on your lips, compared to other essential oils, which may be toxic when ingested.
Let's get on to the recipe!
Ingredients
Directions
In a double boiler, melt the cocoa butter and beeswax pastilles until fully liquefied.
Take off heat and allow to cool down a bit.
Now add in the raw honey, cacao powder and peppermint essential oils and mix thoroughly for at least 2 minutes to get all the ingredients well-combined.
Pour into a clean lip balm container or lip balm tubes and allow it to set in your refrigerator overnight.
Your lip balm is now ready for use! Enjoy the chocolatey goodness of this plumping cocoa butter lip balm!