Are there any beauty benefits of toothpaste for the skin? What kind of toothpaste is best for application on the skin?
Aside from keeping your teeth pearly white, toothpaste has been touted to have many benefits for the skin. But how much truth is there to the beauty benefits of toothpaste?
Why Toothpaste Works for Skin
Toothpaste is cheap and readily available. Unlike other natural ingredients that you might not readily have at home, toothpaste is much more accessible. That's why it's a popular remedy for all kinds of beauty maladies.
What Are The Beauty Benefits of Toothpaste?
Now let's take at some of the most popular beauty benefits of toothpaste and how they work!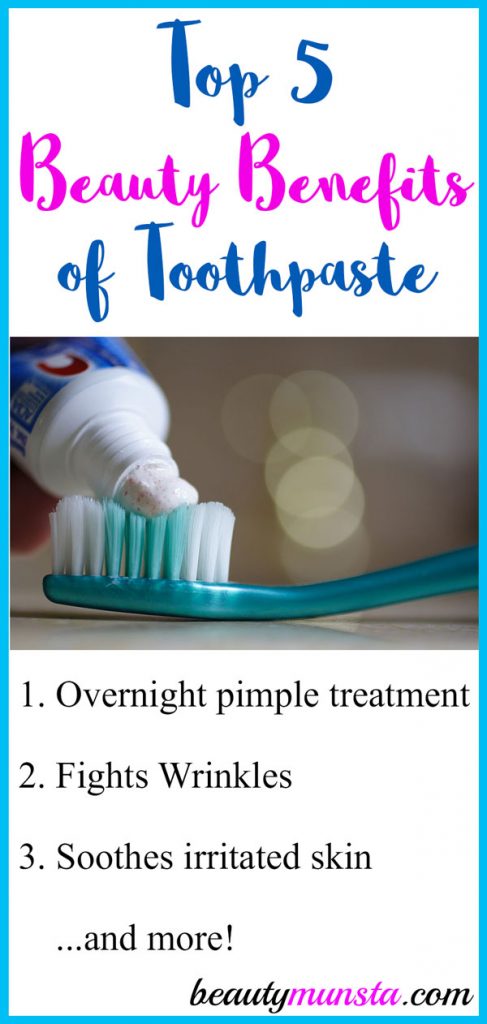 1. Overnight Pimple Treatment
The most popular toothpaste remedy that I used to use frequently as a teen was applying toothpaste on pimples as an overnight treatment! The next morning, my pimple would be much smaller in size. Toothpaste also helps in bringing pimples that are deeply lodged under the skin up to the surface so that they can be removed faster. Gel toothpaste doesn't work for this purpose though! Only the non-gel toothpaste works.
2. Toothpaste for Acne
The same absorptive properties in toothpaste that help drain pimples can also help in reducing acne. Calcium carbonate contained in toothpaste absorbs toxins, dirt and excessive oils to reduce acne altogether. Toothpastes containing essential oils like peppermint or neem can also help in removing and preventing acne due to their anti-bacterial action. Be sure to test the toothpaste on a small area first. If you face any irritation or burning, you might need to try a gentler remedy instead of toothpaste.
3. Soothing Irritated Skin
The cooling properties in toothpastes can help sooth red, heated and irritated skin. This especially works with mouth freshening toothpastes, which contain peppermint, clove, cinnamon or spearmint extracts. Remember, toothpaste shouldn't be applied to broken skin as it might be painful and further irritate the skin.
4. Reducing Wrinkles
Toothpaste rich in zinc have powerful antioxidant capabilities and can help reduce wrinkles and fine lines. Zinc is a precious mineral that often disappears from the skin as we age. Applying a zinc-based toothpaste on skin has anti-aging benefits. Make sure you drink plenty of water, quit smoking and eat a nutritious diet to slow down aging and prevent wrinkles.
5. Removing Blackheads
Minerals like calcium carbonate contained in toothpaste are what make it effective in removing blackheads in the skin. Apply an even coat of toothpaste on areas affected by blackheads, such as the nose, and allow it to work for 2 – 5 minutes. Then wash off with an exfoliating cleanser. This helps reduce and remove blackheads.
Caution When Using Toothpaste
Just a couple of decades ago, toothpaste was less harsh, contained more natural ingredients and had fewer synthetic components. Original toothpaste used to contain important nutrients like calcium and zinc to fortify the teeth.
But today, corporate greed has taken over and toothpastes are made using cheaper and more synthetic ingredients to cut costs and increase profits. Toothpaste today contains harmful ingredients like SLS (sodium lauryl sulfate), which is a surfactant that weakens the health and damages DNA.
Whereas original toothpaste contained real peppermint oil for flavoring, today's toothpastes contain nothing more than artificial fragrances that are cheaply made in labs.
Before you make use of the beauty benefits of toothpaste, check the ingredients label of your toothpaste. Better yet, try to make your own natural remedies at home to treat various beauty ailments.