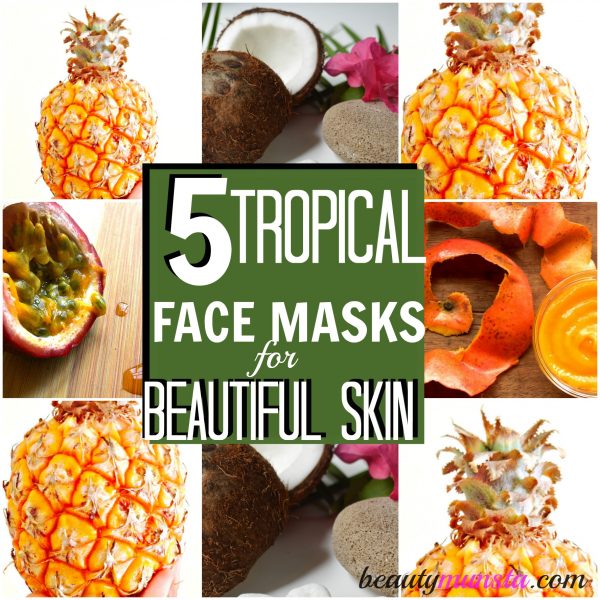 Try out these exciting face masks made, using exotic fruits carefully plucked right off a tropical island, just for you! Tropical fruits contain an array of anti-oxidants and powerful fruit acids and enzymes. Alpha hydroxy acids found in fruits provide amazing skin healing benefits including exfoliating and hydrating. Fruits also contain anti-inflammatory and anti-oxidant properties that are essential for vibrant skin.
Check out these 5 delicious tropical face mask recipes and benefits for skin!
1. BRIGHTENING TROPICAL FACE MASK: PINEAPPLE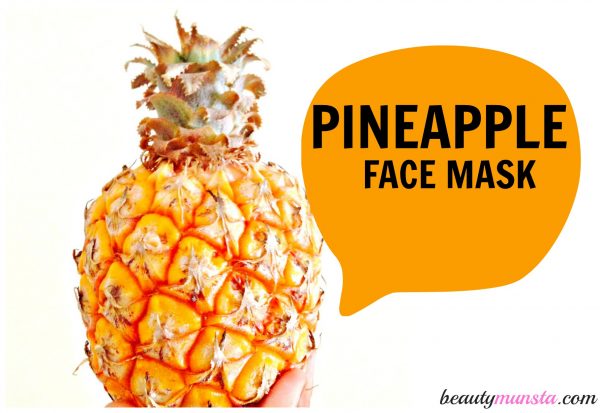 Pineapples were said to have originated from South America, where it was prized as a staple in Native American Indian feasts. It symbolized hospitality as modes of transportation were slow long ago and people were delighted to receive pineapples as refreshing thirst quenching gifts. Let's check out the nutrient content of pineapples to see what makes them great for skin;
Nutrients in Pineapple & their Benefits for Skin:
Bromelain – Pineapple is an enzyme bomb packed with skin rejuvenating enzymes such as bromelain. Bromelain is excellent in purifying pores from grime, excess oils and dead cells. The enzyme concentration in pineapples also revives dull skin and dryness caused by excess dead cells on the skin's surface.
Vitamin C – Vitamin C has amazing antioxidant benefits for skin. The antioxidant benefit of vitamin C may help defend skin cells against free radical damage. This checks formation of fine lines and wrinkles.
Ingredients
1 tablespoon fresh pineapple puree
Directions
Cut a small slice off a large pineapple and puree it till you get a thick consistency. Using a clean cotton ball, dab the pineapple puree onto your face.
How long should you leave it on? Generally, no longer than 5 mins! If you're skin starts to feel itchy or stingy after this, just rinse off immediately. On the other hand, you may have more robust skin that can handle it for longer than 5 minutes, in that case you can keep it on from anywhere between 10 – 20 minutes. Remember, pineapple has potent enzymes that exfoliate off dead skin and these are what may cause redness or inflammation if left on for too long!
When the time is up, rinse off with tepid water. Pat dry with a clean towel.
My Tip
If the pineapple face mask stings you face, immediately rinse off with cool water and a mild soap. Your skin may not be used to the rich fruit acid and enzyme content of pineapples.
2. SKIN LIGHTENING TROPICAL FACE MASK: PAPAYA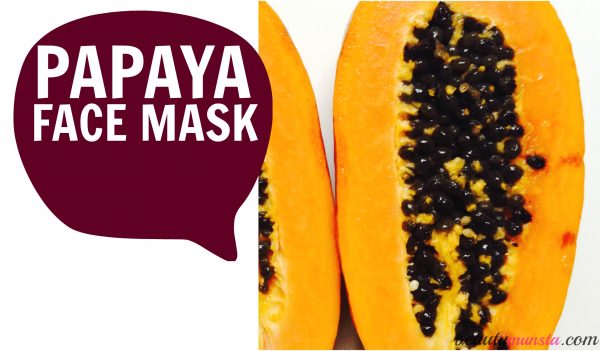 Just like the pineapple, papaya is native to South America where the Native American Indian were known for cultivating and consuming delicious papayas. They even used the bark of papaya trees to make strong fishing nets. Papaya has skin tightening benefits and can help shrink large pores. It also has a mild bleaching effect that can lighten and brighten dull skin.
Nutrients in Papaya & their Benefits for Skin:
Papain – Papain is an active enzyme found in papaya. It helps break down inactive proteins on the skin's surface and breaks the binds between dead cells and healthy skin cells.
Vitamin A – Papaya has its beautiful orange color due to its rich vitamin A content. This antioxidant is important for skin hydrating and moisturizing.
Ingredients
1 tablespoon mashed papaya
Directions
Cut off 1/4 section of a small ripe papaya. Blend it to get a smooth papaya puree. Save 1 tablespoon just for your face! Using clean fingertips, slather the papaya goodness onto your skin in gentle circular motions. Wait for 15 minutes. When the time is up, rinse off the dried mask using tepid water. Pat dry.
My Tip
Wear an old T-shirt or apron over your clothes as this papaya face mask can get quite drippy.
3. HEALING TROPICAL FACE MASK: PASSION FRUIT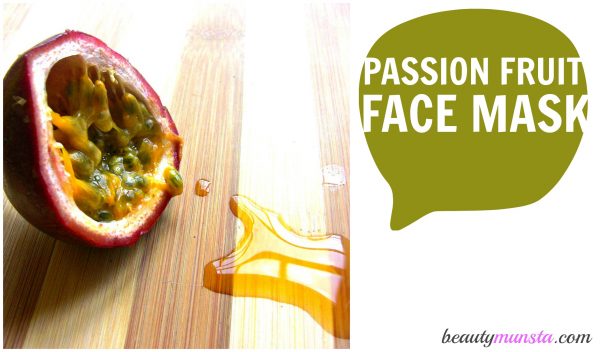 These aromatic and delicious fruits were native to Latin America and were a staple to the Aztecs, who cultivated them and discovered their amazing health and medicinal benefits. Native Americans also grew passion flower for its healing properties and its edible fruit. Passion fruits are powerhouses bursting with multivitamins and fruit acids for beautiful skin.
Nutrients in Passion Fruit & their Benefits for Skin:
Antioxidants – Passion fruit contains multi vitamins and minerals that prevent oxidative damage, fight off free radicals, slow down the aging process of skin and promote glowing skin.
Fruit acids – Nourish the skin with multivitamins and essential nutrients. Promote healthy vibrant skin. Lock moisture into skin cells, leaving skin fresh and hydrated.
Ingredients
Directions
Slice a passion fruit using a sharp knife. Scrape off the delicious passion fruit pulp. Apply this onto your clean face, avoiding the eye and mouth area. Sit for 15 minutes and rinse off thoroughly with cold water. Pat dry and apply moisturizer.
My Tip
Do facial steaming before hand to open up your skin pores and let the goodness sink deeper.
4. REJUVENATING TROPICAL FACE MASK: MANGO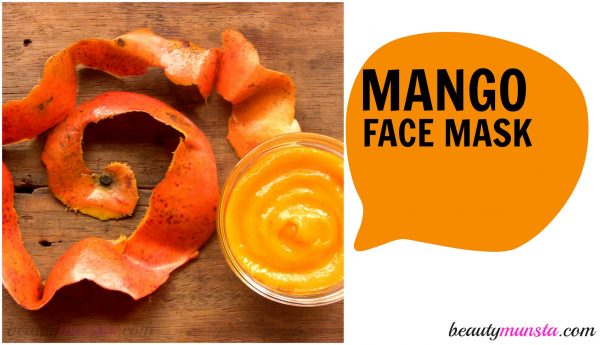 Nutrients in Mango & their Benefits for Skin:
Vitamin A – Mango has a rich orange color due to the high amount of beta carotene it contains. Beta carotene is converted to vitamin A in our bodies. Vitamin A helps in rejuvenating dull skin and pumps up skin cells with moisture, thereby hydrating skin.
Alpha Hydroxy Acids (AHAs) – Mangoes contain AHA's which are powerful antioxidants that help slough off excess dead cells on the skin's surface by breaking down the binds between dead cells and the skin.
Ingredients
Directions
As usual, start with a clean face. Slather the mango puree onto your face in gentle circular motions. Wait for 10 minutes. Rinse off with cold water and use a drop of coconut oil to moisturize.
My Tip
When making your mango face mask, take care not to get the mango peel into your mango puree. Mango peel contains an enzyme called urushiol that can irritate skin.
5. NOURISHING TROPICAL FACE MASK: COCONUT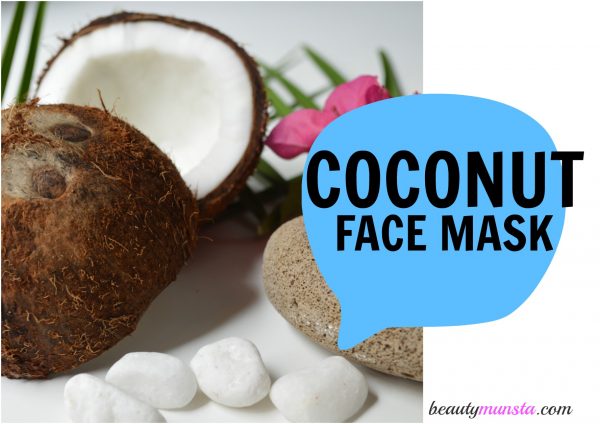 Although the exact origins of the coconut remain unknown, one of the earliest records are talked about in the Arabian Night's tale of Sinbad the Sailor who traded coconuts during his fifth voyage. Coconuts have been used in Filipino and Indian cuisines since ancient times. Coconut oil which is only now getting mainstream for its beauty benefits has been long used by Ancient Indians to soften and nourish skin.
Nutrients in Coconut & their Benefits for Skin:
Essential Fatty Acids – Coconuts are rich in healthy fatty acids that soften and smooth out rough skin. The fatty acids also lubricate and moisturize skin, keeping it soft smooth and supple.
Ingredients
Directions
Mix the above ingredients well. Apply the face mask mixture onto your face. Wait for 10 minutes. Rinse your face with cool water and pat dry.
My Tip
Use raw honey for best results.