Get amazed by 15 beauty benefits of pineapple for your skin, hair and more!
Be like a pineapple – stand tall, wear a crown and be sweet on the inside!
Pineapple is my favorite fruit of all time! And it's not just because of its sweet taste! I'll buy anything with pineapple on it – whether it's a T-shirt or phone case! I love pineapples as a natural chemical facial peel as well! Yup, that's right! Pineapples also have amazing beauty benefits and that's what we're going to be exploring in the post below!
Top 15 Beauty Benefits of Pineapple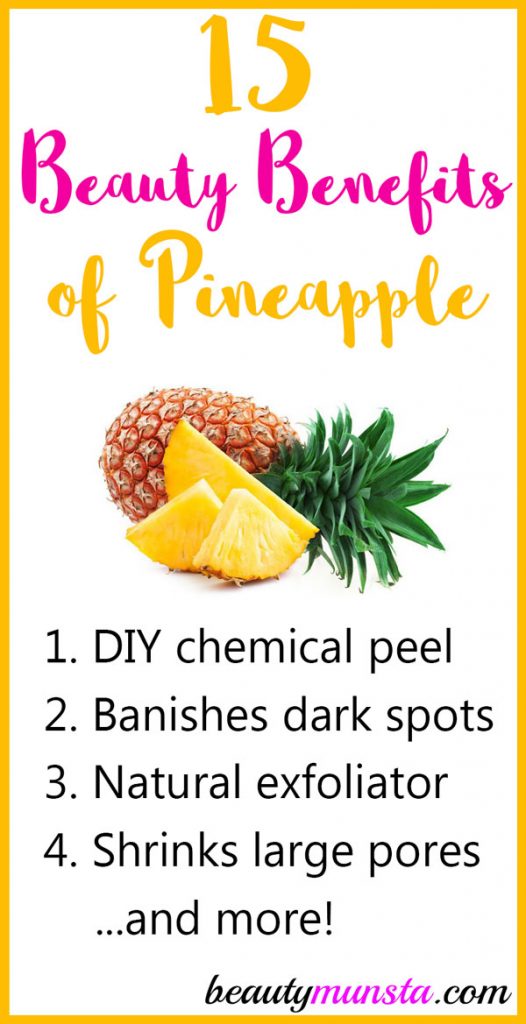 1. Natural Chemical Peel
Want a natural chemical peel at home? Go and buy a pineapple! Extract the juice by blending up a few pineapple chunks then carefully apply the puree onto your face and neck. Let it sit for 15 minutes then rinse your face with tepid water. For a full DIY chemical peel tutorial, go here: DIY Pineapple Face Mask for a Natural Chemical Peel
2. Skin Whitening
Skin whitening with pineapples, oh yes baby, it can work! Pineapples are a natural exfoliator which is why they help remove dead cells on the skin surface, which helps lighten and whiten skin in the process. You can try my Pineapple, & Turmeric Face Mask for a skin whitening effect at home!
3. Exfoliates Dead Cells
Pineapples are rich in AHAs (Aplha Hydroxy Acids) that exfoliate dead cells on the skin! They help lift off flaky skin and dead cells to reveal new soft skin underneath. Want to make a lovely pina colada sugar scrub?! Follow the recipe below:
Pina Colada Sugar Scrub: In a bowl, add ¼ cup of creamy white coconut oil and 1 cup granulated sugar then mix them up to form a soft gritty mixture. Now grate about 1 tbsp of lemon peel into the mixture. You can then add ¼ cup of fresh pineapple juice and mix everything well to form an easily applicable scrub. Store in a mason jar in the refrigerator. Use within 10 days!
4. Shrinks Large Pores
If you've ever applied pineapple juice on your skin, you must have noticed how tight your skin gets right? That's because pineapple is a natural astringent. It helps tighten skin and in the process, shrinks large pores! Use fresh pineapple juice all over your face to diminish those crazy large pores!
5. Tones Skin
As mentioned above, pineapple is a great skin tightening substance. It helps naturally tone skin as well. After washing your face as usual, get a cotton ball and dip it into 1 tbsp of fresh pineapple juice. Apply it all over your face, let it sit for 5 minutes then rinse off with cold water and moisturize with a pea-sized amount of shea butter.
6. Reduces Skin Inflammation
Pineapples contain a key active enzyme called bromelain. It is a powerful anti-inflammatory substance. To reduce skin inflammation whether it's due to eczema, skin rashes or psoriasis, simply blend up ¼ of a pineapple in a high speed blender then apply the puree onto your skin and let it sit for 15 minutes before rinsing off. If your skin is very sensitive, you can mix the pineapple with honey before application.
7. Healthy Hair
Eating pineapples promotes healthy long and luscious hair. That's because pineapples are filled to the crown with Vitamin C and antioxidants. These fight off free radicals, strengthen the hair shaft and improves hair elasticity and thickness. You can also apply pineapple to your hair! If you fancy a tropical hair mask for beautiful hair, juice ¼ a pineapple and apply the juice on your scalp and hair. Let it work its magic for 15 minutes then wash your hair as usual.
8. Soft Lips
Want soft kissable lips? Try rubbing a fresh pineapple chunk on your lips. If your lips are cracked and bleeding, then don't do it because pineapple is acidic and may be very painful on broken skin! Meanwhile, if your lips need some exfoliating action, then use pineapple – it's a great beauty hack!
9. Reduces Oily Skin
Oily skin? Rub some pineapple! You can even make a pineapple face toner by storing ¼ cup of pineapple juice mixed with ¼ cup of water in a fine mist spray bottle. Use this to tone your face after cleansing it to keep away excess oils.
10. Promotes Youthful Skin
The Vitamin C in pineapples helps in cell and tissue repair plus boosts collagen production! This keeps skin looking firm and youthful. The antioxidants in pineapples ward off notorious free radicals that steal oxygen from healthy skin cells.
11. Clearer Complexion
Banish blackheads, whiteheads and clogged pores by applying pineapple on your face! By scrubbing a pineapple chunk on your face, you can help dissolve blackheads, unclog blocked pores and get rid of whiteheads too! Don't overuse pineapple though, as the acidic enzymes can be too harsh on your face. You can use it every three days.
12. Banishes Dark Spots
The ascorbic acid in pineapples helps fade scars and dark spots! The live enzymes also eat up dead cells on the dark spots which reveals new clear skin underneath. You can dab pineapple juice on your dark spots using a clean cotton ball then rinse if off after a few minutes.
13. Soft Smooth Feet
Have you got cracked feet that are rough on the heels? You might want to try pineapple juice for its amazing exfoliating powers! Make a scrub by combining ½ cup of white sugar with ¼ cup of fresh pineapple juice in a jar. Get about 1 tbsp and scrub it on your feet, after soaking them in hot water with a handful of Epsom salts.
14. Healthy Cuticles & Nails
Dry peeling cuticles and weak nails can be a sign of vitamin deficiency. So regularly consume delicious pineapples, filled with vitamins and minerals, to promote healthy cuticles and nails. Did you know that pineapples contain more calcium than milk? Yes! That's right! So add pineapple to your diet to enjoy its nourishing benefits!
15. For Warts, Moles & Skin Tags
The acids in pineapples can help get rid of small warts, moles and skin tags with regular use. You can apply pineapple juice on the affected areas and leave it on overnight to make the unwanted skin growth fall off faster.
Are you ready to enjoy the beauty benefits of pineapple? How are you planning on using it in your beauty routine?